This post may contain affiliate links. We earn from qualifying purchases. Learn More
Step into the captivating world of Paramount Network's Yellowstone, a series celebrated for its enthralling plotlines and multifaceted characters.
In this article, we dive into the depths of this widely adored show, unraveling key Yellowstone spoilers that have left viewers reeling and hungry for more.
Moreover, we're addressing the most common fan FAQs, providing insights into the layered narrative, enigmatic characters, and unexpected plot twists.
But a word of caution: we're entering spoiler territory.
Is Jamie Dutton Adopted?
Jamie is adopted, a shocking revelation he didn't learn until his assistant handed him his birth certificate. Jamie then went on to learn his real father was Garrett Randall, who had just been released from a 30-year jail sentence.
Jamie's biological father Garrett went to jail after he killed Jamie's mother Phyllis. Garrett killed Phyllis after he found Jamie sucking on a crack pipe while she was sleeping with another man. Garrett was furious Phyllis put Jamie in such a dangerous situation.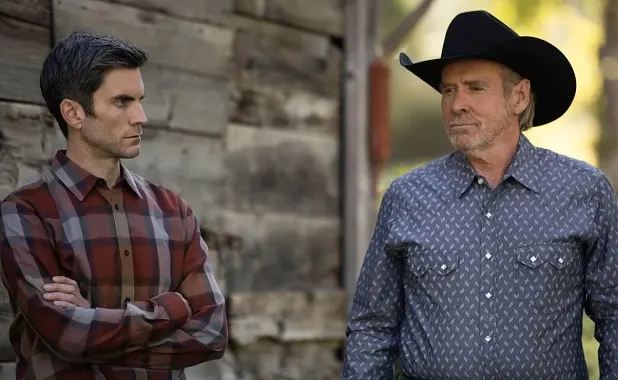 After Garrett went to jail for the murder of Phyllis, John and Evelyn Dutton adopted Jamie. At the time, Jamie was just three months old and was known as Michael Randall.
John and Evelyn raised Jamie as their own, never revealing to him that he was adopted. After meeting Garrett, Jamie went on to form a relationship with his biological father.
Do Beth and Rip Get Married?
John and Beth previously dated as teenagers before going their separate ways. However, they reconnected as adults and eventually get married.
Beth and Rip had an intimate but unconventional wedding. The happy couple got married on the ranch, with the scenic view of the mountains in the background.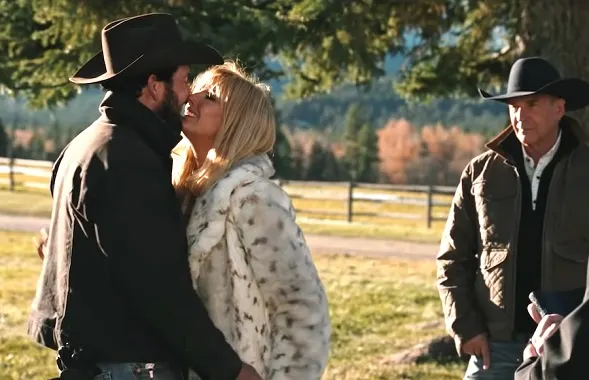 Instead of a traditional wedding gown, Beth wore a dazzling gold mini dress, a fur coat, and boots. The ceremony was small, with just Lloyd, Carter, John, and the priest, who Beth kidnapped, present.
Despite being far from traditional, Beth and Rip's wedding was heartfelt and romantic. The couple clearly shares a deep love for one another.
Do Beth and Rip Adopt Carter?
Carter unexpectedly comes into Beth and Rip's life after Beth meets the troubled teen at the hospital while visiting John. While Beth and Rip haven't officially adopted Carter, the three live together as a family.
Cater is the son of a drug addict who died, leaving him in the foster care system. After getting in trouble for a misdemeanor, Carter tells the sheriff that Beth is his guardian, hoping she will help him.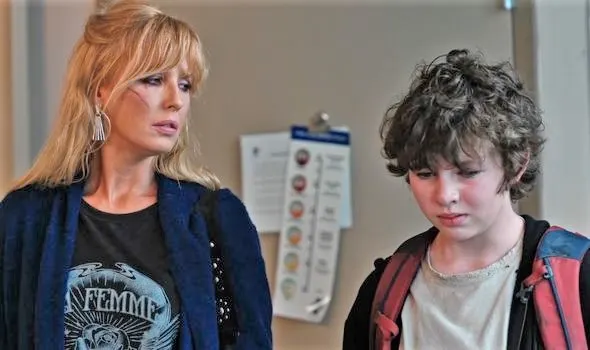 Beth decides to take a chance on Carter and helps him out. He comes to live with Beth and Rip on the ranch.
While he still has some behavioral problems, he grows as a person and finds purpose working on the ranch.
Who is Behind the Assassination Attempts Against the Duttons?
At the end of season 3, Beth, John, Kayce, Monica, and Tate are attacked by unknown assailants. While they survive the assassination attempts, it is not until season 4 that Beth learns Garrett Randall was behind the attacks.
Garrett Randall hired his cellmate Terrell Riggins to carry out the attacks on the Duttons. Garrett harbors resentment towards the Duttons as he blames John for not standing up for him in court when he was on trial for murdering his wife.
Upon learning the truth a furious Beth gives Jamie an ultimatum. She tells Jamie she would report Jamie and Garrett to the police, she would tell Rip that Garrett tried to have her killed or Jamie could kill Garrett himself.
Jamie begged Beth to change her mind, however, Beth would not budge. Despite developing a relationship with his biological father, Jamie makes the choice to kill his father himself.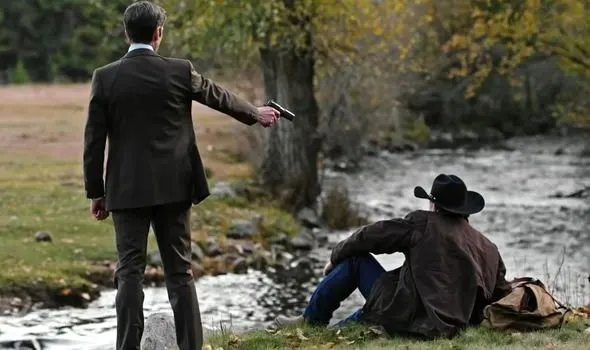 Does John Dutton Become Governor?
In season 5, John is elected governor of the state of Montana. Upon receiving his new role, he fires his staff and appoints Beth to be his chief of staff.
John's desire to become governor was fueled by personal gain. He ran for governor to save his ranch.
John uses his power as governor to make it more challenging for his rivals to get ahold of his land. He makes clear to his family that every decision he makes as governor will be in favor of the ranch, whether it is beneficial to the state or not.
Do Monica and Kayce Lose Their Baby?
Sadly, Monica and Kayce lose their baby boy in season 5 of Yellowstone. Though he never made it home from the hospital, they named their son John after his grandfather.
After feeling contractions, Monica called Kayce to let him know it was time to go to the hospital. As Kayce would not make it back in time, Monica makes the choice to drive herself and Tate to the hospital.
Unfortunately, on the way to the hospital Monica and Tate got into an accident. While Monica and Tate both survive the crash, the baby sadly does not as he dies in the hospital shortly after being born.
Do Monica and Kayce Split Up?
Monica and Kayce have not had the steadiest relationship. While they have had their ups and downs they have not split up.
While Monica and Kayce briefly separated in season 2, they get back together as they reconcile their love for one another. Though they still have their struggles, they eventually move off of the ranch to their own home to get a fresh start.
Is Jamie Plotting to Impeach John?
Jamie and his father John have always had a rocky relationship. Tensions have only gotten worse as Jamie is plotting to boot John from his role as governor.
Jamie is working with Market Equities corporate shark Sarah Atwood in hopes of ending John's reign as governor. All Jamie has ever wanted is John's approval and appreciation for what he has done for the family. However, John has harbored resentment and hatred towards his adopted son.
Jamie wants his father out of office so Market Equities can build their airport and he can become governor himself. John wants to prevent progress from coming to Montana whereas Jamie wants to build up the state.
John has violated his oath and abused his power, giving Jamie the fuel he needs to ignite his impeachment.
Is Beth Planning to Kill Jamie?
Jamie is trying to impeach John Dutton because he is against his agenda. In order to stop Jamie, Beth has threatened and blackmailed him.
After breaking into Jamie's house, Beth tells Jamie she is going to use the photos of him dumping Garrett's body at the train station if Jamie tries to impeach John. Jamie tells her that he could expose John and Rip for all of the bodies at the bottom of the train station.
Furious with Jamie and his plans, Beth wants to kill Jamie so he is no longer a threat to John's role as governor. However, knowing that Beth will get in his way, Jamie has asked Sarah Atwood to hire someone to kill Beth and make it look like an accident.
Who Dies in Yellowstone?
Throughout Yellowstone, there have been several deaths. The Duttons have been responsible for several character deaths as they work viciously to protect their ranch.
There have been several enemies of the Duttons die, many of which were taken to the train station. The Duttons have also dealt with deaths in the family as well.
In the first season, we see the deaths of Lee Dutton, Robert Long, Samantha Long, Fred Myers, and Patrick Monteith. Season 2, the deadliest season yet, saw the deaths of Dan Jenkins, Teal Beck, Malcolm Beck, Jason, Sarah Nguyen, Dirk Hurdstram, Ray, Blake, Carter Meads, Luke Hayes, and Torry.
In season three, antagonists Wade and Clint Morrow both die. Season four brought on the deaths of Roarke Morris, Chester 'Checkers' Spears, Garrett Randall, and Donnie Haskell. So far in season 5, John Dutton IV, Kayce and Monica's baby boy, and Emmett Walsh have died.
Do the Duttons Manage to Keep Their Ranch?
Yes, the Duttons have kept their ranch so far. In the season 4 finale, John Dutton signs a conservation easement with the Montana Land Trust, which prevents the land from being developed. This allows the Duttons to keep their ranch and way of life, while also protecting the land for future generations.
However, in Season 5 it becomes apparent that the Duttons are struggling financially and may not be able to keep their ranch unless they find a solution. Beth wants to sell a part of it to cover the debts, whereas John is determined to either keep every acre, or lose the whole ranch.
When is Yellowstone Returning?
While originally the second half of season 5 of Yellowstone was set to return in the summer of 2023, it won't return until November 2023. The series got pushed back due to scheduling conflicts with Kevin Costner.
Season 5 will be returning with six action-packed episodes. There is likely to be plenty of drama with the fate of Yellowstone Dutton Ranch and John's role as governor up in the air.
Is Yellowstone Ending After Season 5?
To the dismay of fans, Yellowstone will be ending with season 5. The news comes after the reported drama between show creator Taylor Sheridan and Kevin Costner.
While Yellowstone may be ending after 5 seasons, the Yellowstone universe will continue to live on. The series is set to get a sequel series that is coming to Paramount Network in December 2023 before making its way to Paramount+.
At the moment, little is known about the sequel series but it is set to feature some of the original cast of Yellowstone.
In addition to the sequel, the Yellowstone universe also has Lawmen: Bass Reeves (formerly named 1883: The Bass Reeves Story), 6666, 1944, and season 2 of 1923 to look forward to.