This post may contain affiliate links. We earn from qualifying purchases. Learn More
The popularity of the hit neo-western drama series Yellowstone (2018- ) is mainly down to its authentic portrayal of the ranching lifestyle.
The cowboys of Yellowstone are as rugged and hardy as their real-life counterparts, all thanks to show creator Taylor Sheridan's extensive background in ranching.
Not only did Sheridan teach all the actors how to ride, he even sent them to "cowboy camp" to live alongside actual cowboys.
With the exception of Kelly Reilly, Forrie J. Smith, and Kevin Costner, all main actors rode up into the mountains to live off the land and learn what it takes to be a real cowboy.
To further increase the authenticity of the show, Sheridan also cast a few real-life cowboys for recurring roles.
Even though some of them had no previous acting experience, they all adjusted quickly and became core to the success of Yellowstone.
Forrie J. Smith (Lloyd Pierce)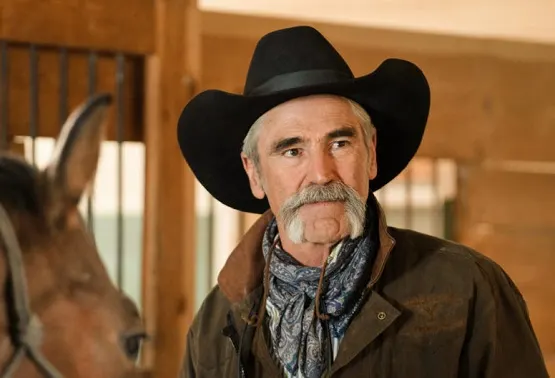 The most senior among the ranch hands, Lloyd has worked at the Yellowstone ranch for many years. He is also the best friend of ranch foreman Rip Wheeler and a fan favorite no doubt.
However, the reason why Lloyd's character is so popular is the fact that Forrie J. Smith grew up on a Montana ranch himself. Since the age of eight, he was riding horses and competing in rodeo on a regular basis.
Interestingly, Smith turned to the entertainment industry following a fall from a horse. After the incident, he decided to become a stuntman, a career that took him all the way to Hollywood.
According to Smith, it used to be common for rodeo cowboys to become stuntmen back in the day:
"Most stuntmen back in the 50s, especially in westerns, came from the rodeo world. Becoming a cowboy or a horseman is a lifetime endeavor," he said (source: Showbiz CheatSheet).
For the last 20 years, Smith has been performing stunts along with the occasional acting gig until he came across Yellowstone.
Also read: 20 Yellowstone Quiz Questions for Ultimate Fans
Forrie J. Smith's Journey to Stardom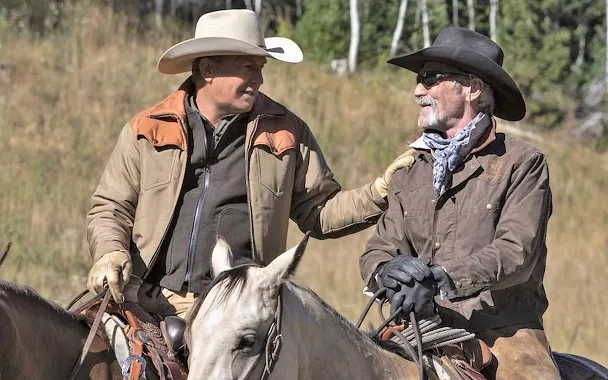 Smith originally got to know Yellowstone writer Taylor Sheridan through working with him on the set of Hell or High Water (2016).
Recognizing the stuntman's potential for portraying a cowboy, Sheridan offered him the recurring role of Lloyd Pierce, which Smith accepted.
After two highly successful seasons, Smith became a series regular on Yellowstone. This was a huge milestone for the stuntman-turned-actor, who's never had a series regular role before.
Ironically, he is now too valuable to perform most of his stunts, which used to be a part of everyday life for Smith. Luckily, Sheridan lets him perform a few stunts from time to time, keeping his days interesting and fun on set.
Also read: Who Is Forrie J. Smith? Fact, Stats, Acting History, Family Life, and More
Jake Ream (Jake)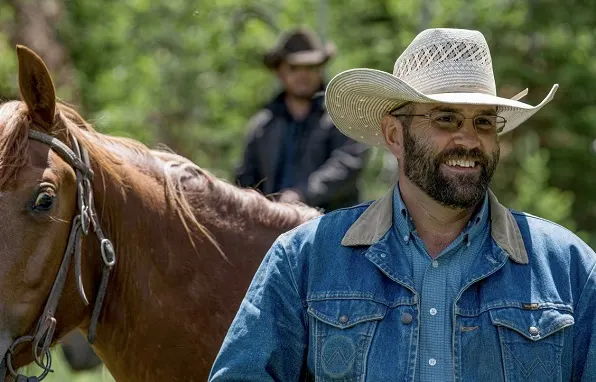 In the series, Jake is a ranch hand at the Dutton family ranch. He is portrayed by actor and horseman Jake Ream, who first met Taylor Sheridan while selling him a horse.
According to Ream, Sheridan called him one day to enquire about a horse he listed online for sale. When Sheridan came to try out the horse, the two had an instant connection.
Little did Ream know this encounter would lead to him becoming a recurring actor on a hit TV show!
When the time came, Sheridan called on Ream to help train Yellowstone actors how to ride and behave like a cowboy. And so he started out as a wrangler and stunt coordinator for the show and was even put in charge of cowboy camp.
For the camp, Ream loaded up 14 mules, put the actors on horseback, and headed up some land his grandfather owns. They made camp in the wilderness for four nights, where Ream gave everyone a crash course in cowboy lifestyle.
From Wrangler to Actor
As the show progressed, Sheridan brought Ream into more and more scenes to rope and ride. Eventually, he became one of the bunkhouse ranch hands on Yellowstone, which was also his first acting gig.
"Taylor put me in a little bit here, and a little bit there," Ream told Outsider. "On Season 1, he let me do a roping scene that was fun. That was probably the first big scene that I did. I think there was kinda just a small place for me – for a guy to pop in and out," he recalled.
Here is an interview with Jake Ream on how he went from Wrangler to Actor on Yellowstone:
Ryan Bingham (Walker)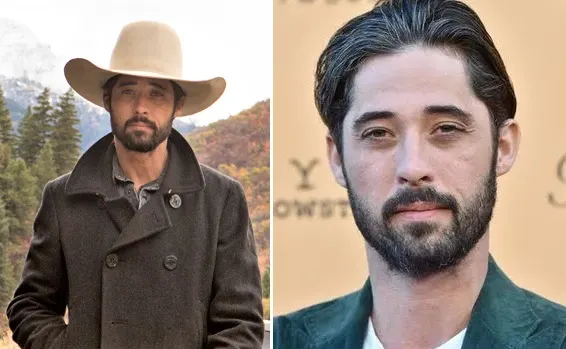 Walker is an ex-prisoner whose fate leads him to work as a branded ranch hand on the Yellowstone Dutton ranch. He was recruited by Rip straight out of prison back in Season 1 who gave him a second chance at life.
As it turns out, the actor who plays Walker on the show is not unlike his character in real life. Bingham grew up on the New Mexico and Texas border surrounded by horses and rodeo. He started bull riding at a young age and left home at 17 to compete on the rodeo circuit.
However, it was ultimately music that brought him fame and success.
Meeting Taylor Sheridan
According to Country Thang Daily, Sheridan originally tasked Bingham to write a song for a movie he was directing at the time, titled Wind River (2017). When he found out about Bingham's background in rodeo, he offered him work on the set of Yellowstone.
Like many of his fellow cowboys, Bingham isn't just playing a character on the screen. He also helps out behind the scenes, giving the cast and crew tips on how to make the show more authentic.
Also read: 10 Facts & FAQs About Ryan Bingham
Ethan Lee (Ethan)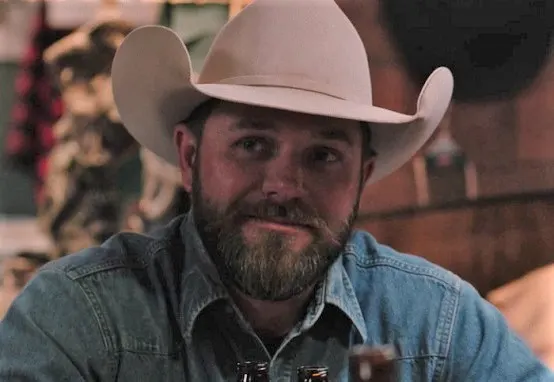 Ethan is one of the newer hands on the Yellowstone ranch. He is portrayed by stuntman-turned-actor Ethan Lee and has been a recurring character on the show since Season 3.
As with the above actors, Lee's talent in riding and roping isn't merely an act. The Los Angeles native spent years riding broncs and bulls on the rodeo circuit.
In addition, he also spent several years working as a stunt performer in shows like Claws (2017-2022) and NCIS: New Orleans (2014-2021). His profession as a stuntman is in fact what brought him to his current role on Yellowstone.
Lee was offered a role on Yellowstone twice
Surprisingly, the stuntman turned down his first opportunity to be part of Sheridan's show. In an interview with WWLTV, Lee explained that all his children were still small and he didn't want to be gone for long periods at a time.
However, he soon regretted turning down such a great offer and was ready to accept the second time around. Initially, he started out behind the scenes and was promoted to a member of the cast by the end of Season 2.
Taylor Sheridan (Travis Wheatly)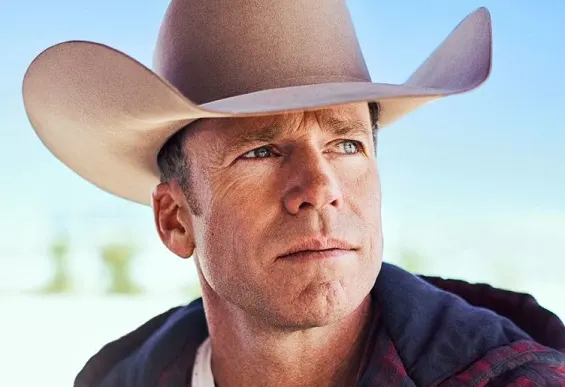 Travis is a horse trainer and trader from Bosque ranch in Texas who also breeds and shows Quarter horses.
Much like his character, Taylor Sheridan is a skilled cowboy who breeds and shows Quarter horses himself. The actor-screenwriter grew up on a ranch near Cranfills Gap in Bosque County, Texas, where he learned everything there is about horses and ranching.
According to Sheridan, had his family not lost the ranch in the early 1990s, he would still be living there. At the age of 14, he got a job at a nearby cattle ranch where he was working for $400 a month.
His extensive background in the cowboy lifestyle is precisely the reason why Yellowstone is so authentic and life-like.
Although Sheridan entered the entertainment industry as an actor, he soon turned to writing and directing in which he became highly successful.
Besides Yellowstone, he has produced several successful neo-Western movies including the trilogy Sicario (2015), Hell or High Water (2016), and Wind River (2017). His works became so popular that he was even declared the "greatest Western storyteller" of his generation by Esquire in 2018.
Also read: 35 Best Yellowstone Quotes
Taylor Sheridan co-owns the 6666 Ranch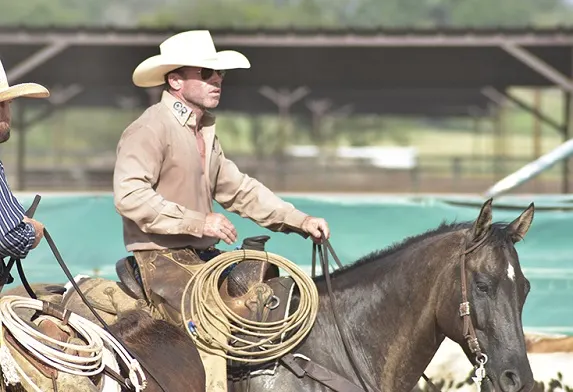 Together with a group of investors, Taylor Sheridan bought the 260,000-acre 6666 Ranch that also serves as a filming location for Yellowstone. 6666 Ranch will also be the primary filming location for 6666, a Yellowstone spin-off show.
However, the main purpose of the ranch is to produce top-quality Angus cattle and Quarter horses. In addition, the ranch provides state-of-the-art reproductive and veterinary services.
While Sheridan spends considerable time running the Four Sixes Ranch, he also has a ranch of his own in Weatherford, Texas, where he lives with his wife and son.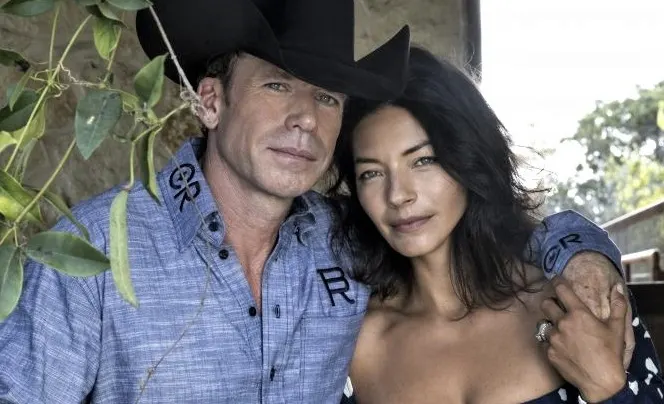 Just like Sheridan, his wife Nicole Sheridan is a real-life cowgirl who grew up riding horses on her grandparents' ranch in Wyoming.
Also read: All Yellowstone Prequel and Spin-Off Shows Explained
Sheridan is a member of the Texas Cowboy Hall of Fame
Due to his work in the film & TV industry and success in the show ring, Sheridan was inducted into the Texas Cowboy Hall of Fame in 2021.
The writer and director currently owns over 100 horses and competes in the reining and cutting disciplines. He also supplies most of the horses for his western shows, and several of his champion Quarter horses appear in Yellowstone.
Also read: 11 Famous Horses Used In Yellowstone TV Show: Behind-the-Scenes Look