Our readers support us. This post may contain affiliate links. We earn from qualifying purchases. Learn More
Since first premiering in 2018, Yellowstone has become the most popular TV show on cable.
The neo-Western drama stars Kevin Costner, Kelly Reilly, Wes Bentley, Cole Hauser, and Luke Grimes.
Rumors are swirling that two actors from Yellowstone are set to join the MCU (Marvel Cinematic Universe). The news came via Twitter through Marvel insider Jason Kane.
The tweet by Jason Kane (Greatphase) @GGeneralHolt8 simply said, "2 actors from Yellowstone are joining the MCU." The tweet blew up, as many people are eager to know what two actors Kane is referring to.
2 actors from Yellowstone are joining the MCU

— Jason Kane (Greatphase) (@GGeneralHolt8) January 24, 2023
What Yellowstone Actors Are Going to be Joining the MCU?
Many fans began theorizing who they think will be joining the MCU from Yellowstone. Some people believe that it will be Kevin Costner (John Dutton) and Wes Bentley (Jamie Dutton) that are becoming a part of Marvel.
Twitter user KC Walsh @TheComixKid replied to Jason Kane's tweet with just a picture of Luke Grimes. Walsh is the editor-in-chief of Geeks WorldWide and a Marvel insider.
January 24, 2023
Luke Grimes plays Kayce Dutton on Yellowstone. While Yellowstone isn't his first acting role, the hit TV series has launched him into the spotlight.
There have even been prior reports that Grimes is a potential candidate to play Marvel's Ghost Rider.
Wes Bentley has given hints that Jamie Dutton will not survive to the end of Yellowstone. This could make way for a new project for the actor, such as a role in the MCU.
The Twitter page @comicodigy shared a picture of Wes Bentley with the caption "Here's a hint: this guy is gonna have to do a LOT of stretching it would seem."
Here's a hint: this guy is gonna have to do a LOT of stretching it would seem pic.twitter.com/h3TwFA3fwY

— Comicodigy (@comicodigy) January 25, 2023
Several people in the comments speculated that this means that there is a chance Bentley will be cast as the Marvel character Reed Richards.
As well as not revealing the actors, it has not been revealed as to what Marvel property the actors will be joining or if they will be starring in separate Marvel properties.
MCU in For Big Changes
Beginning in 2023 the MCU will begin Phase Five and the second part of The Multiverse Saga. This means that are several new films in TV shows in store for 2023 and 2024.
Phase Five will see the return of many fan-favorite characters as well as some new faces. It is set to bring changes that will alter the future of the Multiverse Saga in hopes of reinvigorating the fan base.
The upcoming movie lineup for Marvel includes Ant-Man and the Wasp: Quantumania (2023), Guardians of the Galaxy Vol. 3 (2023), The Marvels (2023), Captain America: New World Order (2024), Thunderbolts (2024) and Blade (2024). There is also still plenty yet to come for Marvel in Phase Five and beyond.
1923's Harrison Ford Joins the MCU as Thaddeus "Thunderbolt" Ross
Harrison Ford stars in the Yellowstone prequel 1923 as Jacob Dutton, the patriarch of Yellowstone Dutton Ranch. Ford has recently been cast as the Marvel character Thaddeus "Thunderbolt" Ross.
Ford is set to star in the upcoming 2024 films Captain America: New World Order and Thunderbolts. He takes over the role of Thunderbolt from the late William Hurt who passed away in 2022.
Yellowstone Actors Whose Careers Have Taken Off
While Yellowstone has several well-known actors, such as Kevin Costner, Wes Bentley, and Kelly Reilly (Beth Dutton), the show has also brought several actors to the spotlight.
While Luke Grimes (Kayce Dutton) and Kelsey Asbille (Monica Dutton) both had acting careers prior to Yellowstone, the hit series has helped them become well-known names in Hollywood.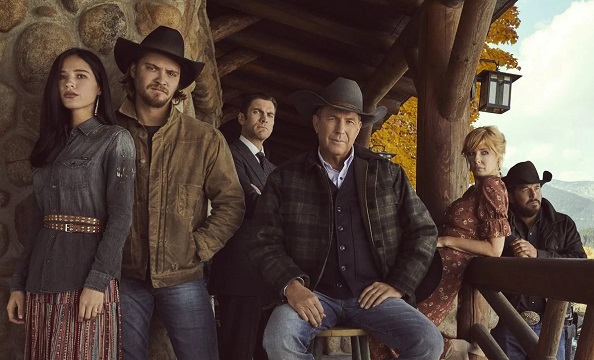 Jefferson White has also been brought to the spotlight thanks to his role as Jimmy on Yellowstone.
The series has also helped other actors make a name for themselves in the industry including Ryan Bingham (Walker), Kathryn Kelly (Emily), Jennifer Landon (Teeter) and Dawn Olivieri (Sarah Atwood), among others.
With the popularity of the show, it is no surprise it has helped many actors make a name for themselves and even potentially score a role in an MCU property.