Our readers support us. This post may contain affiliate links. We earn from qualifying purchases. Learn More
When it comes to horseback riding in winter, you want to make sure you are properly dressed in order to stay warm. As your hands are an important riding aid, it is vital you have a good pair of winter horse riding gloves.
Winter horse riding gloves are designed to keep your hands warm, while also being breathable enough where your palms won't get sweaty. They should provide adequate grip, so you can have a good feel on your reins no matter the weather. The material should be heavy-duty but also flexible.
What to Look for When Buying Winter Gloves for Horseback Riding
When choosing a pair of riding gloves for winter, there are a few things you need to take into consideration. Style, material, durability, and comfort all factor into finding the right pair of winter riding gloves.
Style: Riding gloves for winter come in different styles, from traditional gloves to even mittens. Some may have velcro straps or just simply slide right on.
Material: Most winter riding gloves are made from cotton or leather, and will have a fleece lining for additional warmth.
Durability: Winter equestrian gloves should be durable and be able to last through different weather conditions as well as barn chores.
Comfort: Comfort is key to a good pair of winter riding gloves. You want your hands to be warm, but also you want breathability and flexibility.
Best Winter Horse Riding Gloves for Equestrians
1. Heritage Winter Trail Glove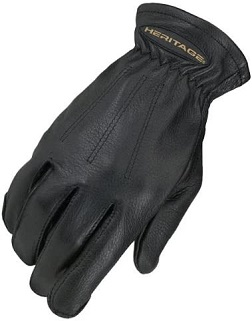 With a thick polar fleece lining, these gloves will keep your hands warm even in freezing weather. The exterior soft leather construction provides a soft and natural grip.
With a patented rein cut design, they allow for a comfortable and flexible grip while riding. The elastic band slides easily over your hand while providing a secure fit. Their out-seamed top construction provides durability and comfort.
2. Roeckl Weldon Winter Riding Glove
These innovative winter equestrian gloves have a unique Comfort Cut design that provides a close contact feel and performance. With touch screen compatibility, they allow you to use your phone while keeping your hands warm and protected from the cold.
They are made from Polartec Power Stretch Pro, which not only provides warmth but also softness. The extended cuff tucks inside your jacket sleeve for additional protection from the cold. The palm features a silicone grip, so you can have a steady hold of your reins.
3. SSG Winter Training Gloves
For riding, training and barn chores, these all-purpose gloves provide exceptional warmth. The leather exterior features a knit cuff for additional cold weather protection.
To keep your hands warm without bulk, the back of the gloves have Thinsulate lining. The palms are lightly lined to give you a good feel of the reins. They provide the durability and flexibility you need for working horses.
4. Heritage Performance Fleece Glove
For a warm yet breathable fit, these gloves feature a cozy polar fleece interior and a super grip synthetic leather palm. The fleece material stretches in all directions, while still being durable enough to wear all day long at the barn.
With a patented rein cut design, you will have a flexible grip and ideal contact as you ride. The adjustable strap closure allows you to have a secure and comfortable fit. Thanks to the double-stitched outward seams, they are built to last even in tough conditions.
5. SSG Work 'N Horse Lined Riding Gloves
From barn work to riding, these sturdy gloves are lined for warmth without having to compromise dexterity. Reinforcements are included at the fingers to provide durability and grip.
They are made with genuine leather and include an adjustable snap closure at the wrist for a secure and comfortable fit. Their sturdy build allows them to be worn for hours on end while at the barn.
6. TuffRider Fleece Back Smart Riding Gloves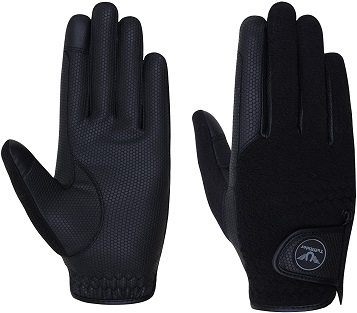 Soft and sleek, these gloves have a faux fleece back for a cozy fit. With an elastic wrist band and hook and loop tab closure, they provide secure and custom fit.
The palms are leather and feature touch screen compatible fingertips so you can use your phone with ease. In addition, the palms include a grippy finish for ideal contact as you ride. They are great for schooling during frigid winter days.
7. SSG 10 Below Waterproof Gloves
For particularly cold climates, these winter riding gloves are a must-have. Whether you are riding or doing barn chores, they will keep your hands warm and dry thanks to their waterproof design.
The polar fleece with "Thermal Feelings" heating material and Thinsulate lining provides increased warmth for below-freezing temperatures. The 4-way laminated lycra stretch outer shell improves flexibility, so they don't feel bulky while holding your reins. In addition, they are also touch screen friendly so you can easily use your phone while wearing them.
8. TuffRider Ladies Waterproof Thinsulate Riding Gloves
No matter the weather, these gloves will keep your hands cozy and dry thanks to their waterproof design. The Thinsulate lining provides warmth for your hands without being bulky.
They have a stretchy back for flexibility and a grippy palm for maintaining contact on your reins. The elastic wrist band and hook and loop tab closure allow for a custom fit. With touchscreen-compatible fingertips, you can easily access your phone.
9. SSG Pro Show Leather Winter Riding Gloves
For schooling or even showing, these leather winter riding gloves will keep your hands warm while looking sleek. The complete Thinsulate lining keeps your hands cozy your entire ride without being bulky.
The key area reinforcement allows for longer wear, while the spandex gusset provides a comfortable fit. They are durable yet flexible, allowing for ease while riding. The knit cuff provides additional protection and neatly fits under your coat.
10. SSG Fleece Lined Gripper Gloves
Made from cotton, these fleece-lined gloves give you the support and warmth you need during winter. The pimple palm provides great grip, no matter the weather conditions.
They are reinforced in key areas, allowing them to be worn for hours at a time. Lightweight, yet cozy they are breathable without sacrificing warmth. The velcro straps at the wrist allow for a secure and comfortable fit.
Frequently Asked Questions About Winter Horse Riding
How Cold is Too Cold for Horseback Riding?
Generally, you do not want to ride a horse in temperatures below 20-25 degrees Fahrenheit. This weather is potentially dangerous for both you and your horse.
Intense exercise in below-freezing temperatures can potentially lead to damage in a horse's respiratory tract. In three different studies, Scientists have found that respiratory tracts in horses can become damaged by breathing air that is 23 degrees Fahrenheit or colder. If the temperature outside is under 25 degrees Fahrenheit, you should ideally stick to only walking if you are riding.
What Do You Wear Horseback Riding in Winter?
When horseback riding in winter, you want to make sure you have all the proper equipment to stay warm. This includes thick riding pants, boots, warm winter gloves, warm socks, a helmet, and a waterproof coat that is fitted and flexible.
Generally, you want to look for fleece-lined riding pants and gloves, as they will keep you cozy and protected as you ride. If you live in an area that gets particularly cold and snowy, winter riding boots are a good investment. Materials should be warm, breathable, flexible, and durable to keep you safe and cozy.
What is Thinsulate?
Thinsulate is a type of fabric constructed from synthetic fibers woven together in various thicknesses to keep you warm. It is made up of very fine fibers that work by trapping air molecules within them.
Thinsulate is powerful yet thin, as it helps trap body heat while letting moisture escape. The material is breathable while keeping you cozy. It is commonly used in clothes, boots, and gloves.