Cold winter days shouldn't keep you away from the barn! Keep your feet warm even in the most frigid temperatures with a cozy pair of winter horse riding boots.
Winter horse riding boots are insulated boots for horseback riding that provide extra protection to keep your feet warm. They typically have a waterproof exterior and some will even have a fleece lining for additional warmth. There are many different styles available, including paddock and tall boots.
Here are our picks for the best winter riding boots:
Benefits of Winter Riding Boots for Horseback Riding
Winter riding boots come with many benefits, as they are designed to keep your feet dry and warm. Insulation and waterproof construction are the two most beneficial factors, as they protect your feet from cold, wet weather.
Winter boots will also have durable outsoles with extra traction, which is particularly important if you are walking in snow, ice, slush, or mud. They are great if you spend long hours at the barn, as you won't have to worry about your feet being cold. They're able to give you the added stability and comfort you need in freezing temperatures.
What to Look for in Winter Horse Riding Boots
Before you start your winter shopping, there are some things you should keep in mind when buying winter boots for riding. When choosing winter horseback riding boots, you want to take into consideration durability, safety, material and comfort.
Durability: You want a pair of boots that will be able to last through snow, ice, rain, and mud. They should have durable yet flexible builds that can withstand harsh conditions without ripping.
Safety: As with all types of riding boots, winter ones should have a 1-2 inch heel. They should have a rubber outsole to provide traction in slippery conditions.
Material: Winter riding boots can be leather, synthetic leather, or even rubber and ideally they will be waterproof. They should have an insulated interior to prevent your feet from getting cold.
Comfort: Winter riding boots should have a comfortable fit. You want to look for features like a cushioned insole and fleece lining.
Here are the eight best winter horse riding boots that will keep your feet warm and protected in cold weather.
Best Winter Horse Riding Boots
1. Dublin Eskimo Boots (Women)
With a quality synthetic fleece lining, these tall boots will keep you cozy all winter long. They feature a waterproof booty lining that keeps your feet and ankles dry in wet and snowy conditions.
The full-grain leather build is lightweight yet sturdy, so your feet will be protected. An absorbent RCS footbed system with heel and arch support provides a double cushioning layer for top-notch comfort. The Tough Tec rubber outsoles provide excellent traction, so you don't have to worry about sliding in icy conditions. They are breathable yet warm, with an adjustable top lace for a snug fit.
2. Ariat Terrain Insulated Boots (Men)
From hiking, horseback riding, and working, these versatile lace-up horse riding boots are a must-have in cold weather. The 200g Thinsulate Insulation provides warmth with less bulk, so you will be cozy and comfortable.
Thanks to the full-grain leather waterproof build, they will keep your feet dry no matter the weather. The lace-up front features a padded top collar for a secure fit. Ariat's ATS technology provides stability, so you can spend all day on your feet without getting sore. The Duratread outsole allows maximum wear resistance and security.
3. Mountain Rider Tall Boots (Women)
Winter is no match for these tough tall boots. With a sleek design, they include a Duralon shaft with heat-insulation and a Thermolite lining to keep legs and feet warm.
For an individual fit, the zipper has elastic inserts while also having a breathable waterproof membrane. They feature an ergonomic removable insole that has wonderful cushioning while also being breathable. The unique Stirrup Control System incorporated in the outsole provides an enhanced grip to help maintain the correct stirrup position. In addition, it also increases traction on snow and ice when walking while a steel shank gives stability.
4. HORZE Winter Thermo Tall Riding Boots (Women)
Ideal boots for mucking out and riding, they are completely fleece lined to keep your feet warm all day long. For maximum comfort and an adjustable fit, there are five velcro straps.
The rubber sole is not only comfortable but also is waterproof so your feet will be dry even on snowy days. The leg is made from Oxford fabric while featuring a neoprene panel on the inside leg for a smooth ride. Made with no animal products, these are suitable horse riding boots for vegans.
5. Ariat Berwick Insulated Country Boot (Women)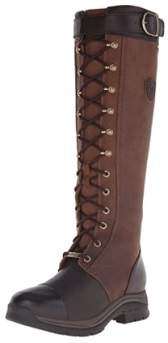 Tall and elegant, these winter lace up riding boots have a premium waterproof, full-grain leather upper. They feature a 200g Thinsulate Insulation that is lightweight while keeping your feet warm.
Between the lace-up front and full-back zipper, you are able to get a snug, precise fit. The ATS footbed technology provides stability and all-day comfort, while the EVA midsole provides shock absorption and cushioning. The sturdy Duratread outsole provides stellar traction while featuring an easy-off "heel kick" feature.
6. Ariat Waterproof Insulated Paddock Boot (Women)
With a waterproof full-grain leather upper and 200g Thinsulate Insulation, these paddock boots will keep your feet cozy and dry all winter long. The thermal insole allows for constant comfort while the Mesh X-Static pure silver lining provides permanent anti-odor performance.
A suede padded top collar with Achilles notch provides a snug fit with the zip-up front. To keep you safe while out on the trails, the outside has reflective piping for increased visibility. The Duratread outsole provides traction and flexibility while including stabilizing lateral motion control.
7. Mountain Horse Rimfrost Rider Tall Boots (Men)
These versatile tall boots will keep your feet snug and dry thanks to the heat-insulating Thermolite lining and waterproof construction. For improved individual fit, they have elastic inserts along the zipper on the calf.
The upper is made from strong Duralon, while the heel is fitted with a shock-absorbing IPS system to reduce impact while walking. To provide increased stability, they are built with a steel shank. With the unique Stirrup Control System, the outsole helps maintain the correct stirrup position while providing much-needed traction for winter conditions.
8. Mountain Horse Snowy River Lace Paddock Boots (Women)
Warm and waterproof, these paddock boots are made from full-grain leather, with a Thinsulate and faux fur lining. The ShockX insole is soft while providing superb comfort and shock absorption.
With a lace-up front, you are able to get a precise fit for your feet. The snow-gripping tough outsole provides traction both in and out of the saddle. These durable boots are great not only for horseback riding, but also all your barn chores.
Frequently Asked Questions
What Do You Wear Horse Riding in Winter?
When riding a horse in winter, you want to make sure you have all the proper equipment to stay warm. This includes winter horse riding gloves, pants, boots, warm socks, a helmet, and a waterproof coat that is fitted and flexible.
Ideally, you want to look for fleece-lined riding pants and gloves that will keep you warm as you ride. If you live in a particularly cold and snowy environment, winter riding boots are a good investment. Materials should be warm yet breathable, so you don't overheat as you ride.
How Cold is too Cold to Ride a Horse?
Typically, you do not want to ride a horse in temperatures below 20-25 degrees Fahrenheit. Not only can this weather be dangerous for you, but also for your horse.
Intense exercise in below-freezing temperatures can potentially damage a horse's respiratory tract. Scientists have found across three studies that respiratory tracts in horses can become damaged by breathing air that is 23 degrees Fahrenheit or colder. If it is under 25 degrees Fahrenheit, you should ideally only stick to only walking if you are riding.
Are Short or Tall Riding Boots Better?
Short and tall boots are both great for riding. Many people go off their personal preference, as one is not inherently better than the other.
Short boots, also known as paddock or jodphur boots, are generally more affordable and can be worn with half chaps if desired. However, some people like the fit and additional protection tall boots provide from chafing when riding such disciplines as hunter/jumper, eventing or dressage.
Also check out our guide to the best vegan horse riding boots.