This post may contain affiliate links. We earn from qualifying purchases. Learn More
If you live in a climate with cold, snowy winters, you will want proper boots to keep you warm at the barn. Fortunately, there are some great winter cowboy boots for snow on the market that are insulated and waterproof.
Winter cowboy boots are designed to keep your feet warm and dry while you are at the barn. They are generally insulated to provide additional warmth and waterproof to keep snow and water from seeping in. The boots we have chosen are hardier than normal boots, but still practical for horseback riding and barn chores.
Here are the 8 best men's and women's winter cowboy boots.
Best Men's Winter Cowboy Boots
1. Ariat Hybrid Rancher Waterproof Western Boot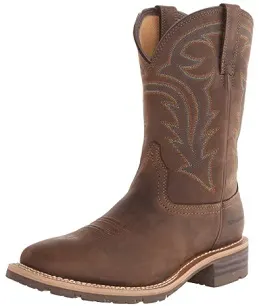 These versatile leather western horse riding boots are waterproof, making them a great option for snowy and wet conditions.
Thanks to their innovative Waterproof PRO Technology, you can rest assured your feet will stay warm and dry. The full-grain leather is not only waterproof but also fully insulated. The Duratread outsole provides excellent traction and wear resistance against slippery conditions.
To keep your feet comfortable all day long, the 4LR footbed provides support and cushion. The inside features a breathable mesh lining to keep your feet dry and comfy no matter the season.
Why we like it:
Flexible, comfortable, and durable.
Waterproof Pro Technology is insulated to keep your feet warm and dry.
Duratread outsole provides traction in slippery conditions.
Well-known cowboy boot brand.
2. Rocky Men's Insulated Pull-On Wellington Boots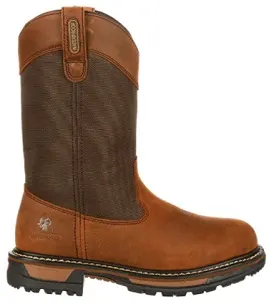 These insulated cowboy boots have 200 grams of Thinsulate Insulation to keep your feet cozy. In addition, they have a waterproof finish to keep your feet dry in the snow and rain.
With the unique 8-Layer Rocky Ride Comfort System, your feet will be comfortable for hours on end. The EVA midsole absorbs shock to prevent fatigue at the end of the day. The extra-tough rubber outsole provides superior traction even in the most slippery conditions.
A removable, dual-density polyurethane Ride footbed includes a heel stabilizer for added support. These durable boots are great for even the hardest barn chores.
Why we like it:
200 grams of Thinsulate Insulation and waterproof finish keep your feet warm and dry.
Made with full-grain leather and 1,000 denier nylon.
Durable, comfortable, and great for work.
3. Dan Post Boots Men's Albuquerque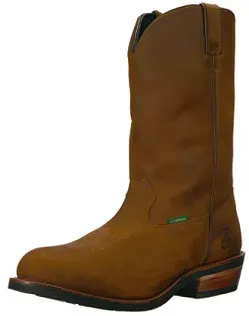 These leather boots are popular for both work and dress. Not only are they durable, but also waterproof, keeping your feet dry no matter the weather.
For top-notch comfort, the removable insole is orthotic to provide you support. In addition, the insole is also antimicrobial and anti-fungal, preventing nasty odors from building up. The boots also feature a mesh lining for breathability.
The rubber sole has mini-lug traction, providing grip without tread. They feature a thick build to keep your feet warm in the winter months.
Why we like it:
Waterproof with a heavy-duty build.
Removable orthotic insoles are antimicrobial and anti-fungal.
Mesh lining provides breathability.
4. Ariat Work Men's Workhog Composite Toe Boot
These insulated cowboy boots have 600 grams Thinsulate Insulation to keep your feet warm in even the most frigid temperatures. The full-grain leather on these boots features Waterproof PRO construction, so you don't have to worry about getting them wet.
The ATS Max technology reduces foot fatigue while also providing support and stability. To keep your feet comfortable, the EVA midsole is shock-absorbing. The Duratread outsole not only provides flexibility, but is also slip-resistant.
With an innovative SWEN-FLEX insole board, they are puncture-proof, which is great to have for farm chores. The mesh lining keeps your feet comfortable and helps prevent odors from building up.
Why we like it:
Great work boots for tough barn chores.
Include 600g Thinsulate Insulation and Waterproof PRO to keep your feet warm and dry.
Durable, comfortable and provide additional protection.
Best Women's Winter Cowboy Boots
1. Ariat Terrain Pull-On Waterproof Boots
These comfortable cowboy boots are great for all your needs, whether horseback riding, hiking or doing barn chores. They will keep your feet protected all year round no matter the weather.
The Waterproof PRO construction will keep your feet dry in snowy and rainy conditions. The EVA midsole is not only lightweight, but also shock-absorbing for top-notch comfort. With innovative ATS technology, your feet will have much-needed stability.
Made from full-grain leather and suede leather, they will keep your feet warm all throughout winter. The Duratread outsole is non-marking while providing traction and durability.
Why we like it:
Waterproof PRO Construction and hardy build keep your feet cozy and dry.
Comfortable, durable and flexible.
Great for working, riding and hiking.
2. Durango Women's Waterproof Composite Toe Western Boot
These sturdy cowboy boots are not only durable but also waterproof. Their full-grain leather design is constructed to protect your feet no matter the season.
The soft mesh lining is breathable, keeping your feet comfortable in all weather. For ease of use, the contoured and ventilated cushion insole is ventilated. The lightweight molded EVA midsole is flexible while also providing support.
For additional protection in winter weather, the sturdy rubber outsole is abrasion and slip-resistant. These versatile boots are great for all your barn needs, from riding to chores.
Why we like it:
A waterproof and thick build is ideal for wet, winter weather.
Versatile, comfortable, and flexible.
Comfortably insole and durable outsole.
3. Ariat Hybrid Rancher Waterproof Cowgirl Boot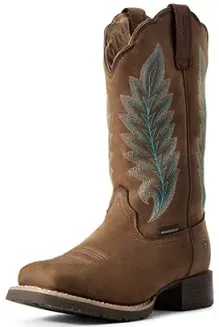 Whether you are horseback riding or mucking stalls, these insulated cowboy boots are great for cold winter days. The 400 grams Thinsulate Insulation provides plenty of warmth in frigid temperatures.
They feature Waterproof PRO construction leather, so you can ensure your feet will be dry at all times. The unique 4LR technology provides support and cushioning for your feet all day long. For wear resistance, traction and flexibility, they feature a hardy Duratread outsole.
With Goodyear welt construction, these boots are built to last. With a classic cowboy look, they are a great addition to your wardrobe.
Why we like it:
400 grams Thinsulate Insulation and Waterproof PRO construction keep your feet warm and dry.
Durable, flexible and great for horseback riding and barn work.
4LR technology provides support and comfort.
4. Twisted X Women's Cowboy Work Boots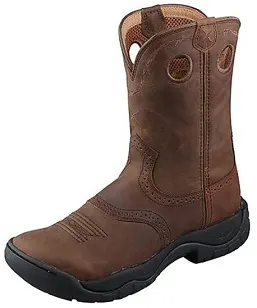 These trusty cowboy work boots are a great option for the hard-working equestrian. They are perfect for barn chores, while also being practical enough for horseback riding and walking.
The molded footbed is moisture-wicking and anti-bacterial, to prevent stinky odors from building up. It is also removable and machine washable, so you can keep it clean and fresh. The water-resistant design ensures your feet will be kept dry while the sturdy leather design will keep you warm.
The molded rubber outsole provides durability and traction, while also including an integrated spur ridge. For additional support, a compression-molded EVA midsole is built in.
Why we like it:
Water-resistant design and thick construction keep your feet dry and warm.
Durable, comfortable and versatile.
Footbed is moisture-wicking and anti-bacterial.
Oils and Moisturizers to Treat Cowboy Boots in the Winter
To help maintain your boots and further reduce moisture, leather oils and moisturizers should be used on cowboy boots, especially during winter. Oils and moisturizers help protect the leather from snow, further the lifespan of boots, and help resist staining.
Over time, due to its porous nature, the leather may begin to lose some of its resistance to water. Treating the leather will increase its ability to resist water. It will also prevent cracks from forming on the leather due to wear.
The main types of leather conditioners include condition creams, wax conditioners, and conditioning oils. Conditioning creams work to replenish and protect the leather. Wax conditioners protect against acids, oils, and moisture by creating a barrier. Conditioning oil works by penetrating leather to keep it strong and protected.
Conditioning Oil – Fiebing's 100% Pure Neatsfoot Oil
Neatsfoot oil is a great option for conditioning your leather. Made from all-natural ingredients, it works to preserve leather.
The oil works to keep leather strong and pliable by replacing evaporated oils. Neatsfoot oil works great on leather saddles, boots, gloves, and car seats. It keeps your leather protected and will not change the color.
Wax Conditioner – Atsko Sno-Seal Original Beeswax Waterproofing
This beeswax conditioner is specifically designed to keep your leather boots protected from the snow. It lets the leather breathe while still keeping water and snow out.
In addition to repelling water, it also conditions and preserves your leather. The beeswax works to extend the life of the leather while keeping it looking new. It even protects against salt, which can damage boots over time.
Conditioning Cream – Horseman's One Step Leather Cleaner & Conditioner Cream
This convenient cream works to both clean and condition your leather boots or tack. It removes dirt, grime, and sweat while penetrating the leather.
The rich lanolin in the cream keeps leather supple while leaving a beautiful satin sheen. It is simple to use and is effective at maintaining leather. The formula will not darken leather and can be used on both synthetic and real leather.
FAQs
Are Leather Boots Good for Winter?
Leather boots can be good for winter, but you need to make sure you get the right pair. Look for ones that are insulated, waterproof or water-resistant.
To help protect your leather boots from winter conditions, you should use a leather cream, oil, or wax moisturizer. This will protect your boots from salt, snow, and water while extending their life. Also, consider synthetic and vegan cowboy boots made from waterproof materials such as treated PUV leather.
What is the Difference Between Waterproof and Water-Resistant?
Materials that are water-resistant are able to resist water intrusion to a degree and slow it down since they are thick. Materials that are waterproof are able to be fully submerged in water without letting it in.
Waterproof is stronger than water-resistant. Though water-resistant boots can keep your feet dry in the rain, snow, and shallow puddles, they aren't meant to be fully submerged. Waterproof boots are able to keep your feet dry even if you fully submerge them in water.
Most leather boots aren't truly waterproof as leather is porous. However, they can work well to keep your feet dry in most situations. You may submerge them for short periods of time, but they won't be as effective as rubber boots.