This post may contain affiliate links. We earn from qualifying purchases. Learn More
William Shatner is best known for his role as Captin Kirk in the hit TV series, Star Trek. However, outside of acting, William Shatner is an avid horse lover.
For many years, the 89-year-old celebrity has been active in the Saddlebred and Quarter horse industries. He has bred, owned, and shown many horses in his career as an equestrian.
Horses have played a very important part in William Shatner's life.
Here are 10 horse facts about William Shatner:
William Shatner Won a Horseback Riding Championship
In the Saddlebred world, William Shatner has shown in saddle seat, western, and driving disciplines.
On multiple occasions, William Shatner has won world championships at the Kentucky State Fair World Championship Horse Show in fine harness and roadster to bike divisions.
In 2016, he was introduced into the World Championship Horse Show Hall of Fame. His most recent world championship win was in 2019, with his Standardbred road horse Track Star. The pair won the exciting Amateur Roadster to Bike Championship at the renowned Kentucky State Fair.
In addition to the world championships he's won with his driving horses, he has also won top ribbons showing in three-gaited, five-gaited, and western pleasure classes.
Also read our guide on the 10 most famous horse riders.
William Shatner Received a Lifetime Achievement Award in Reining
William Shatner has also found success in showing Quarter horses. After several years of riding Saddlebreds, he gained an interest in reining.
William Shatner's success in reining earned him the 2018 NRHA (National Reining Horse Association) Dale Wilkinson Lifetime Achievement Award. While his Saddlebred barn is located in Kentucky, he keeps his reining horses in California.
Included in our list of celebrities who ride horses, the Emmy winning actor clearly has found just as much success in the show ring as he has on the big screen.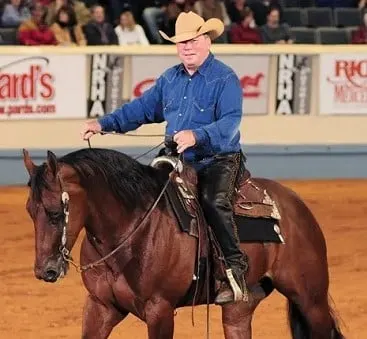 William Shatner Has a Horse Shows Class Named After Him
He has had a impact on the horse show world. His impact on the Saddlebred breed has led to the creation of the Saddle & Bridle ASB Shatner Western Pleasure Finals.
Saddlebreds across the country compete in qualifying classes in order to show in the finals. The Shatner Western Pleasure Finals are held annually at the St. Louis National Charity Horse Show in St. Louis, Missouri.
The winner of the prestigious national final is awarded the William Shatner Perpetual Trophy.
William Shatner Wrote a Book About His Love For Horses
William Shatner is so passionate about horses that he even wrote a book about them. In 2017, he published his book, Spirit of the Horse: A Celebration in Fact and Fable.
In his novel, the celebrity equestrian shares some of his favorite memories he's made with his horses over the years. He celebrates the unique relationship between man and horse that is full of "power, courage, mindfulness, and healing that they can inspire in us."
William Shatner's Favorite Episode of Star Trek Included a Horse
In the season one episode "Shore Leave" Captain Kirk and Spock find themselves in an Old West-type environment.
In his book, Spirit of the Horse, he writes how much he enjoyed filming with the horse. He describes the experience of filming with his equine co-star as calm and beautiful.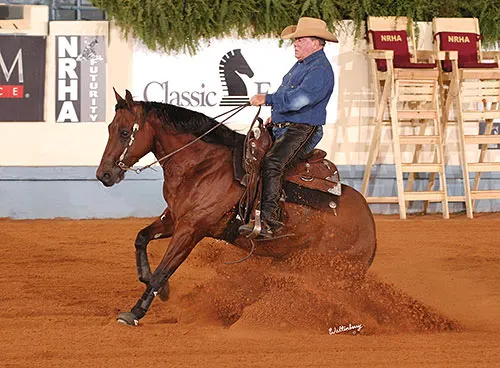 William Shatner is a Self-Proclaimed Horse Whisperer
William Shatner proclaims himself to be a horse whisperer. In a special interview with the Associated Press, he shares a special moment he once had with a mare who "spoke" to him.
He said the mare nuzzled him during the interview and told him "I'm so glad to be here."
William Shatner Bought His First Horse by Accident
When William Shatner was younger, he attended a Quarter horse auction. While there he had no intention of actually buying a horse.
At the auction, he met a young boy who pointed to a horse and told the actor "that's the horse you should buy." While protesting the boy's suggestion, the auctioneer mistook his gesture as a bid.
Too embarrassed to correct the auctioneer of what actually happened, he became the owner of his first horse.
William Shatner Was Married to a Horse Trainer
Though they are now divorced, he was once married to professional horse trainer Elizabeth Martin. In addition to being a talented Saddlebred trainer, she is also a horse show judge.
On some occasions, Elizabeth Martin and William Shatner even competed against each other in horse shows. Martin herself has also won numerous world championship titles. When Martin and Shatner were married, they owned Belle Reve Farm and Three Rivers Ranch together.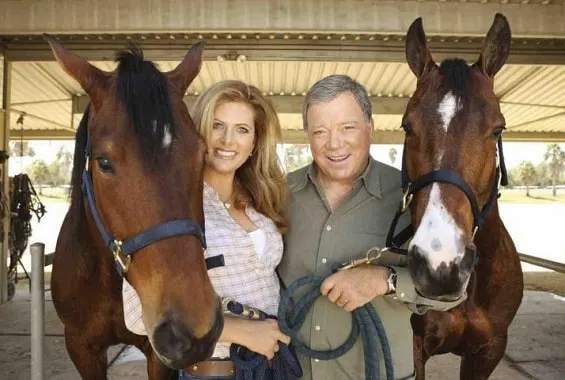 William Shatner Started the Annual Hollywood Charity Horse Show
William Shatner has long been a supporter of children's charities. In 1990, along with his former wife Elizabeth Martin, he started the annual Hollywood Charity Horse Show.
Each year, the show features "world-class reining horses and riders in breathtaking slides and spins as they compete for top honors in their respective classes."
In addition to horses, the show also features music from some of Hollywood's top artists and a silent auction.
William Shatner Loves Horses on a Spiritual Level
For William Shatner, horses are more than just a hobby. He has a special relationship with all the horses he owns and connects with them on a spiritual level.
"I have been to truly sacred and highly spiritual places. I've been in sweat lodges, I've been in smoke ceremonies where a shaman drifts smoke over you, I've been at the confluence of several mountains near Mount Everest where there was a great Buddhist temple. But all those left him cold. "For most people — perhaps all? — wherever they love to be, that place is a cathedral to them … For me, it's a stable," said William Shatner.