This post may contain affiliate links. We earn from qualifying purchases. Learn More
The opening episode of Heartland Season 14 has brought a shocking revelation to all of us. That is, Graham Wardle, who plays Ty Borden, will no longer be returning to the series.
Graham Wardle decided to leave Heartland to explore other areas of life. After being on the show for 14 seasons, Wardle felt it was time to move on from acting and dedicate more time to his own projects.
The Heartland star has already asked for time off the screen before, during Season 10 when Ty leaves for Mongolia. However, this time his decision is final, which not only came as a shock to fans around the world but to the cast & crew also.
Read more about Graham Wardle leaving Heartland below:
*Warning: Spoilers for Heartland Season 14*
How Does Ty Borden Die on Heartland?
In the Season 13 finale "The Passing of the Torch", we see Amy and Ty getting in the way of a stray bullet fired by a poacher.
Thanks to Ty's heroic actions, the bullet only hits Amy in the shoulder. Ty rushes her to the hospital, where a nurse points out he's been shot as well.
Ty Borden dies of a blood clot that developed as a result of his gunshot wound. In Heartland Season 14 Episode 1 "Keep Me in Your Heart", he collapses while leading Spartan back to the barn.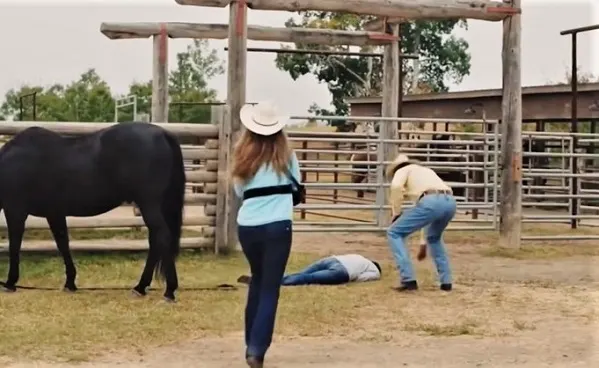 In the heartbreaking episode, we see Amy gentling a wild colt with the help of Spartan shortly before tragedy hits. As soon as Ty falls, Jack and Amy run up to him, but it was already too late.
Also read: 10 Interesting Facts About Graham Wardle.
Graham Wardle on Leaving Heartland
As mentioned in our Heartland spoilers guide, his departure from the show might seem sudden to viewers, but Graham Wardle's decision has been a long way coming.
In a special message to fans, the actor revealed he's been thinking about leaving the show for at least a few years.
"I have not taken this decision lightly. I have spent a few years now contemplating and trying to figure out how to honor myself and make this transition and honor the show" he said.
You may rightfully ask, but what exactly makes an actor get up and walk out on a show that's probably well-paying? After all, consistent work is a rare blessing in the film & TV industry, especially when it involves working on the most amazing set.
Graham Wardle described it as a "call to move on", to follow his heart. In the past few years, he's started several projects that he truly believes will make a difference in people's lives. Accordingly, he told The Canadian Press via email "I felt in my heart it was time to move in a new direction,".
Wardle also expressed how grateful he is for the beautiful chapter in his life that was being on 14 Seasons of Heartland. The show has taught him so many life lessons, and he will forever miss working on the set.
Last but not least, he wants to thank all the amazing fans for supporting the show and encourages everyone to get the most out of Ty's storyline.
Also read: Does Amy Die in Heartland?
Graham Wardle Reflects on Ty's Journey
The reason I respect Graham Wardle so much, despite his decision to leave us, is because of how sensibly he's gone about it. He didn't just take Ty away from us when he made up his mind one day but gave the writers a good couple of years to gradually wean us off his character.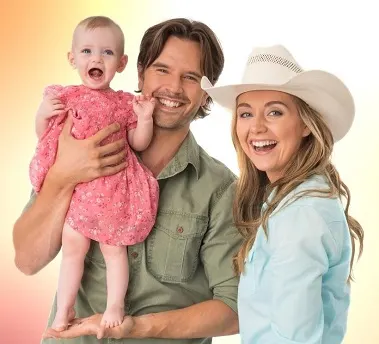 In his message to fans, Wardle explains how Ty's character arc was complete by the time of his sudden death. He feels like Ty has gone through tremendous spiritual growth since arriving at Heartland and healed all his relationships.
I think we can all agree that both Graham Wardle and the writers have honored the character the best possible way.
Even though it's a heartbreaking storyline, Wardle is sincerely hoping that some fans will find comfort in it. He wants everyone to know there's still life left to live after someone passes away too early; that there's healing and hope.
"I think that there's a really good story, a really good truth that everything comes to an end and everything dies. So make the most of what you have and live it to the fullest." he shared.
Take our fun Heartland quiz which features a few Ty Borden questions.
Graham Wardle's Favorite Scenes & Storylines on Heartland
As a treat to fans, Wardle also talked about his favorite scenes to shoot on Heartland. He always got excited about stories that expanded the Heartland universe, such as when Jack rescued Ty from Calgary, their motorcycle road trip, or the Mongolia storyline.
He also liked playing the role of a new dad. Since Wardle wants to have children in the future, it felt like preparing for those times yet to come in his life.
Watch Graham Wardle's entire message to fans below:
Heartland Cast Members on Graham Wardle Leaving
Without a doubt, many of us have grown close to Ty's character over the years. So naturally, his departure has saddened fans around the world. But let's not forget that Heartland cast members also lost a dear friend they've been working with for the past 14 years.
In his recent interview with Rave It Up TV, Chris Potter (Tim Fleming on Heartland) shared a few thoughts about Graham leaving the show.
First, he said that having spent nearly half his life on the show, Graham still needs to answer some of life's big questions.
In contrast, Chris only started acting in his late twenties and answered many of those questions.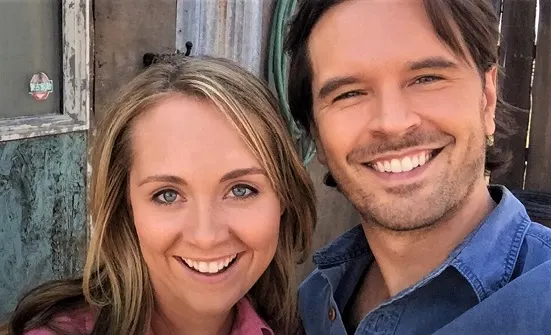 Unsurprisingly, Wardle's decision made the biggest impact on Amber Marshall. She found out before anyone else, as Wardle called her first once he made his decision. This was about two years ago, according to The Canadian Press.
Naturally, Marshall was shocked and even a bit hurt at first, since she's been working closely with Wardle for over a decade. However, knowing that the actor has been going in different directions lately, she eventually came to terms with the facts.
"Playing a character for well over a decade, that's a huge commitment," Marshall told The Canadian Press. But, having understood what's driving him inside, Marshall is now Wardle's biggest supporter in his new endeavors.
She believes it's important to listen to our guts even if we hurt people along the way, which Graham did in such a respectful manner.
Also read: 15 Interesting Facts & FAQs About Amber Marshall
Amber Marshall's Message to Fans After Graham Wardle Leaves Heartland
Seeing the public outcry following Graham Wardle's departure from the show, Amber Marshall was keen to encourage fans not to give up on Heartland.
"This is a story that people might not want to see in the beginning," she told Postmedia. "I think there's going to be a lot of people devastated by this. But I believe the journey through this season is so important for viewers to watch and to know that death is real."
Sure enough, the fan reaction to the death of a beloved character was stronger than expected. Based on public comments posted on social media, the fanbase is currently split into two groups. There are those for whom Heartland ended with Season 13 and those who say Heartland is more real now than ever.
In response, Amber Marshall assured fans that there are plenty of stories left to tell in the Heartland universe. She understands the need to grieve for Ty, but encourages everyone to keep an open heart as that's when we experience the most growth in life.
Watch Amber Marshall's official message to fans below:
Also read: 8 Facts You Didn't Know About Heartland
Moving Forward Without Graham Wardle
According to the Calgary Herald, Marshall also expressed how Graham Wardle's absence has hung over the entire cast & crew during the shooting of Season 14. She said the experience was an "emotional roller coaster" for everyone, since the core cast of Heartland has more or less held for the past 14 years.
But when one door closes, another opens. While not acting opposite Wardle was certainly strange for Marshall, it also presented an opportunity to work more closely with other cast members.
As for Amy, losing her husband means she will need to find a new sense of purpose. As Marshall points out, Season 14 represents Amy's healing from this terrible loss. She will also need to find herself again, as Amy "hasn't known a life without Ty", Marshall says.
Ty's memorial in the first episode of Season 14 was a key moment to not only the characters, but to the cast members also.
As Marshall shared in TV Insider's exclusive video, it was a final farewell to both Ty Borden and Graham Wardle. It was certainly a beautiful tribute to the character, in which some fans may have found their own closure as well.
Also read: 3 Heartland Actors Who Live Like Their Characters in Real Life
Graham's "Time Has Come" Podcast
The fact that Graham Wardle left Heartland doesn't mean he will completely disappear from public view. Those wanting to follow the actor in real life can still reach him via social media, Cameo, or listen to his new podcast.
Speaking of which, the Time Has Come Podcast is one of Graham Wardle's brand new projects. In each episode of the show, Wardle has insightful conversations with special guests who share their personal journey. Some of the episodes even feature Heartland cast members, so they're definitely worth checking out!
Don't forget to check out our range of popular Heartland guides. We have articles on all the actors that delve into their lives away from Heartland and answer popular FAQs.