This post may contain affiliate links. We earn from qualifying purchases. Learn More
Ariat boots have become a familiar name in the world of footwear, known for their unique blend of comfort, durability, and style.
Yet, many of us are left wondering about the origins and production of these popular boots. Where are Ariat boots made? What's the story behind their creation?
In this guide we reveal where Ariat manufacture their boots, the company's history, and answer some of the most common FAQs.
Whether you're a seasoned Ariat enthusiast or a prospective buyer, this comprehensive guide will provide insights into the brand's commitment to quality and innovation.
Where Are Ariat Boots Made?
Most Ariat boots are mostly made in China and Mexico, but also in Vietnam, Italy, and the United States. Though Ariat boots are made in various countries depending on the style, they are all designed in the United States.
The Two24 line of men's Ariat boots is made in America. The inspiration for the name Two24 comes from the legendary racehorse Secretariat.
In 1973, Secretariat captured the title of Triple Crown champion by winning the Belmont Stakes with a record time of 2 minutes and 24 seconds.
The Two24 line includes handmade leather boots and shoes inspired by the equestrian lifestyle. The boots and shoes are expertly handcrafted with premium leather and exceptional attention to detail.
China and Mexico are the leading manufacturers of the majority of Ariat boots, both English and western styles. Outsourcing the production of shoes is a common practice among many large-name footwear companies. It is a popular practice as it is often cheaper to outsource labor than to manufacture products in America.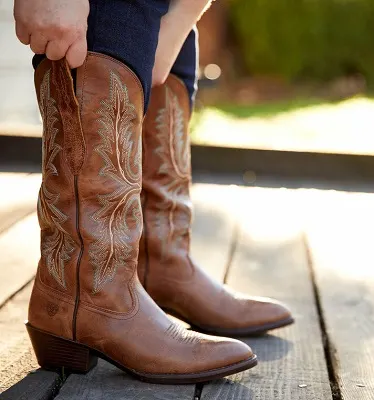 Every pair of Ariat boots undergoes a strict quality check to ensure customers are receiving only high-quality products.
According to the Ariat website, most boots go through 150 steps during construction to guarantee world-class performance, fit, and durability.
Ariat works with various global suppliers to use only the best materials for their boots. They design all of their products in Union City, California.
Are Ariat Boots Good Quality?
Ariat boots are renowned for their good quality in the equestrian world. Though most of their boots are not manufactured in America, they feature quality craftsmanship and undergo strict quality checks.
Ariat has high standards for the materials they use in their products to ensure customers are only getting the very best. They are a leader in developing advanced technologies in order to produce boots that are comfortable, durable, and functional. They aim to produce lighter, cooler boots that are the most durable on the market.
Ariat boots are a popular choice among amateur and professional riders. Top equestrians in both English and western disciplines, such as Beezie Madden and Trevor Brazile, use Ariat equipment.
Are Ariat Boots Handmade?
Though most of Ariat's boots are produced by machine manufacturing, they do sell handmade boots. Their handmade products come from Mexico, Italy, and America.
Are Ariat Boots Made With Real Leather?
Ariat uses full-grain genuine leather to make their boots. Their leather comes from cowhide, as well as some styles being buffalo leather.
Some styles of shoes may use other materials besides leather. Ariat's website includes the materials for each product on the individual listings.
Is Ariat an Ethical Brand?
According to their website, Ariat is committed to being an ethically sourced and eco-friendly brand. They are committed to preventing unnecessary harm in their down and wool supply chain, ensuring all animals are treated respectfully.
Ariat works with the Leather Working Group, an organization that works to set environmental standards within the leather manufacturing industry. Ariat also works with various other environmental programs.
Such programs include Bloom, which uses reclaimed algae in the soles of their Eco Ryders and Eco Cruiser shoes. Another program, BLUESIGN, ensures fabrics are 'created with sustainably responsible resources and processes.'
Where Are My Ariats Made?
Ariat does not list the location of production for every product on their website. Only some products on their website list where they were made in the description.
On most boots, you can find the manufacturer's location on the tag on your boot's inside. It is commonly located near the size and the serial number of the product.
What is the Story Behind Ariat's Name?
Ariat's name comes from the legendary racehorse, Secretariat. The Ariat logo consists of three horseshoes, with each horseshoe representing one leg of the Triple Crown, which Secretariat won in 1973.
Ariat was founded in 1993 by Beth Cross and Pam Parker. The two women founded the brand with the mission to make English and western boots more comfortable as "traditional boots were stiff, heavy and hard on the feet." Ariat was established "The New Breed of Boot" and quickly rose in popularity among riders worldwide.
The brand took the equestrian industry by storm thanks to Cross and Parkers revolutionary designs. They are even proud partners of such organizations as the Fédération Equestre Internationale (FEI) and the Pro Bull Riding Association. Ariat's headquarters are based out of Union City, California.
4 Most Popular Ariat Boots
Ariat is a leader in both western and English footwear for riders from all walks of life. From trail riding to the show ring, they offer various high-quality boots. Here are some of the best-selling Ariat boots.
1. Ariat Fatbaby Western Boot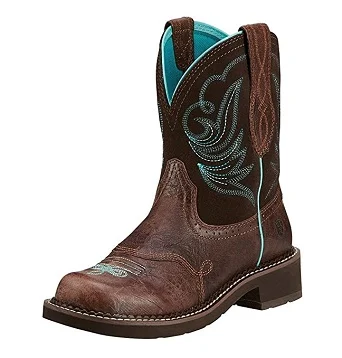 The Fatbaby is one of Ariat's best-selling boots. Fashionable, functional, and comfortable, they are everything you want in a pair of cowboy boots.
These boots offer 4LR technology in the soles, offering stability and support for hours on end. The Duratread outsole gives them top-notch traction both in and out of the saddle. The genuine leather build features a durable five-row stitch pattern.
Great for horseback riding or a night out on town, the Fatbaby is a versatile boot. There are over 15 color options to meet your style needs.
2. Ariat Men's Groundbreaker Square Toe Work Boot
With a classic western look, these boots feature intricate decorative stitching on the shaft. Whether for work or horseback riding, these boots offer optimal comfort and support.
The 4LR technology footbed offers the stability and support you need to stay on your feet for hours on end. With the sturdy Duratread sole, you don't need to worry about slipping or sliding. An extra comfort insole with a higher rebound offers additional cushioning that will keep your feet feeling good.
3. Ariat Women's Round Up Wide Cowboy Boot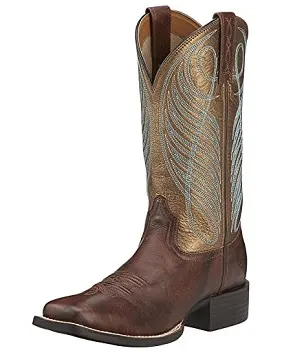 The epitome of western chic, these cowboy boots pair wonderfully with any outfit. Wear them to the barn or to a concert, as they will keep you comfortable all day long.
The All-Day Cushioning insole provides optimal comfort and is even removable so you can wash it or replace it with custom inserts. The 4LR footbed technology gives you the support and stability you need, no matter what you are doing. With the Duratread outsole, you will always have reliable traction.
This sleek boot comes in four sophisticated colors. The full-grain leather is carefully sculpted to perfection with intricate detailing in the stitching.
4. Ariat Men's Western Rambler Boot
Simple yet smart-looking, these Ariat cowboy boots are a must-have for the hard-working cowboy. With an all-weather build, they will keep your feet dry and cozy no matter the weather.
The unique ATS technology combines a moisture-wicking, gel-cushioned footbed with a heel stabilizer for ultimate comfort. With a Duratread outsole, they offer excellent traction. The soft leather is pliable and comfortable, offering a great fit.
With a wide shaft, these boots are easy to slide on. They come in five classic colors that are great for everyday wear.