Our readers support us. This post may contain affiliate links. We earn from qualifying purchases. Learn More
Yellowstone (2018- ) is a hugely popular modern western series set on a fictional ranch in Montana.
Starring the likes of Kevin Costner, Kelly Reilly, Luke Grimes, and Cole Hauser, the show has no lack of brilliant acting with a hint of edginess.
Among Yellowstone's core characters is Jimmy Hurdstram, a troubled soul who is trying to find his place in the new life that was chosen for him.
As an underdog on the ranch, Jimmy is extremely relatable and has quickly become a fan favorite.
Jimmy left the Dutton ranch to work at the 6666 ranch in Texas. There, he learns to rope and gets engaged to a veterinary technician named Emily, with whom he returns to Yellowstone. Jimmy is not leaving Yellowstone and is expected to be in Season 5.
Back on the Montana ranch, John Dutton gives Jimmy and his fiancee his blessing to start their new life together. And so, for the first time in years, Jimmy makes up his own mind and returns to Texas with Emily.
Who is Jimmy on Yellowstone?
Although Jimmy has been part of Yellowstone since Episode 1, his role might be unclear to those new to the series.
Jimmy Hurdstram is a branded ranch hand in Yellowstone, the largest cattle ranch in the state of Montana. He is portrayed by American actor Jefferson White.
Over the course of the show, Jimmy goes through a major character arc. He comes from a rough background with most of his family members deceased or in prison.
The only relative looking out for him is his grandfather Dirk Hurdstram, who manages to save Jimmy from himself.
Jimmy was living the life of a criminal until John Dutton took him under his wing as a favor to his grandfather. Thanks to John, Jimmy gets a second chance in life and learns how to stand on his own two feet.
Throughout his time on the ranch, Jimmy learns to ride and discovers he has a talent for rodeo. Thanks to Lloyd, a long-time Yellowstone ranch hand, he becomes a competent bronc rider and even makes a few bucks.
Unfortunately, two near-death accidents bring an end two Jimmy's promising rodeo career.
Also read: Where is Yellowstone Filmed?
Who is Jimmy's Girlfriend in Yellowstone?
While Jimmy is initially consumed by his job on the ranch, he takes an interest in girls and romance later on in the series.
Jimmy's first girlfriend on Yellowstone was Mia, a barrel racer he meets on the rodeo circuit. However, the relationship ended when Jimmy moved to Texas, where he met his current fiancee Emily.
Jimmy's first serious rodeo injury happened shortly after meeting Mia at the rodeo. During his time in hospital, Mia visited him frequently and helped him regain his physical and mental health.
Although the couple was going strong until the very end, we later find out that Jimmy had doubts about their relationship. "She liked the potential in me", he told Emily on a starry night in Texas.
As mentioned earlier, Emily is a vet tech at the 6666 ranch Jimmy came to work at. The two seemed to have an instant connection and started dating shortly after their first encounter.
Hopefully, Yellowstone Season 5 will show us how married life is working out for the couple.
Also read: 20 Best Yellowstone Characters Ranked
Is Jimmy Leaving Yellowstone?
At the end of Season 4, Jimmy decides to sever ties with the Yellowstone ranch and move back to Texas with his fiancee. This has had fans worried that Jimmy might be leaving the show. Luckily, we have a definite answer to this query that will put your mind at ease.
Rest assured that Jimmy on Yellowstone isn't leaving the show. The actor himself has confirmed that he will be returning in Season 5 of the iconic show.
It looks like our quirky Jimmy isn't going anywhere just yet! Yellowstone actor Jefferson White who portrays the character told Us Weekly, "I'm in season 5. Jimmy's in season 5 … That's great. I'm really looking forward to that. I didn't know necessarily what Jimmy's future was. I still don't know exactly what Jimmy's future holds."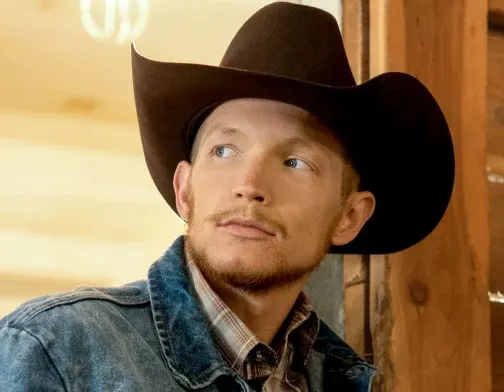 Many fans are also wondering whether the finale of Season 4 will be the starting point for the upcoming spin-off 6666.
When asked to share his knowledge on the matter, White revealed he is as much in the dark as everyone else.
"I think it's very funny. People keep expecting me to know what's going on, and nobody would tell Jimmy anything, right? Like, it feels like another way in which me and Jimmy are similar is that nobody tells me anything."
How Did Jimmy Break His Word?
After his first major injury from being bucked off a horse, John made a deal with Jimmy that he would pay his medical bills if Jimmy would give up rodeo. However, Jimmy's girlfriend at the time, Mia, didn't want Jimmy to give up competing.
Despite being nervous, Mia encourages Jimmy to get back in the saddle. Jimmy makes the choice to ride again while still recovering and finds himself with another serious injury as he falls off once again.
Despite John's warning, he was left unconscious but fortunately didn't stay long in the hospital.
When he returns to the ranch, John is there to greet him. While Jimmy previously gave John his word he would stop rodeo riding, he says once he recovers he will continue his newfound passion, breaking his promise.
Instead of leaving Jimmy to his own accord to navigate rodeo life, John sends him out with horse trainer Travis. This is so that Jimmy can actually learn how to be a "real cowboy."
Will Jimmy Be in the 6666 Series?
6666 is a new upcoming series that will join the Yellowstone universe. The show will follow life on the historic 6666 Ranch, which still operates the same as it did two decades ago.
With Jimmy leaving Yellowstone Ranch to work at 6666 Ranch, it sets up the premise that he will be in the new show. However, there is no official confirmation if Jimmy will actually star in 6666 or not.
So far, there is very little known about the series. However, Paramount has released the first description of the spinoff:
"Founded when Comanches still ruled West Texas, no ranch in America is more steeped in the history of the West than the 6666. Still operating as it did two centuries before, and encompassing an entire county, the 6666 is where the rule of law and the laws of nature merge in a place where the most dangerous thing one does is the next thing … The 6666 is synonymous with the merciless endeavor to raise the finest horses and livestock in the world, and ultimately where world-class cowboys are born and made."
Also read: Who Owns 6666 Ranch? 4 Sixes Ranch History, Size & Facilities
Is Jimmy a Real Cowboy in Yellowstone?
At the beginning of Yellowstone, Jimmy has no experience as a cowboy prior to working at Yellowstone Ranch. The first time Rip puts him on a horse Jimmy is nervous as he has no idea what he is doing.
As he continues to work for the ranch, Jimmy gains more experience in the cowboy lifestyle. After his time at 6666 Ranch, Jimmy has finally become a real cowboy, with plenty of experience under his belt.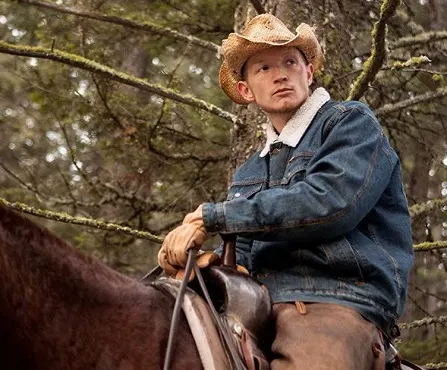 While Jimmy may have grown into a cowboy, the actor who portrays him, Jefferson White, is not a real cowboy.
Prior to Yellowstone, White did not have any experience with ranches or horses. Just like Jimmy, the cowboy way was foreign to him.
"It was a big shock man. I didn't know that people actually wore cowboy boots…you know what I mean? People really wear them! I thought it was like a cartoon thing you know? And it's not. People really wear those boots and those hats…I had never ridden a horse before I don't think I had ever touched a horse before, and that also speaks to how sort of remarkable the wranglers are that work on our show because they got me trained up, the wranglers and trainers, got me trained up to ride in a matter of weeks," said White.
Also read: 5 Yellowstone Actors Who are Cowboys in Real Life
Is Jimmy Related to John Dutton on Yellowstone?
Jimmy is one of those few characters in the series who receive special, almost affectionate treatment from John Dutton. As a result, some fans are wondering whether the two are actually related on the show.
Jimmy is not related to John Dutton on Yellowstone. John solely takes him on as a favor to his grandfather, who wishes to keep him out of trouble.
Before becoming a ranch hand on the Yellowstone, Jimmy's occupation was cooking crystal meth for two drug dealers, Blake and Ray.
One night, however, John Dutton's right hand Rip Wheeler burst into Jimmy's home, threatening to call the authorities unless Jimmy becomes a ranch hand on the Yellowstone.
Without much hesitation, Jimmy let Rip brand him as a symbol of his commitment to the job.
Although he is not a relative of John Dutton, John feels responsible for the troubled young man, which is why he gets so many chances.