This post may contain affiliate links. We earn from qualifying purchases. Learn More
Over the past decade and a half, Heartland (2007- ) has delighted millions of horse lovers around the world.
Fans of the show have had the fortune to enjoy 15 seasons' worth of drama, action, and heartfelt moments on the Heartland ranch.
Although Heartland Season 16 is still a couple of weeks away, it's never too early to speculate about potential new storylines. At the very least, it fills the void in our hearts while we're waiting for new episodes to arrive.
While the Season 15 finale felt like a series ending to many fans, there is still scope for new stories to be told. Several of the characters in the show are at the beginning of the next chapter in their lives.
Here is what we think will happen in Heartland Season 16!
*Warning: spoilers ahead for Season 15*
1. Amy Running the Horse Therapy Center
Last season, Amy received a considerable sum of money from Ty's mother Lily. After some self-reflection, she decided to invest the money into the horse therapy center.
Since Amy knew Ty would also have been passionate about the cause, she re-branded the place as "The Dr. Ty Borden Equestrian Youth Centre".
With her investment, Amy also made a commitment to keep the place afloat. Therefore, we can expect her to spend a lot of time there next season to ensure things run smoothly. Of course, she won't be alone, as Clint Riley and Logan have also made a commitment to the center.
Considering all that's happened, it's highly likely that the center will become a primary focus in Amy's new life. After all, running the place is also a way for her to keep Ty's spirit alive.
2. Logan and Jade Getting Together
Logan has shown a romantic interest in Jade at Tim and Jessica's wedding in Season 15. Therefore, it's not unthinkable that the two will end up getting together in the future.
Think about it, both are rebels with a strong sense of independence and troublesome family history. They know what it's like to be cast out for fighting what you believe in. In many ways, they are perfect for each other.
A love story between these two edgy characters would be a wonderful addition to Heartland Season 16. Let's hope that their interaction at the wedding was a clue to a romance around the corner.
3. Peter Moving Back With Lou
Many fans' wishes came true when Lou and Peter officially announced they are back together. It is only natural that Peter would want to be a part of Lou's life again to make up for all the time he had missed. As such, he is probably thinking about moving back in with his family shortly.
While the couple might choose to stay at Heartland for a while, they might also consider getting their own place. They have previously looked at buying a house together, and this time they may as well go through with it.
Of course, Peter would have to figure out a way to manage his company from home, which will likely involve frequent business travels. However, this time he will put his family before his career.
In the season finale, Lou has also made a testament to their future together with a toast, saying "The best is yet to come."
Also read: 3 Heartland Actors Who Live Like Their Characters in Real Life
4. Amy Finding a New Love
Probably the biggest excitement surrounding Heartland Season 16 is about Amy finding new love. Even though we all miss Ty, we also want to see Amy in a happy relationship again. Lyndy will also need a father figure to look up to and someone to protect her from all the dangers life brings.
It is possible that one of Amy's potential love interests from Season 15 will make a move in the new season. For example, the handsome farrier Finn is a decent candidate for the role. He generously helped Amy out with Spartan's sore leg, and the two shared a real connection in the process.
Or who knows, maybe the person replacing Ty will be an entirely new character. It will also be interesting to see how Lyndy reacts to her mom dating again. Either way, we can be confident that this storyline is coming in the show very soon.
Sadly, since writing this article, actor Robert Cormier who plays Finn passed away aged 33. We believe all of Finn's scenes were already filmed, but it is unknown if we will see Finn being played by a new actor in Season 17.
See more details here about Robert Cormier's sad passing.
5. Katie and Parker Going on More Adventures
The two young characters Katie and Parker have definitely gained more screen time last season. They have stepped up their game by offering to babysit Lyndy and helping Jessica out with a challenging guest at the dude ranch.
It's no question that the show's troublemakers will be partners in crime in Heartland Season 16 too. Perhaps boys will come into the picture this season, stirring things up in the teenagers' lives.
Also read: Why Did Graham Wardle Leave Heartland?
6. Georgie Returning to Heartland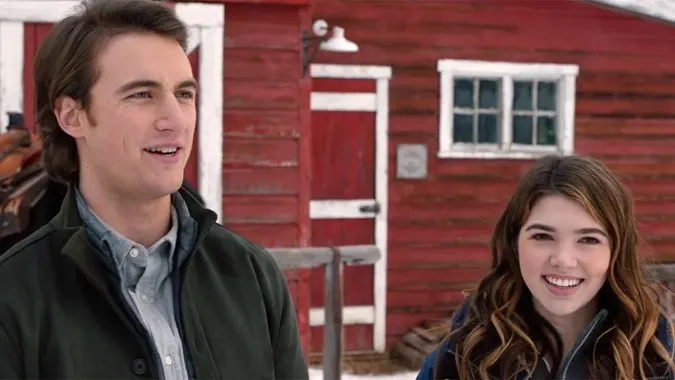 Throughout Season 15, the young equestrian has been away training in Florida with her boyfriend Quinn. According to Lou, she has been actively competing in show jumping during this time, potentially getting closer to her Olympic dream.
Unfortunately, there is no guarantee that Georgie will return to Heartland this season. However, if she does, it won't just be to see her family. She will likely also bring exciting news about her career or relationship.
Another scenario that might drive Georgie to return home is a breakup with Quinn. The couple have been going strong since Season 13, but that's not to say they are invincible.
While fans are eager to see more romance between the two, we can never know what the writers have in store for us.
Also read: 6 Facts About Jordan Burtchett, Quinn McGregor From Heartland
7. Quinn Asking for Georgie's Hand
On the other hand, if Georgie and Quinn do return to Heartland together, it's likely to share their future intentions with the family.
As the show has been rather traditional when it comes to marriage, it's unlikely the two will come back engaged. Quinn would have to ask Peter for Georgie's hand before proposing.
However, if a proposal does happen, chances are the wedding will also take place this season. After all, the showrunners know that Georgie and Quinn tying the knot in a beautiful ceremony would delight viewers.
As we can never be sure if there will be a next season, it would make sense to fit both the engagement and the wedding into Heartland Season 16. It would certainly boost the show's ratings and keep the demand high for more.
Also read: