This post may contain affiliate links. We earn from qualifying purchases. Learn More
Many people are familiar with different types of cowboy boots such as western, riding, and roper styles. However, not everyone is as familiar with packer boots.
Packer is a type of cowboy boot that was invented in the 1800s as functional all-around working boots and riding boots. Packer boots are a cross between riding boots and working boots, however, they also have laces for a snug, secure fit.
Though not as popular as they once were, packer boots can still make great boots to own. They are versatile, reliable boots that are comfortable and supportive.
History of Packer Boots
Packer boots got their name from laborers and porters knowns as packers. Packers would pack horses and mules with supplies and traverse through the mountainous back county of America.
They would work to load and unload horse and mule teams, supplies from ferries, and other items overland. In addition, packers would also serve as tour guides from time to time as well.
To meet the demands of their job, the packer boot was invented. As packers would combine their time between horseback riding, loading, unloading, and walking through the mountains, they needed a versatile boot.
Packer boots combine the support of a work boot with the heel and toe of a riding boot. The addition of laces to the boots gave more ankle support, which was vital for frequent dismounts and rugged terrain.
What Features Do Packer Boots Have?
Packer boots have a narrow rounded or pointed toe that makes them practical for horseback riding and work. The toe on a packer boot is generally a roper or pointed toe.
Packer boots tend to have riding, roper, or cowboy heels to provide security as you ride. Traditionally, they had an angled or slant heel that was around 1 ½ to two inches tall.
Today, most packer boots have a straight heel that is between one to two inches tall.
The shaft on a packer boot is typically between eight to 12 inches tall. Since they have laces, they tend to fit more snugly than other cowboy boot styles and offer more support.
They are generally made of full-grain leather for durability and function. Unlike other cowboy boots that may feature embroidery, decorative stitching, bright colors, and exotic leathers, packer boots have a relatively simple design. Some designs may feature a kiltie accent for decoration and additional protection.
What are Packer Boots Used for?
Packer boots are versatile boots, great for walking, horseback riding, and working. They can even make a great option for everyday wear.
They make reliable leather boots that are ideal for ranch work, yard work, and walking. Since they generally don't have a steel or composite toe, they are not always an option for certain construction work.
Though great for work and walking, the simple design of packer boots can also make them a great fashion choice. You can pair them with jeans, a long dress, or flowy skirts to create a stylish outfit.
Do Packer Boots Make Good Shoes for Horseback Riding?
Though not as popular as other styles of cowboy boots for horseback riding, packer boots can still make a great choice for equestrians. Thanks to their narrow toe, laces, and heel, they can be ideal for casual riding in both English and western disciplines.
Packer boots are not as bulky as other cowboy boots, so they can generally fit comfortably in both western and English stirrups. They can make a particularly great option for trail riding. They provide the support and comfort you need for long hours spent in the saddle.
Best Packer Cowboy Boots
1. Ariat Women's Heritage Lacer II Boots
Simple yet practical, these Ariats make great everyday riding boots no matter what discipline you ride. They offer the safety, flexibility, comfort, and support you need in a quality pair of riding boots.
The boots are made from durable full-grain leather and even feature a removable kiltie that is decorative and protective. To keep you cool as you ride, the inside features a moisture-wicking lining.
For superior support, cushion and stability, they have Ariat's innovative ATS technology in the footbed.
The Duratread outsole on them gives you traction no matter the terrain. Not only are these boots great for horseback riding, but they also make a good choice for hiking, work, and casual wear.
Why We Recommend This Product:
Made from durable full-grain leather.
Feature ATS technology and a Duratread outsole.
Comfortable, durable, and supportive.
2. Adtec Women's Packer Boot
With a classic packer look, these versatile work boots make a great addition to any woman's wardrobe. The two-tone combination of black and cherry leather gives them a vintage look.
Made from the highest-quality full-grain leather, these boots are built to last years of wear. They have a breathable lining to keep your foot cool no matter the weather. For your comfort, they have a removable PU orthotic cushioned insole.
These boots are great for everyday wear, horseback riding, and walking. They have a hardy rubber outsole that gives you traction in all terrains.
Why We Recommend This Product:
Have a vintage look.
Made from quality full-grain leather.
Comfortable, durable, and supportive.
3. AdTec Men's Packer Tumbled Leather Packer Boots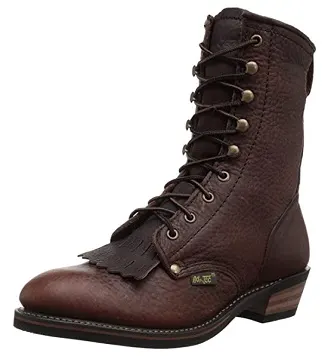 Whether for work, casual wear, or horseback riding, these durable packer boots are a must-have. They have a classic look while offering modern safety features.
The full-grain leather build not only looks good, but is also durable. To keep your feet cool no matter what you are doing, the inside features breathable mesh lining. The unique applicant tracking system technology provides top-notch comfort while absorbing foot pressure.
For your safety, the boots have a shock-resistant outer layer and an anti-slip rubber sole. The hardy Duratread outsole provides excellent grip and wear resistance.
Why We Recommend This Product:
Durable, comfortable, and safe.
Includes a shock-resistant outer layer and an anti-slip rubber sole
Has applicant tracking system technology.
4. Justin Original Men's Work Boots
These hardy men's packer boots will keep you comfortable whether you are in the saddle or working on the ranch. They have a simple yet classic style and even feature a kiltie accent.
Made from full-grain leather, these boots will last years of hard wear. The unique double comfort construction helps prevent foot fatigue to keep you comfortable for hours on end.
Thanks to the Orthotic Texon/Poron insole, they offer maximum cushion and support. The rubber sole and polyurethane outsole give you the traction you need no matter the job.
Why We Recommend This Product:
Comfortable, supportive, and durable.
Have an Orthotic Texon/Poron insole.
Feature double comfort construction.