Our readers support us. This post may contain affiliate links. We earn from qualifying purchases. Learn More
Having the right pair of western riding boots is a staple for every cowgirl and cowboy. A good pair is essential for every western rider, whether they are out on the trails or working cattle.
Western boots are meant to withstand tough wear, as they are often worn for extended periods at a time. A quality pair will keep your feet from aching after a long day of wear, as cushion and support is an important feature. They should also be durable enough to protect your feet from injury.
Since cowboy boots can be made for fashion too, it is important to make sure to buy some that are designed for riding. When picking out western boots for riding, they should have a heel between 1-2 inches and have either a square or round toe.
Most of the time they will be made from leather or synthetic leather. This provides the proper protection and durability needed for riding. We have carefully selected 10 of the best western boots and split the article into men and women's boots.
5 Best Western Riding Boots for Women
Ariat Women's Fatbaby Western Boot
Cowgirls everywhere rave about these fantastic boots. Made from top quality leather and available in an array of different styles, they allow you to stand out while riding.
A four-layer footbed is built in to provide cushion and support while you are at the barn. You don't have to worry about slipping, as they provide a Duratread outsole for maximum traction.
Why we like them:
Features a cushioned footbed for support and comfort.
Duratread soles provide ultimate traction.
Fashionable while also being durable.
Justin Boots Women's Gypsy Collection
Whether at the barn or out on a date, these fashionable women's western riding boots are a great choice to wear. Available in various different colors and constructed from quality leather, they will last you for years.
With comfort right out the box, the unique flexible comfort system includes a well-padded insole for support. The rubber outsole provides ample traction for working around the barn.
Why we like them:
Constructed from leather with a rubber outsole for traction.
Padded insole provides cushion and support.
Fashionable yet durable for riding.
Ariat Women's Unbridled Roper Western Cowboy Boot
Designed for tough cowgirls, these handcrafted women's western riding boots are great for hard ranch work or leisure trail riding. Made from fine full-grain leather, not only are they lightweight but also sturdy.
To ensure quality performance, they have a relaxed fit through the upper throat and foot. They feature Advanced Torque Stability to provide ideal comfort and support while in the saddle.
Featured in our best horse riding boots for beginners guide, the Duratread outsole gives you the traction you need for working at the barn.
Why we like them:
Lightweight, durable and made from high quality leather.
Relaxed upper fit for maximum performance.
Advanced Torque Stability and Duratread outsole for support.
Ariat Women's Heritage Lacer II Western Riding Boot
Though they may not look like your typical cowboy boots, western riders swear by these outstanding shoes. Featuring double-kiltie flaps for easy lacing up, they are designed to fit perfectly to your feet.
The durable leather is built to last among the toughest of cowgirls. Thanks to the moisture-wicking lining and gel cushioned footbed, your feet will be cool and comfy even on hot summer days. The Duratread sole provides wear resistance while also giving your feet elite flexibility.
Why we like them:
Includes laces for a snug fit.
Features gel cushioned footbed with moisture wicking.
Made from durable leather.
Durango Women's Rebel 10″ Riding Boot
Comfortable and playful, these boots are wonderful for a day of riding or a night of dancing. Available in different colors and constructed from fine leather, they will let you stand out wherever you go.
The cushion flex insole allows you to spend hours on your feet without aching. With a rubber outsole, you will have great flexibility as well as slip-resistance.
Not only are they easy to get on, they also are lightweight and ventilated to keep you comfortable for hours on end.
Why we like them:
Cushion flex insole for optimal support.
Rubber outsole for traction.
Lightweight, ventilated and comfy.
5 Best Mens Western Riding Boots
Justin Boots Men's Ropers Equestrian Boot
Practical for any hard-working cowboy, these western horseback riding boots are designed to last. With a classic western design, they are sleek and efficient.
Made from beautifully crafted supple leather, they are meant to last long hours at the ranch. The authentic roper style is ideal for all types of western riding. Comfortable as soon as you put them, their soles provide the support you need for all day wear.
Why we like them:
Made with soft, supple leather that is durable.
Comfortable right off the bat.
Classic roper design is ideal for riding.
Ariat Men's Heritage Roper Western Cowboy Boot
Whether at a rodeo or working cattle at the ranch, these men's western riding boots are made with the hard-working equestrian in mind. With a western-inspired design, they are made from beautiful full-grain leather for quality assurance.
With pull on loops on the scallops, they are no problem to get on. Not only is the footbed gel cushioned, but it is also moisture wicking to keep your feet cool and comfortable. The Duratread outsole not only provides optimal traction, but also provides wear resistance.
Why we like them:
Gel and moisture wicking footbeds.
Made from durable leather.
Duratread outsole provides traction and wear resistance.
Durango Men's Rebel Western Boot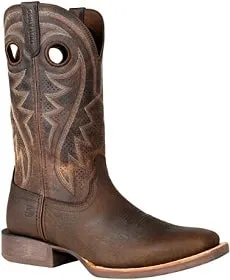 If you're looking for a colorful, durable western boot for men, then look no further. Available in an array of different colors, these quality crafted shoes are great for a day at the barn or a night out on town.
The remarkable 7-layer outsole system provides unparalleled comfort. It even features a unique Triple X-treme footbed made from soft memory foam that can even be removed if desired. The rubber sole provides all the grip you may need while riding or working at the barn.
Why we like them:
Features a 7-layer outsole for maximum comfort.
Includes a memory foam footbed.
ARIAT Men's Rambler Wide Square Toe Western Cowboy Boot
A tried and true mens western riding boot, equestrians everywhere swear by their durability and style.
The quality leather and classic cowboy design come together to make these well-loved shoes. The Advanced Torque Stability technology for the footbed offers the comfort you need for a long day of riding.
With the Duratread sole, you won't have to worry about losing traction no matter if you are in the saddle or around the barn. In addition to being sturdy, they are also lightweight and flexible which is perfect for ranch work.
Why we like them:
Comfort is provided by the unique footbed.
Duratread sole provides much-needed traction.
Lightweight, durable with a classic western boot design.
Justin Boots Men's 11-Inch Bent Rail Riding Boot
These beautiful mens western riding boots are designed to keep you comfortable in the saddle while looking good. With the option to choose from an array of different colors, you can stand out from the crowd.
With tradition and durability in mind, they are built with the unique comfort system to keep you going all day long. The rubber sole provides the grip you need for a steady foot in the stirrup. Classic welt construction provides a sleek look that also allows for long-lasting durability.
Why we like them:
J-Flex insole for support and cushion.
Available in different colors for style.
Durable build with a rubber sole for traction.
FAQs
What Kind of Western Boots Should I Wear for Horseback Riding?
Whenever you ride, you should wear hard closed-toed shoes that have a heel of at least 1-2 inches. Paddock, western, field, dress, hunt and jodphur boots can all be used for riding. You will want to avoid wearing tennis shoes while riding.
Can You Wear Jeans Horse Riding?
Jeans can be a great choice to wear while riding. Many western riders actually prefer to wear jeans while riding.
What is the Difference Between Riding Boots and Regular Boots?
Riding boots should always have a heel between 1 – 2, be constructed from durable material to keep your feet safe, and have a square or round toe. Regular western riding boots can largely vary in design and are not always designed with comfort and safety in mind. They can have pointed toes, high heels and a soft build, which isn't safe for riding.
Also read our article on the most comfortable cowboy boots.
Can You Wear Shorts Horseback Riding?
Shorts are not recommended to wear horseback riding. They can cause chafing and sores, in addition to not providing protection to your legs.
What Kind of Socks Do You Wear With Cowboy Boots?
It is recommended to wear crew length socks that are moisture-wicking and breathable. Polyester and cotton are a good choice because they often provide protection from blisters while keeping your feet cool. Wool socks are often ideal for winter to keep your feet warm.
Also read: