This post may contain affiliate links. We earn from qualifying purchases. Learn More
When it comes to winter, water troughs freezing over is a real problem. Fortunately, there are some great water trough heaters for horses and livestock that will save you the hassle of breaking ice.
Water trough heaters are heating units that are designed to safely prevent ice from forming on troughs and buckets. It is vital to keep troughs from freezing over, as horses and livestock should always have access to freshwater.
There are different types of trough heaters such as floating, submersible, bucket, solar and integrated.
Types of Water Trough Heaters
Floating Heaters: Floating heaters float at the top of the water and are safe to use with plastic or poly troughs. You should always plug the de-icer into a GFI outlet. Though they are a great option, some curious horses may play with them.
Submersible Heaters: Submersible heaters lie at the bottom of the trough, keeping it out of the way. Most submersible heaters include a wire guard so they are safe to work in metal and plastic tanks.
Bucket Heaters: Bucket heaters are specifically designed for buckets and not full-size water troughs.
Integrated Heaters: Integrated heaters are convenient to use, as you can simply use a switch to turn the heat on and off for the trough. However, they often require a professional to set up the water lines, electricity and concrete.
Solar Heaters: Solar trough heaters use the sun for power, meaning you won't have to mess with cords or wires. They can be used with automatic waterers, manual troughs or even tied to your water line.
If you live in a particularly cold climate, having a water trough heater can be a lifesaver. Not only does breaking ice on buckets take time, but it can also be difficult as you have to do it several times a day sometimes.
Here are the best water trough heaters for livestock and horses.
Best Water Trough Heaters
1. Farm Innovators Plug-In Tank De-Icer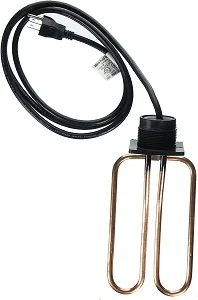 This water heater is custom-designed to be used with Rubbermaid stock tanks, but can also work with any plastic troughs. It is thermostatically controlled, so it only operates when needed.
The simple yet effective design is easy to install and can be done within minutes. The unit is easily unnoticed by cattle and horses, as there is no cord in the water.
It conveniently fits in the drain plug of troughs, allowing for ease of use. Even 100-gallon tanks will be kept ice-free with this handy de-icer.
Pros:
Easy, convenient set-up.
Works with large tanks.
Cord is out of the way.
Con:
The drain plug hole must be at least 1.75 inches or bigger.
2. K&H Pet Products Ultimate Stock Tank De-Icer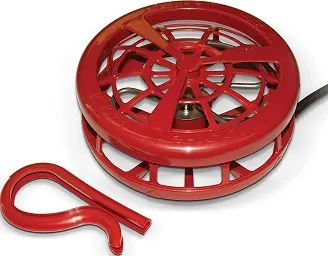 This versatile heater can be used as a floating or submersible de-icer, depending on your needs. It includes a handy cord clip that keeps livestock from messing with the cord.
With a thermostat built-in, this heater automatically turns off and on as needed. It is safe to use with all stock tanks and is easy to install. A full cage is also included for additional protection.
This heater is available in 250, 500, 750, 1,000 and 1,500 watts to meet your individual needs. It has been rigorously tested and certified to ensure your safety as well as the safety of your animals.
Pros:
Can be used as a floating or submersible heater.
Includes a built-in thermostat, cord clip and full cage.
Safe to use in all stock tanks and comes in many sizes.
Con:
Water levels must be monitored to prevent the heater from potentially malfunctioning.
3. Farm Innovators Aluminum Convert-Able Plastic Tank Heater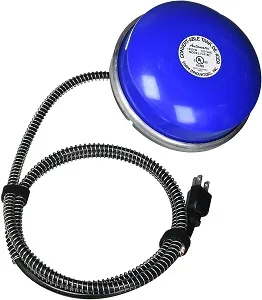 This handy heater converts from a floating de-icer into a submersible de-icer by simple removal of the float. Not only is it used to prevent ice, but it also works to remove snow.
The unique cast aluminum construction provides top-notch efficiency and safety, so you can rest assured your horses are safe. With the thermostatically controlled design, it operates only when needed. The cord features a heavy-duty "anti-chew" design, keeping curious cattle at bay.
This de-icer works with all types of plastic tanks. With 1,250 watts, it is capable of heating large troughs.
Pros:
Works as both a floating or submersible heater.
Thermostatically controlled, with an anti-chew design.
Cast aluminum design is safe and efficient.
Con:
Some users find the cord too short.
4. Farm Innovators 1500W Sinking Tank Deicer, H-429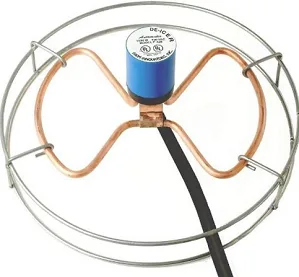 Even in sub-zero temperatures, this heater will keep ice from forming. Thanks to the submersible design, it sits at the bottom of the tank, out of the way.
With a thermostatically controlled system, it automatically works when the water temperature reaches 35 degrees or below. It is compatible to use with all rubber, plastic or metal stock tanks. The five-foot long cord allows adequate room for the de-icer when plugging it in.
This durable heater works for water troughs between 70-300 gallons. A protective sturdy cage keeps it safe from nosey livestock.
Pros:
The thermostat automatically kicks on in temperatures below 35 degrees.
Compatible with metal, rubber and plastic tanks.
Works with up to 300 gallons of water.
5. Farm Innovators Submergible Stock Tank De-Icer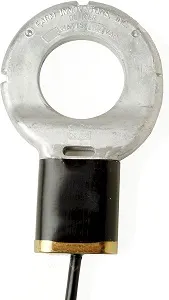 This multi-use submersible de-icer is great for keeping buckets, stock tanks and bird baths ice-free. For the safety of you and your animals, it is constructed for patented cast aluminum for ultimate efficiency.
Since it is thermostatically controlled, it will only operate when necessary. It is safe to use in plastic stock tanks up to 50 gallons. The simple design is easy to install and stays out of the way of curious animals.
Its durable construction is meant to last even the toughest winters. This heater is also available in 250 watts.
Pros:
Multi-use submersible design.
Cast aluminium construction is safe and efficient.
Safe for plastic tanks.
Con:
6. K&H Pet Products Bucket Heater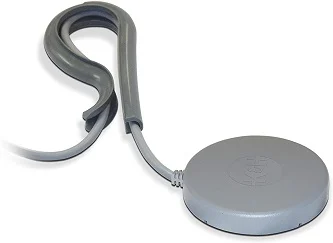 This convenient submersible heater is ideal for small troughs or buckets. With a durable enamel finish, it is easy to clean and maintain.
It has the capability to keep buckets from freezing over even in temperatures as low as -20 degrees. A cord safety clip is included to keep livestock from messing around with it. It is thermostatically controlled to work only as needed.
This heater is safe to use on metal and plastic buckets. It is safe to use and easy to install.
Pros:
The enamel finish is easy to clean and maintain.
Safe for plastic and metal buckets and tanks.
Works in temperatures as low as -20 degrees and comes with a safety clip.
Best Heated Water Troughs
1. Ritchie Automatic Heated Stock Tank Waterer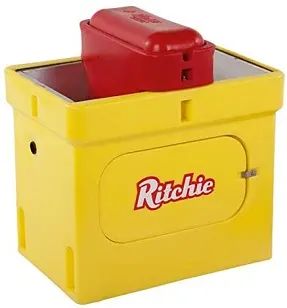 This large, easy-to-maintain waterer is ideal for pastures with cattle or horses. With two automatic waterers in the unit, it has the ability to water up to 40 horses or cattle in up to two different pastures.
The heating element is located directly under the stainless steel trough, allowing for top-notch performance. In addition to the heating element, it also features insulation with highly energy-efficient polyurethane foam. The large access panel allows for easy access to heating components and the waterline.
This durable waterer is built to last and comes ready to hook up to your electric and water lines. For the safety of your animals, it includes rounded edges to eliminate the risk of injury.
Pros:
Waters up to 40 horses or cattle.
Features a heating element right under the trough and includes installation.
Safe, automatic and durable, while being easy to install.
2. Farm Innovators Heated Bucket
Whether for inside or outside use, this heated 5-gallon bucket is easy to use and practical. The flat back provides stability when hung on the wall, which is ideal for barns.
It is thermostatically controlled to work only when necessary, turning on at 35 degrees and off at 60 degrees. The unique hide-away cord compartment conceals the cord during warm weather, making it fitting for year-round use. With a heavy-duty anti-chew protector, the cord is safe to use even with playful horses.
Thanks to the spill-free pour spout and table measurements, you can easily track the amount of water your horse drinks. In addition, the heavy-duty bail has reinforced connectors.
Pros:
Great for indoors and outdoors, no matter the time of year.
The cord has a heavy-duty anti-chew protector.
Can easily be hung on the wall.
Con:
Does not fit all types of bucket hangers.
3. Brower MK32 Heated Waterer for Horses and Cattle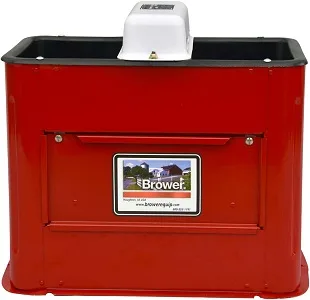 This large heated waterer is great for pastures with up to 25 horses. Its innovative design makes it ideal for use with divided paddocks.
Not only does it feature a 500-watt electric heater, but it also includes polyurethane foam insulation around the trough. The insulation is also water-resistant and unattractive to rodents. It is free of any formaldehyde or chlorofluorocarbons.
The durable valve won't clog or rust and the plug drains in seconds. Its sturdy design is capable of lasting tough winter conditions.
Pros:
Includes a heater and also insulation.
Won't clog or rust.
Great for pastures of up to 25 horses.
Con:
Some users had problems with the shut-off valve over time.
4. Classic Equine Stall Fount Heater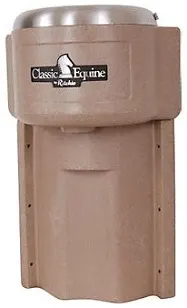 This automatic waterer has a quick refill, so you can rest assured your horse always has clean, fresh water. It is easy to mount in a corner space, to save space in your horse's stall.
The built-in heating system maintains an ideal water temperature no matter the weather conditions. Its unique design prevents stagnant water, keeping it clean and safe. The stainless steel hardware is durable and the float system is worry-free.
The rounded edge is safe, preventing injuries from happening even among clumsy horses. Its durable design is built to last, while also minimizing water waste. State Line Tack also have similar variants which are bigger and suitable for herds of livestock.
Pros:
Quick refill provides access to fresh, clean water.
Built-in heating system keeps water at optimal temperature.
Durable, safe and minimizes water waste.
Con:
Hard to track horse's water intake when in their stall.
Also Read: 5 Best Heated Water Buckets for Horses
6 Ways to Keep a Water Trough From Freezing
Though water heaters and heated troughs are a great way to keep tanks freezing over in winter, they are not a practical option for everyone. Fortunately, there are some other ways to keep water troughs from forming ice.
1. Place Your Trough in Direct Sunlight
Place your trough in a place where it will receive direct sunlight. Placing your trough in a south-facing area will increase the amount of sunlight it will get.
Though the sunlight doesn't guarantee to keep ice away in frigid temperatures, it can certainly help. This is a great option if you live in an area that doesn't get much below freezing during wintertime.
2. Insulate Your Trough
Insulation is an easy and effective way to prevent ice from forming over water tanks. Wrapping styrofoam and foil-covered insulation around your trough help prevent it from freezing over.
In addition, placing your trough in a larger trough and filling the space in between with insulation is an even more effective way to prevent ice. Alternatively, you can also use a plywood box and place your trough inside, filling the space in between with insulation.
3. Bury Your Trough
Though this can be labor-intensive, burying your trough provides protection from ice. The ground can work as an installation to prevent the water from freezing over.
This option is not practical for everyone and is best done before winter begins. However, if the ground is already too hard, a shallow hole filled with straw can also work.
4. Use a Float
Many people swear by using floats as an alternative to water heaters. A floating object will bob about, moving the water and making it less likely for ice to develop.
A soccer ball or a 2-liter soda bottle partially filled with a mix of water and salt can effectively work as a float. However, some curious horses will play with floating objects and remove them from the water.
5. Try a Constant Flow Waterer
Constant flow waterers are another alternative to trough water heaters. They supply a small, constant stream of flowing water that helps prevent ice from forming.
Even just a small amount of water works to break the surface tension. By plumbing a pipe to carry any overflow through a buried PVC perforated pipe, you don't have to worry about spillage.
6. Water Trough Heater
As you have already seen above, a water trough heater is probably the best way to keep water in a trough from freezing. However, they are not as practical as other solutions.
Also read our guide on the best water troughs for livestock.
FAQs
Are Water Trough Heaters Safe for Horses?
Water trough heaters are safe for horses and cattle if they are properly used. However, it is vital you thoroughly read the instructions and use all safety precautions when using them.
Make sure to plug your heaters into a GFCI (ground-fault circuit interrupter) outlet. Always be certain the cords are not in the way and your animals don't chew on them. Regularly inspect your heaters to ensure they are running properly.
What Wattage Do You Need to Heat a Trough?
For troughs 50 gallons and under, it is recommended to use 250 watts and for troughs, 70 gallons and under, 500 watts is recommended. For troughs that are 70-100 gallons, use 1,000 watts and for 100-300 gallons, use 1,500 watts.
Wattage measures the amount of electrical flow to the unit. For trough heaters, the higher the wattage, the more efficient it is at heating the water. In addition, the higher the wattage, the faster it will heat your water.