Our readers support us. This post may contain affiliate links. We earn from qualifying purchases. Learn More
One of the worst things about winter is having to break the ice in water buckets. Fortunately, there are bucket heaters that can save you from having to do this tedious task.
The best water bucket heaters will keep water buckets free of ice, so your horse always has fresh water to drink no matter the temperature. They are safe to use while being a fast and efficient way to keep ice from forming in frigid temperatures.
After this, check out our guides on the best heated water buckets and heated troughs (heaters built-in).
Best Water Bucket Heaters
1. K&H Pet Products Heated Float
This de-icer is safe for buckets and pails and keeps buckets ice-free even in sub-zero temperatures. It is thermostatically controlled to respond to temperature changes in water.
The de-icer is submergible, but can also be used with a float attachment as well so you can use it either way. For your convenience, it comes with a handy cord safety clip that prevents chewing.
This unit comes with a full cage, so it is safe from nosy horses. It is just 250 watts while still being able to keep buckets free of ice even in the most frigid weather.
Why We Recommend This Product:
Safe for buckets and pails with the ability to work in sub-zero temperatures.
Thermostatically controlled to work automatically in water.
Includes a handy safety clip to prevent chewing.
2. Farm Innovators Model C-500 Submergible Utility De-Icer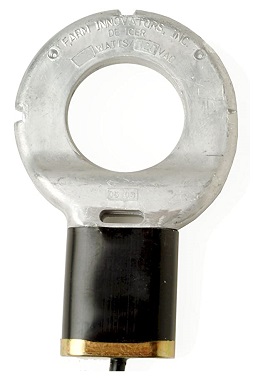 This multi-use de-icer works in buckets of all sizes and stock tanks up to 50 gallons. It is designed to work in buckets (plastic, rubber, and metal), outdoor stock tanks, water troughs, and rain barrels.
In addition, this de-icer can also be used in birdbaths and small water features as well. For ultimate efficiency and performance, it is constructed from sturdy cast iron aluminum.
This submergible de-icer comes in 500 watts and 250 watts, so you can choose the size accordingly to your needs. For ease of use, it is thermostatically controlled to operate only when necessary.
Why We Recommend This Product:
Works in buckets of all sizes and stock tanks up to 50 gallons.
Constructed from cast iron aluminum.
Thermostatically controlled to work only when necessary.
3. K&H Perfect Bucket Heater
This safe and effective heater is specifically designed to be used in buckets of up to five gallons. It can safely be used in both plastic and metal buckets.
This thermostatically controlled heater is designed to work in temperatures as cold as -20 degrees Fahrenheit. Its submergible design sits discretely at the bottom of the bucket out of the way.
To prevent curious horses from messing with it, it features a cord safety clip that keeps it safely in place. With a 57″ long cord, it has plenty of length to reach the nearest outlet. It is only 80 watts, so it uses less power while still being effective.
Why We Recommend This Product:
Specifically designed for five-gallon buckets.
Thermostatically controlled to automatically in temperatures as cold as -20 degrees Farenheit.
Comes with a cord safety clip.
4. Farm Innovators 1000w Submergible Bucket Heater
Instead of just de-icing water, this heater actually heats up the water. It is designed to heat five gallons of water to 110 degrees Fahrenheit within 20 minutes.
You can also thermostatically control this heater to maintain a water temperature between 85 -110 degrees Fahrenheit, however, it should not be left unattended. Not only is it great to use to heat up water for horses to drink, but it is also great for warming water for baths in chillier weather.
This heater is safe for plastic, rubber, or metal buckets. It has 1000 watts to work effectively and efficiently.
Why We Recommend This Product:
Heats water up to 110 degrees Fahrenheit within 20 minutes.
Great for heating water buckets for drinking or bathing.
It can be thermostatically controlled to keep water between 85 -110 degrees Fahrenheit.
5. GESAIL 1500W Bucket Water Heater
This powerful 1500-watt immersion heater can heat up a five-gallon bucket of water in just a few minutes. In addition to horse water buckets, it can also be used for kiddie pools, kettles, plastic buckets, wood buckets, and metal buckets.
So the water doesn't get too hot, it has a thermal overload safety switch. It is made of durable stainless steel that will not rust. This immersion heater is not meant to be left in the water unattended. It is great for warming up water to be used for drinking or even for baths.
A power indicator light lets you see if the electric bucket water heater is already working or not. As a safety feature, it has a stainless-steel guard to protect the heating element from directly contacting people or animals.
Why We Recommend This Product:
Has a thermal overload safety switch so water doesn't get too hot.
The power indicator light lets you see if it is working or not.
Features a stainless-steel guard for safety.
3 Alternate Ways to Prevent Water Buckets From Freezing
Whether using electricity or not, there are a few ways you can go about preventing water buckets from freezing over. Breaking ice is a laborious, time-consuming task that every barn owner dreads; luckily, there are several ways to help solve this problem.
Insulate the Bucket
One of the most efficient ways to prevent ice in buckets without using electricity is to insulate the bucket. Insulating the bucket creates an extra barrier to protect the water from the cold.
To insulate a water bucket, place the water bucket in a slightly larger bucket. Then, fill the space between the buckets with insulation such as straw, dirt, fiber, foam, or shavings. For best results, use rubber buckets if possible as they are not only durable, but also a good insulator.
If you are in a pinch, you can even use fresh manure as an insulator. Though it may seem gross, the heat from the manure can melt any ice and prevent more from forming. Just be certain to remove the manure and clean both of the buckets the next day.
If you don't have two different sized buckets, you can wrap the bucket in bubble wrap and duct tape. You can also buy insulated water bucket covers as well that fit right over five-gallon buckets.
Use a Heated Bucket
Heated buckets can be another great option for preventing icy water in cold temperatures. They consist of a five-gallon bucket that is thermostatically controlled to turn on at 35 degrees Fahrenheit and off at 60 degrees Fahrenheit.
The heater is located hidden away underneath the bucket so horses won't mess with it. The cord for the bucket is anti-chew, so you can rest assured that even curious horses will be safe.
Use a Float
Floats are a great way to stop water from freezing as easily. The movement of a float helps to stop ice from forming. However, floats won't stop water from freezing in very cold temperatures.
Also, check out our guides on the best livestock water troughs and Best Automatic Livestock Waterers.