Our readers support us. This post may contain affiliate links. We earn from qualifying purchases. Learn More
War Horse is a popular 2011 movie that is dear to the hearts of horse lovers around the world. It is about a special horse called Joey who grows up to become a cavalry mount in the British Army.
Raised by teenage Albert in the British countryside, Joey will go on to change owners numerous times, all the while experiencing the horrors of the war around him.
The movie was filmed over a period of 63 days in England, using around 300 horses and 5,800 extras. Directed by Steven Spielberg and produced by DreamWorks Pictures, War Horse was released on Christmas Day, 2011.
While it wasn't among Spielberg's biggest hits, the movie was a box-office success and gathered many positive reviews.
According to experts, close to one million British horses died in World War I, and around 10 million horses perished worldwide. This movie is a much-needed tribute to the equine heroes of the conflict that deserve to be remembered.
Here are eight facts you didn't know about the War Horse movie!
1. War Horse Is Based on a Novel
War Horse was inspired by a 1982 book of the same name by Michael Morpurgo's, as well as a 2007 stage adaptation of the same name. Unlike the movie, the novel recounts the events of the story from Joey's point of view.
Originally, Morpurgo's inspiration to write "War Horse" came from meetings with three WWI veterans. Wilfred Ellis, a former member of the Devon Yeomanry, told the author all about his experiences working with cavalry horses.
Another survivor, Captain Budgett, shared details about the British Cavalry during World War I. Interestingly, his granddaughter even appeared as an extra in the movie! Meanwhile, Albert Weeks, resident of Morpurgo's hometown Iddesleigh, described how the Army marched through the village buying horses for the war.
Following his meetings with WWI veterans and discussions with the British Imperial War Museums, Morpurgo was able to write a novel that accurately represented the lives of horses during this great war. In December 2009, Steven Spielberg bought the film rights to the novel, with production set to begin in 2010.
The director was also kind enough to invite Morpurgo and his wife Clare to be part of the movie. They both accepted and appeared as an extra. You can spot the author at the beginning of the movie, standing next to Ted's landlord Lyons (played by David Thewlis) during the auction of Joey.
2. Spielberg's Daughter Inspired Him to Make a Movie About Horses
Steven Spielberg's daughter, Destry, was a passionate horse rider growing up. According to IMDb, Spielberg promised her that he would make a movie about horses at some point. War Horse is his first movie to feature the events of World War I, since many of his previous films are set during World War II.
Besides the novel, Spielberg also used the play adaptation of "War Horse" by Nick Stafford as a basis for his movie. First performed at the Olivier Theatre in 2007, the play used life-size horse puppets instead of live animals.
The story was also adapted for the radio in 2008, featuring the voices of Brenda Blethyn, Bob Hoskins, and Timothy Spall.
Also Read: 10 Facts About the Real-Life Horses in Game of Thrones
3. 14 Horses Played Joey in War Horse
In War Horse, Joey's character is a bay Irish Hunter bred for speed and agility. He ends up being purchased for the wrong purpose by Albert's father Ted, who intends to use him as a plow horse. When disaster strikes and Ted is drowning in debt, he sells Joey to the British Army.
During the filming of War Horse, a total of 14 horses doubled for Joey's character. However, the main horse portraying Joey was a 15.2 hand Thoroughbred ex-racehorse called Finder's Key. Due to his spirited nature, he performed crucial scenes like rearing when separated from Alber or struggling in the barbwire on no man-s land.
As a matter of fact, acting was more than just a one-off gig for the talented equine. Finder's Key also played the role of Seabiscuit in the 2003 movie about the famous American racehorse.
Finder ran in his last race shortly before landing the role, finishing fifth with jockey Kevin Mangold at Los Alamitos (2002).
Besides Seabiscuit and War Horse, the equine actor's filmography includes Legend Of Zorro (2005), Did You Hear About The Morgans (2009), Unstoppable (2010), and Mirror Mirror (2012). He also appeared in the TV show CSI: Miami (2002-2012).
Finder's owner and trainer Bobby Lovgren told OffTrackThoroughbreds, "I've never worked with a horse like this. He has such an explosiveness, and this incredible ability to jump around and rear and look the part of a very wild horse, all in a confined space."
"He is like a wild child at times," he continues, "He's a handful, but he just loves being in front of the camera. Just about the only thing he's not very good at is standing still. He is Mr Hollywood himself."
Also Read: 19 Inspirational Quotes from War Horse
4. The Lead Actor Has Never Ridden a Horse Before
Jeremy Irvine, who plays the role of Albert in War Horse, has apparently never ridden a horse prior to being cast in the movie. However, this was not an issue, as several actors with major riding scenes in the movie did two months of intensive training to prepare.
Irvine was not the first actor to land the role of a horse rider without having any experience with horses. In fact, cases like his are quite typical in the film and TV industry. On many occasions, actors even lie about being able to ride in order to book a role, which is known as a "classic actor's white lie".
Did you know that War Horse was Jeremy Irvine's first-ever movie role? Beforehand, the only time he appeared on TV was in Season 2 of Life Bites (2008-2009). War Horse was his big break that put him on the map as a professional actor.
Also Read: 17 Famous Horses in Movies and TV Series
5. "Everything you see on screen really happened"
Regarding War Horse, Steven Spielberg is very proud of the minimal CGI used in the movie. The only time they resorted to digital effects was to protect the safety of a horse. Even so, CGI was only used for three shots that lasted three seconds.
Much of the props seen in War Horse were also real. For example, the swords used against the Germans in the cavalry charge were actually the last swords issued to the British cavalry in real life.
Similarly, most of the barbwire scene was filmed with a real horse, while the wire was made out of rubber. Part of this scene was recorded using an animatronic horse, which is a very lifelike robot. Animatronic techniques are typically used in the film and entertainment industries to replace living creatures.
6. The Actress Playing Emilie Also Appears in Free Rein
If you're a fan of Free Rein (2017-2019), the face of Emilie in War Horse might be familiar to you. Emilie is the fragile granddaughter of a farmer in France who discovers Joey and his buddy inside a windmill. She is portrayed by Belgian-British actress Céline Buckens, who also plays the role of Mia in Free Rein.
Only fourteen at the time, landing a role in a Spielberg movie was a dream come true for Céline. With no background in acting, she managed to book the role of Emilie just after two auditions!
War Horse was also Céline Buckens' debut as an actress. For her performance, she received an Empire Awards nomination for Best Female Newcomer in 2012.
Céline went on to pursue a career in acting and recently made her directorial debut with the short film Prangover (2021).
Also read our article 7 Interesting Facts You Didn't Know About Free Rein.
7. The Horses in War Horse and Free Rein Came From the Same Stable
In an interview with Headstrong, Céline Buckens revealed that the horses of both War Horse and Free Rein came from the stables of Steve Dent Stunts. She also shared it was easy to work with the horses, as they were all professionally trained by the stunt coordinator and his team.
Steve Dent Stunts has over 60 years of experience in stuntwork with a portfolio of over 350 professional projects. They provided horses for many popular movies and series, including Bridgerton (2020- ), The Witcher (2019- ), Captain America (2011), and Gladiator (2000).
The company has a variety of horses, carriages, and stunt equipment available for hire. Among their 80 horses are various breeds and personality types, from fiery stallions to powerful draft horses, reliable carriage horses, as well as friendly ponies, donkeys, and mules.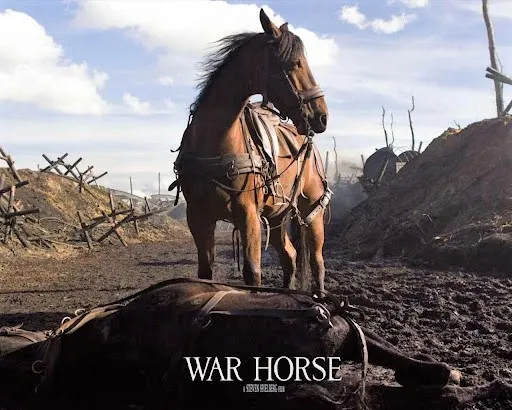 Steve Dent Stunts are also among the largest collectors of medieval tack in Europe. Their collection includes over 500 sets of horse armor, harness, and other pieces of equipment.
8. War Horse Is in the Top 10 Best Films of 2011
In 2011, the National Board of Review and the American Film Institute named War Horse one of the top 10 best films of the year.
In the years that followed, the movie was nominated for close to fifty awards, although failed to win an Oscar.
Here are the awards the War Horse movie won:
| | |
| --- | --- |
| Awards | Category |
| American Film Institute Awards | Film of the Year 2011 |
| BMI Film & TV Awards | Film Music Award |
| Broadcast Film Critics Association Awards | Best Cinematography |
| Motion Picture Sound Editors Golden Reel Awards | Best Sound Editing: Sound Effects and Foley in a Feature Film |
| National Board of Review Awards | Top Ten Films |
| Satellite Awards | Best Cinematography |
Among the movie's notable nominations were six Academy Awards (including Best Picture), five British Academy of Film and Television Arts Awards, and two Golden Globe Awards.
What's more, War Horse is the first horse movie to receive a Best Picture Academy Award Oscar nomination since Seabiscuit (2003).
War Horse is also included in Steven Schneider's list of "1,001 Movies You Must See Before You Die".