Our readers support us. This post may contain affiliate links. We earn from qualifying purchases. Learn More
Small yet mighty, War Admiral dominated the racing world in the 1930s and is still considered to be one of the most successful racehorses ever.
War Admiral was a famous Thoroughbred racehorse born on May 2, 1934, at Faraway Farm in Lexington, Kentucky. His sire was the legendary Man o' War and his dam was Brushup. War Admiral was owned by Samuel Riddle and trained under the direction of George Conway.
During his racing career, War Admiral won 21 of his 26 starts. He became the fourth horse to win the coveted Triple Crown. In 1937, he won United States Horse of the Year and in 1958 he was inducted into the United States Racing Hall of Fame.
Here is an overview of War Admiral's stats:
| | |
| --- | --- |
| Born: | May 2, 1934 |
| Died: | October 30, 1959 (aged 25) |
| Breed: | Thoroughbred |
| Sex: | Stallion |
| Height: | 15.2 hands |
| Color: | Brown |
| Owner/Breeder: | Samuel D. Riddle |
| Trainer: | George Conway |
| Sire: | Man o' War |
| Dam: | Brushup |
| Earnings: | $273,240 |
| Race Record: | 26: 21-3-1 |
Here are eight facts you didn't know about War Admiral, the most famous son of Man o' War.
War Admiral Was Relatively Small Compared to Other Racehorses
War Admiral was only 15.2 hands tall and weighed about 960 pounds. This is relatively small compared to the average Thoroughbred that stands around 16 hands and typically weighs 1,000+ pounds.
Though he was small in stature, War Admiral had excellent conformation. The stallion had a neat, compact build that was similar to his maternal grandsire, Sweep. He inherited his height from his dam, who was under 15 hands tall, unlike his sire that was 16.2 hands. War Admiral was given the nickname "The Mighty Atom" as he was small yet dominant on the racetrack.
War Admiral Was Said to Have a Sweet Personality
War Admiral was known by the public to have a fiery temperament, just like his sire. At the starting gate, he was notorious for putting up a fight, which once even led him to get injured.
However, away from the loud crowds, flashing cameras and exciting racetracks, he was said to have a sweet personality. At home, he was much more relaxed and would enjoy taking long naps. His trainer, Conway, said he had a personality similar to his dam.
Samuel Riddle Was Unimpressed By Him as a Foal
When War Admiral was a young colt, his owner Riddle was not impressed by his small size. He tried to give the foal away to his nephew by marriage, Walter Jeffords.
However, though Jeffords liked the colt, he turned down the offer. He didn't want any quarreling happening within the family if War Admiral turned out well. Lucky for Riddle, he ended up keeping the Thoroughbred and the move paid off, as he was immensely successful.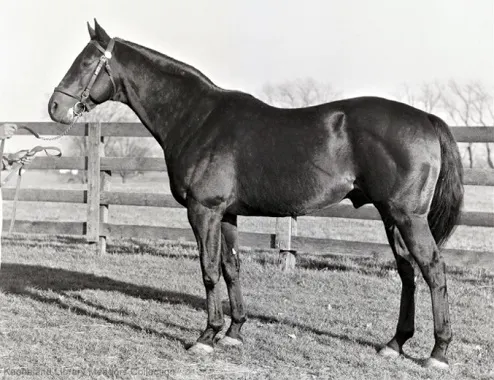 War Admiral's Famous Race Against Seabiscuit Almost Didn't Happen
One of War Admiral's most memorable moments is his one-on-one matchup with Seabiscuit. However, the famous meet-up almost didn't happen.
At first, Riddle did not consider it dignified to have War Admiral run against a horse like Seabiscuit. After lots of pressure, he finally agreed to the meet-up for a purse of $15,000. Riddle had one major condition though. The horses would not race out of a start gate, as War Admiral did not like them.
The two Thoroughbreds finally met on November 1, 1938, in the Pimlico Special for what was deemed the "The Match Race of the Century." The media had made War Admiral seem like the villain and Seabiscuit the hero. To them, he had it all, leading a luxurious life, whereas Seabiscuit had to fight to get where he was.
People from all over came together to watch this unique matchup. In the exciting race, Seabiscuit came through as the underdog, beating the reigning Triple Crown champion by four lengths.
War Admiral Sired 40 Stake Winners
There was no doubt about it that War Admiral had a successful racing career, but his accomplishments didn't stop there. After retiring in 1939, he went on to stand at stud.
The stallion stood at Faraway Farm until 1958, one year before his death. He sired a total of 373 named foals. Out of all of those foals, there were 251 winners and 40 stake winners.
War Admiral Has Famous Descendants
War Admiral was well known for being a leading sire of racing champions and a leading broodmare sire. He was the leading sire in North America in 1945 and the leading broodmare sire in North America in 1962 and 1964.
Many of his descendants have found the same success he did. Cigar, Seattle Slew, and Affirmed all share War Admiral in their pedigrees. Modern-day champions such as a Zenyatta and 2015 Triple Crown champion American Pharoh are descendants of the legendary racehorse. In fact, War Admiral shows up eight times in American Pharoh's pedigree.
Also, read our list of the most famous racehorses in history.
War Admiral is Buried Beside His Sire
War Admiral died on October 30, 1959, at the age of 25. He is buried alongside his sire, beneath the Man o' War statue at Kentucky Horse Park.
The Seabiscuit Movie Portrayed War Admiral as Larger Than He Really Was
In 2003, the motion picture Seabiscuit was released in movie theaters. The hit film told the story of the underdog racehorse, including his celebrated matchup with War Admiral.
Included in our list of the best horse movies, it displays the exciting drama of this race, it took some liberties as well. War Admiral is portrayed as a large, nearly 18 hands tall horse that is several inches taller than his opponent. However, in real life, Seabiscuit and War Admiral were the same height at 15.2 hands tall.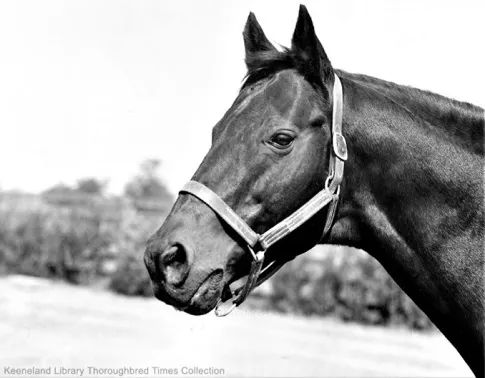 Who Was War Admiral's Jockey?
War Admiral's primary jockey was Charles Kurtsinger. He rode War Admiral in all three races of the Triple Crown and in his matchup with Seabiscuit. Kurtsinger had a very successful career as a jockey and was inducted into the United States Racing Hall of Fame in 1967.
How Much Did War Admiral Earn?
During his career as a racehorse, War Admiral won $273,240 in earnings. Today, this would be the equivalent of over $5 million. He went on to earn even more money standing at stud.
Is Secretariat Related to War Admiral?
Secretariat is not a direct descendant of War Admiral; however, they are distantly related to a racehorse called Fair Play. War Admiral's grandsire on his paternal line was Fair Play and Secretariat's great-great-great-grandsire on his paternal side was Fair Play.
Also, read our guides to other famous racehorses such as Secretariat, Phar Lap, Frankel, Red Rum, Man o' War, & Seabiscuit.