Our readers support us. This post may contain affiliate links. We earn from qualifying purchases. Learn More
Most riding boots are made from leather, however, that is not practical for everyone's lifestyle. Fortunately, there are some great vegan horse riding boots that are made entirely from man-made products.
Vegan horse riding boots are made from 100% synthetic, man-made, PU, or faux leather. They contain no animal products, but often give the appearance of real leather. Their durable yet comfortable builds make them a great choice for horseback riding.
Best Vegan Horse Riding Boots
1. TuffRider Front Zip Paddock Boots (Women)
If you are looking for a trusty pair of paddock boots, this is a great option for you. They are 100% synthetic leather and feature a PVC outsole for all weather conditions.
For your comfort, they feature elastic gussets for flexibility, as well as a soft and breathable inside. The convenient zipper allows for a snug fit while also allowing for ease getting on and off. For top-notch durability, the boots feature detailed stitching.
They include spur rests for your convenience, allowing your spurs to comfortably stay in place. At a great affordable price, they make a wonderful addition to your wardrobe.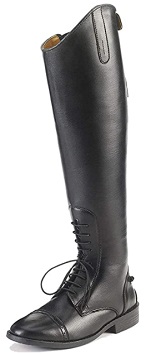 These synthetic field boots are great for showing or even everyday riding. They are made from top-quality lead-free 'Leather Look' material, which provides a soft leather feel with excellent wear.
The narrow profile in the leg provides a sleek and fitted look. For superb moisture management, the shaft is cushion-lined with Dry-Tex. The unique EquiStar Sole System is made to last and provides additional comfort with its reduced weight and enhanced flexibility.
For your comfort, there are V-style gussets at the inside top of the leg. In addition, the back has a convenient full zipper for ease of use as well as spur rests.
3. TuffRider Back Zip Field Boots in Synthetic Leather (Women)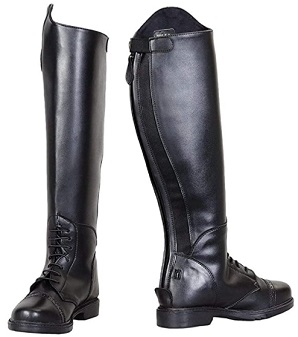 Not only are these horse riding boots luxurious faux leather, but they are also entirely waterproof. They are stylish enough for showing, while also being practical enough for schooling.
To provide an elegant look in the saddle and a great fit, the shaft sculpts to your calf. The performance footbed is fully lined, providing you with flexibility and an immediate break-in. For additional comfort, a gusset goes down the entire length of the back calf. These are included in our best comfortable tall riding boots guide.
To allow for ease of putting them on and taking them off, these boots feature a full-length zipper in the back. The back also features a snap on the top to ensure a quality fit as you ride.
4. Roper Chunks Western Vegan Riding Boot (Women)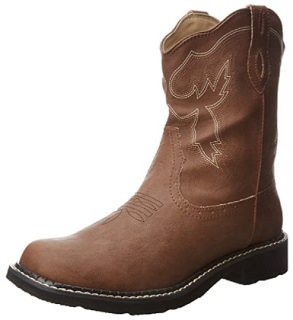 These practical vegan western riding boots are great for hitting the trails or even everyday wear. Made from synthetic materials, they have a look of real leather and feature decorative stitching.
To provide superior grip, the outsole is made from durable rubber. Their lightweight design makes them comfortable to wear for hours on end. They measure nine inches from the arch to the shaft, making them slightly shorter than the standard cowboy boot.
For ease of use, they feature convenient pull-on tabs. The round toe design provides your feet with support and comfort as you ride.
5. Horze Signature Jodhpur Boots (Unisex)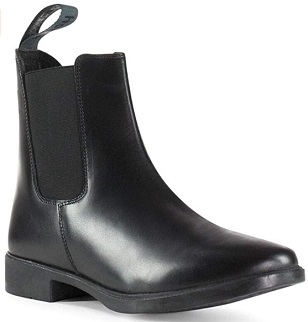 These pull on riding boots have a classic jodhpur look with the appearance of real leather. They are made from supple PU leather that is both durable and elegant.
For flexible support and ease to slip on and off, the sides feature sturdy ribbed elastic. With the slip-on design, you don't have to worry about faulty zippers or broken laces. The inside is a luxurious Cambrelle lining to keep your feet comfy.
They have a lightweight design that prevents your feet from getting tired. They are durable enough for everyday wear and stylish enough for the show ring.
6. Shires Moretta Clio Adult's Paddock Boot (Women)
These sturdy faux leather riding boots are great for everyday wear at the barn, as they have an easy-to-clean design. They are a wonderful budget-friendly option that is built to last.
To keep your feet cool as you ride, the insides feature wicking linings. The shock-absorbing insoles provide contoured comfort for your feet. For anti-fatigue relief in the stirrups, these boots have durable soles and steel shanks.
To provide additional support and flexibility, they feature sturdy elastic gussets on the side. A zipper on the front of the boots allows for a secure fit, with spur rests on the back.
7. Horze Spirit Kilkenny Jodhpur Boots (Women)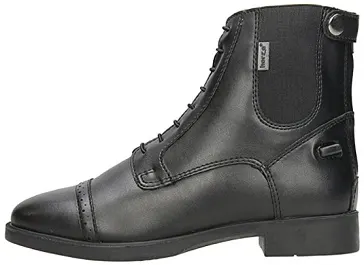 These jodhpur lace-up horseback riding boots have a unique and innovative design to keep your feet comfortable all day long. The front features permanent laces that are decorative while the back includes a convenient zipper and button for a secure fit.
They are designed with soft, supple synthetic PU leather that looks very stylish. In addition, they are easy to care for, making them great for everyday wear at the barn. Elastic gussets on the side provide flexibility as you ride.
Spur rests are featured on either side of the zipper, so your spurs will stay in place. They are a great deal if you are in the market for quality schooling boots.
8. Derby Men's Lined Rubber Boot (Men)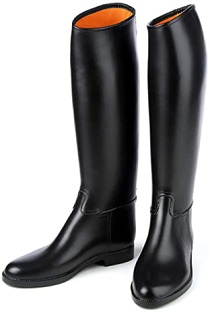 These versatile synthetic rubber riding boots are ideal for mucking stalls and even horseback riding. Their sleek design gives them the appearance of high-quality dress boots but without the seams.
Made from PVC these boots are not only durable but also easy to clean. The inside has a moisture-wicking lining to keep your feet cool all day long. Their waterproof design makes them great to wear no matter the weather.
The flexible design on these boots makes them easy to get on and off. They are a great alternative to traditional leather dress boots.
9. Roper's Men's Basic Square Toe (Men)
These fashion-forward vegan cowboy boots are great for wearing out or to the barn riding. Available in three different colors, these boots have a classic western look.
The flexible sole provides support and stability as you ride. The traditional square toe design is comfortable and practical. With a lightweight build, they prevent your feet from becoming fatigued.
For quality comfort, they have a lightly cushioned synthetic footbed. The comfortable cowboy boots have a smooth lining will keep your feet feeling good for hours on end.
10. Dover Saddlery Lace Paddock Boots (Women)
With the looks of genuine leather, these synthetic riding boots are chic and practical. The synthetic material is easy to clean and care for.
The lace-up front allows you to get a snug fit, custom to your feet. With a sturdy rubber outsole, they are built to last and provide much-needed traction. The elastic gussets on the side allow for flexibility in the saddle.
The classic design on these vegan boots includes punctured toe caps and spur rests. They make awesome schooling boots at a great price.
Frequently Asked Questions
How Can You Tell If Boots Are Vegan?
Most riding boots will include in their description if they are real leather or vegan leather. However, if it does not specify in the description, you can tell by certain materials if they are vegan-friendly or not.
When searching for vegan boots, look for boots that are synthetic, faux leather, PU or man-made. Some boots are a combination of real and fake leather, so make sure they say they are 100% synthetic, man-made, PU or faux leather. If the shoes have a textile or diamond-shaped symbol on your show, that is an indicator they are vegan.
How Do You Care For Vegan Leather?
Like real leather, you should take care of your synthetic leather. Simply clean vegan leather with water and mild soap on a cloth.
Vegan cream is also available to polish as well as condition the shoe to help keep it soft and flexible. This will help keep your boots in pristine condition.
Is Vegan Leather the Same as PU Leather?
PU or polyurethane leather is made from thermoplastic polymer. It is entirely artificial, which makes it vegan-friendly. Though not all vegan leather is PU, PU is a variety of vegan leather. It is one of the most popular vegan leathers, as it is sturdy, durable, and flexible.