Our readers support us. This post may contain affiliate links. We earn from qualifying purchases. Learn More
Playsets are a wonderful way for children to engage their imagination as well as share with their friends. These magical unicorn LEGO sets and playsets are sure to bring joy to any kid.
From fairies to princesses, these unicorn playsets offer hours of fun and creativity. They will make an excellent surprise on Christmas morning or a thoughtful birthday present.
Each playset offers imaginative playtime thanks to their beautiful designs and interactive pieces.
Here are the ten best unicorn LEGO and playsets for kids.
1. My Fairy Garden Unicorn Paradise
This magical unicorn gift is not only fun to play with, but also encourages responsibility and patience as kids get to grow and care for their own garden. Ideal for kids ages four and up, this garden is a blast to watch transform.
Each set comes with soil, gardening tools, pebbles, and seeds, so kids are all set to get their garden growing. It also includes an adorable toadstool house, Dahlia the fairy, Pebbles the turtle, and Celeste the glittery unicorn that children can play with. Children can customize their garden to look any way they would like, allowing their imagination to run wild.
In addition to playing, kids will learn all about caring for plants including providing proper sunlight and regular watering. They will get to grow Crimson Clover Dixie, Purple Prairie Clover, Red Clover, White Dutch Clover, and Yellow Sweet Clover.
2. DUPLO My First Unicorn LEGO Set
This cute and colorful unicorn LEGO set is a brilliant educational unicorn toy for kids 18 months and up.
Children can get hands-on as they pick up, place, and pull along the unicorn. It encourages fine motor skills as toddlers discover shapes and colors. The super-smooth shapes are easy for little hands to pick up.
This set features a unicorn, two stars, a rainbow, two push-along 'carriages' with wheels, and two cards for reference. Building the set creates self-expression and joyful learning.
3. Playmobil Fairy Garden Play Box
This adorable boxed set features a mystical fairy garden that kids will absolutely love. This on-the-go unicorn set is ideal for kids aged 4 to 10 years old.
Perfect for playdates, it includes two fairies, a unicorn, wand, leaf chair, flowers tables, Lutes, and several other accessories. All these items can conveniently be packed up in the fairy garden case. This would make a thoughtful present for any young boy or girl.
4. Playmobil Fairy Unicorn Carry Case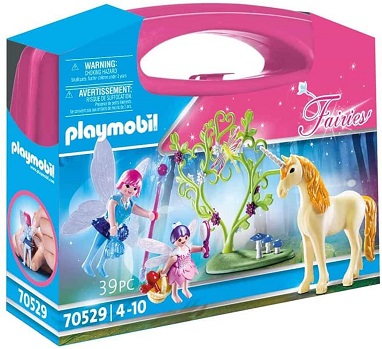 Magical adventures await in this enchanting fairy set. Easy to store and great for travel, it is a terrific present for kids aged 4 to 10 years old.
The playset features two fairies, a unicorn, dragonfly, flowering tree, basket, and brush, among other accessories. All these items can be neatly stored in a handy pink case. The fairies can even ride the unicorn through the mystical forest.
5. Unicorn Wonderland Play Mat & Toy Set
This unicorn playset and mat will keep little girls entertained for hours. With colorful and exquisite graphics, they'll get lost in a world of imaginative unicorn play.
The set comes with a selection of unicorn toys, mat, and container so cleaning up will be a breeze.
Also Read: 7 Best Unicorn Board Games for Kids
6. Playmobil Fairies with Toadstool House
Kids can immerse themselves into the magical fairy world with this charming Toadstool house playset. Ideal for ages 4 to 15, this imaginative set provides hours of fun.
This awesome set includes two fairies, a unicorn, two unicorn foals, a tree, bandage and grooming tools, duck pond, owl, house, and many other fun accessories.
The giant toadstool house offers room for the fairies to live upstairs and shelter below for the unicorns. Kids can feed golden apples to the unicorns or brush them with the grooming set.
7. Playmobil Princess Unicorn Carry Case
For the princess-loving little girl, this enchanting set makes for a fantastic birthday present. This convenient travel set is great for ages 4 to 10 years old.
This collection includes two princesses, a unicorn, and accessories. The princesses even have detachable skirts, so they can dress up for a ball or have a casual day out riding. After playtime is over, all pieces can easily fit in the pink travel case.
8. Breyer Horses Unicorn Magic Wooden Stable Playset
What little kid doesn't want a barn full of unicorns? The unicorn playset includes a sturdy wooden barn with six unicorn Stablemates. Each unicorn has its own stall in this adorable barn that features the word 'Magic' on the front.
The barn can easily close up and features a convenient handle which makes it perfect for traveling.
This stable makes for a wonderful keepsake, as each Stablemate is hand-crafted. It would make a thoughtful Christmas gift for any young horse-lover.
Also Read: 10 Best Ride-On Unicorn Toys For Kids
9. Polly Pocket Unicorn Party Playset
This ultimate party set is full of fun surprises that kids will adore. Open up the adorable unicorn pinata case for a fun princess adventure.
Inside there is a charming castle with a bouncy house, see-saw, rainbow cloud, storage area, and a river with a unicorn floatie.
Among the many accessories, there are two micro dolls, two unicorns, a carriage, a dragon, and much, much more. When not playing, all items fit within the case which is portable making it great for long road trips or taking to a friend's house.
10. Schleich Unicorn Toy Set
Both girls and boys will admire these colorful, fabulous unicorns. Six unicorns are included in the set and they are all different colors.
Each one features a unique design with sparkly hooves. They feature incredible attention to detail and are perfect for letting your little one's imagination shine through.
Each one is individually wrapped and comes with its own name and personality. They all have a double-sided collectors guide that features a map that shows each unicorn's home.
11. Unicorn Castle Pretend Tin Teapot Set
Kids will have a blast throwing an afternoon tea party with this darling unicorn teapot set. The beautifully designed unicorn tea set includes one teapot, four cups, four medium-sized plates, four small-sized plates and one big plate.
All of these items fit perfectly in the unicorn case, so kids can pack it for lunch in the park or for a playdate. It allows kids to express their creativity and imagination while also working on developing their social skills.
Also Read: