Our readers support us. This post may contain affiliate links. We earn from qualifying purchases. Learn More
Is your friend or relative obsessed with unicorns? Then you've come to the right place to find the perfect unicorn gift for adults!
Unicorns are magical creatures that symbolize love, purity, and miracles. Although they might not be real, these unique gifts will make the receiver feel a step closer to their enchanted world.
Unicorns have inspired many artists and designers to create beautiful things. Below, you will find some of the most imaginative and hilarious unicorn-themed gifts that will put a smile on your special person's face!
Here are the twenty best unicorn gift ideas for adults.
1. Unicorn Dreams Candle
These beautiful handmade candles are filled with all-natural ingredients, love, and unicorn magic! Enjoy the scent of citrus, agave, and sugared orange while you relax next to these enchanted candles.
There are various candle sizes and tealight options to choose from. Besides being decorative pieces, the candles are also ideal for spiritual purposes. Light one of these candles as you meditate to make your ritual extra special!
2. Unicorn Sequin Pillow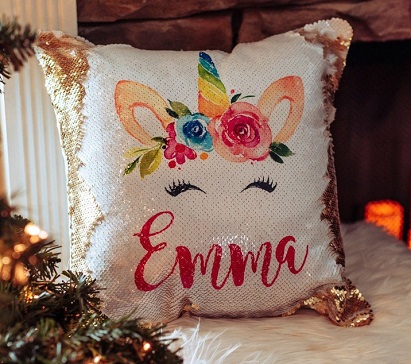 Want to surprise your loved one with something truly unique? This wonderful personalized pillow makes for a special gift to any unicorn lover. Just select a name, font style, and text color and you're good to go!
The seller offers various cute unicorn designs for buyers to choose from. The pillow is covered in golden sequins that can be brushed back to reveal the design. You can opt to order the pillow cover only which is 16×16 inches or both the cover and insert.
3. Unicorn Wine Holder
This humorous wine holder is sure to spice up any kitchen! Molded into the shape of a drinking unicorn, the wine holder is made of high-quality polyresin that is painted and polished by hand.
Put a smile on your special person's face with this hilarious unicorn gift for adults! Even better, include their favorite wine in the present so they can start using the item right away.
4. Unicorn Dream Catcher
Dream Catchers were first used by the Ojibwe Native American tribe to deter bad dreams. The custom eventually spread around the world and dream catchers became a popular unicorn gift for adults and kids.
You can choose between white, pink, and purple colors or opt for the LED unicorn head.
The dream catcher is decorated with feathers, beads, ribbons, and handmade flowers. It features golden unicorn ears and a shiny horn on the top. This pretty and lightweight dream catcher is ideal for hanging above your bed or in a window.
5. Unstable Unicorns Card Game
This fun unicorn card game is great for parties and can also be played as a drinking game. Unstable Unicorns won the People's Choice Award for Toy of the Year in 2019 and has sold over a million copies worldwide.
Unstable Unicorns is a strategy card game that involves building a unicorn army and betraying your friends. By the end of the game, your friendships might be destroyed but in a good way. The game also has various expansion packs so the fun never has to end!
6. Unicorn Succulent Gift Box
Included in our best unicorn gift boxes guide, this is perfect for a friend who loves unicorns and plants! Inside, you will find a paintable unicorn planter, washable paint, a little shovel, a succulent, and a card with a message.
The cute planter is a blank canvass for you to express your creativity and artistic flair. All plants are real and hand-picked by the seller. You can also request a personal message to appear on the card when ordering.
The planter and succulent will look great in a window or on a shelf indoors. This gift box is a great DIY project for adults who love unicorns.
7. Unicorn Throw Blanket
This stylish unicorn throw blanket is super soft and full of personality. Perfect for huddling under during a movie or as an extra blanket on cold winter nights.
The blanket is made of quality microfiber fleece and is resistant to shrinking in the washing machine. To maintain its quality and softness, wash on a gentle cycle and tumble dry on low heat.
8. Funny Unicorn Mug
Your unicorn-obsessed friend is guaranteed to love this hilarious mug inspired by BigMouth. Their cupboard is not complete unless they have a humorous unicorn-themed mug, which is where you come in.
This high-quality ceramic mug features a 3D rainbow and cloud handle and reads "Powered by Unicorn Farts". It's easy to clean and holds 20 oz of liquid. However, be aware that the mug is not microwave or dishwasher safe.
9. Unicorn Whipped Body Butter Lotion
Does the person you're buying for enjoy self-care and beauty products? Then why not surprise them with some unicorn-themed body butter lotion!
This handmade product comes in 2 oz or 10 oz jars with lids that read "Unicorns are real!" The lotion is presented in three pastel colors with a sprinkle of glitter on top. Enjoy the scent of cherry, strawberry, peaches, and sweet candy while keeping your skin moisturized!
10. Candle Holder with Unicorn Face
This set of three candle holders feature cute unicorn faces that glow magically when you light a candle inside. The set includes a frosted blue, sea green, and turquoise piece that are each 3 inches tall and 2.75 inches wide.
These glass candle holders will fit tealights, votives, pens, markers, or any other small items. They will look great on your desk, shelf, or in the bathroom.
11. Unicorn Travel Coffee Mug
This pretty unicorn travel mug will suit any avid coffee drinker. Its vacuum insulated double walls ensure your drink is kept at the right temperature, whether that's hot or cold.
The mug's material is food-grade stainless steel that doesn't break, go rusty or transfer flavor. The cleverly designed lid prevents spilling, so not a single drop of your drink will go to waste. Without a doubt, this high-quality travel mug is a great gift for unicorn-loving adults.
12. Unicorn Opal Earrings
These exquisite unicorn earrings are a beautiful small edition to a unicorn lover's jewelry box. Surrounded with a solid Sterling silver 925 frame with an opal stone set in the model.
Many buyers have praised the quality of the product that arrives in a lovely gift box. Don't be surprised if they attract a lot of compliments at the next party!
13. Oversized Unicorn Hoodie
This soft and cuddly unicorn hoodie will keep you warm on chilly winter days. The hood features unicorn ears and a horn, while the large front pocket is ideal for storing your gadgets or snacks.
The hoodie comes in youth and adult sizes and is made of soft microfiber. The ends of the sleeves have elastic cuffs for a snug fit. This oversized unicorn hoodie will make sure no heat escapes while you read your favorite book or watch a movie!
Also Read: 7 Best Unicorn Board Games
14. Unicorn Stemless Wine Glass
Wine drinkers will be enchanted by this magical wine glass featuring a witty unicorn design. The text and image are etched into the glass permanently and won't ever come off.
This pretty stemless wine glass is dishwasher safe for extra convenience. A perfect unicorn gift for adults lover who appreciate beautiful glassware or love their wine.
15. Unicorn Trinkets Organizer
Why not surprise the special lady in your life with this adorable trinkets organizer? The magical unicorn will keep her rings, necklaces, earrings, and bracelets safe and in one place.
The item is made of high-quality glazed ceramic and will look great on a dresser table. Perhaps slip some jewelry onto the plate before wrapping it to make the occasion even more special.
16. Unicorn Plush Slippers
These adorable Unicorn Plush Slippers will bring comfort and love into your home. Made of soft material that lasts, these comfy slippers will make you feel like you're walking on fluffy clouds.
You can choose between a pink or white unicorn plush when ordering. The slippers are one size fits most, and will accommodate up to 9.6″. A perfect gift for an adult unicorn lover who often complains about cold feet!
17. Funny Unicorn Coasters
These hilarious coasters will make a great addition to any home. Colorful and sassy, they are ideal Christmas stocking stuffers for fans of these mysterious creatures.
The coasters are made of flexible neoprene and feature an absorbent woven cloth on top. The material can withstand beverages up to 200 °F (93.3 °C). The design shows on one side, while the flipside has a nonskid rubber grip surface.
These funny unicorn coasters come in sets of 1, 2, 4, and 6. They will look equally great in an office, living room, kitchen, or any space for that matter.
18. Unicorn Bath Bomb
Travel into the magical realm of unicorns with these awe-inspiring bath bombs! Just place them in your bathtub, open the tap and see colors of the rainbow emerge from either end of the unicorn.
The bath bombs are infused with soft scents of jasmine, white musk, and lily of the valley for a thoroughly relaxing experience. Rest assured that the vibrant colors won't leave a stain on your bathtub once the water drains. The bath bombs are made of skin-loving materials without any harsh chemicals or additives.
19. Unicorn Inspired Spatula
This high-quality wooden spatula features a funny unicorn design that reads "This recipe didn't call for your opinion." The design is laser-engraved and durable, as long as the spatula is washed by hand only.
A handy tool in any kitchen, this 12-inch spatial will make your loved ones smile every time they use it. It makes for a thoughtful gift to unicorn enthusiasts who love to cook!
20. Rainbow Unicorn T-shirt
This cute Rainbow Unicorn T-shirt has a slick design that will make the receiver stand out. The seller offers various color and sizes. The item will last longest if washed inside out in cold water and tumble dried on low heat.
Also Read: 15 Best Unicorn Gifts for Kids