This post may contain affiliate links. We earn from qualifying purchases. Learn More
Reading benefits children in many ways, including improving cognitive skills, expanding vocabulary, and building imagination. These unicorn books for kids promote creativity while helping children learn important skills.
From toddlers to tweens, these unicorn books give kids a glimpse into the magical world of reading. With beautiful illustrations and inspiring stories, they will keep kids invested. They offer exciting characters that teach children important life lessons.
Here are the ten best unicorn books for kids.
1. Never Let a Unicorn Scribble!
This colorful storybook features numerous beautiful illustrations that will draw in a child's interest. Suitable for kids aged 4 to 6 years old, this magical book is excellent for inspiring little ones and teaching them to never give up.
The story is about a little girl who hears the phrase "Never let a unicorn scribble!" but believes that people don't understand how beautiful scribbling can be.
She learns that teaching a unicorn to scribble is more challenging than anticipated. However, instead of giving up, she gets more creative in her quest.
In addition to Never Let a Unicorn Scribble!, kids will enjoy other books by author Diane Alber in the series. These books include Never Let a Unicorn Crash a Party, Never Let a Unicorn Meet a Reindeer, Never Let a Princess Paint With Her Unicorn, Never Let a Unicorn Wear a Tutu, and Never Let a Unicorn Get Spots.
2. Unicorn Academy: Rainbow of Adventure Boxed Set (Books 1-4)
Join the magical world of the Unicorn Academy where every kid gets their very own unicorn. This beginner chapter book series is wonderful for kids aged 6 to 9 years old.
This set features four books: Sophia and Rainbow, Scarlett and Blaze, Ava and Star, and Isabel and Cloud. Each book focuses on a different girl and her unicorn as they venture through life at the academy. Every unicorn has special powers such as flying, invisibility, and even breathing fire.
To discover the power of their unicorns, the students must bond with their unicorn companions. Friendship is key to achieving magic at the beautiful Unicorn Island.
3. How to Catch a Unicorn
Packed full of gorgeous colorful illustrations, this storybook is a #1 New York Times bestseller. Included in our best unicorn gifts for kids guide, this book will spark your child's unicorn imagantion.
This magical book follows a group of kids as they venture through a zoo on their quest to catch a unicorn. It is full of zany traps and tons of rainbow unicorn fun. The fun story and stunning pictures will engage children and get them excited to read.
4. Fancy Nancy and the Quest for the Unicorn
Fancy Nancy is one of the most popular children's books. This interactive book contains over 30 stickers and is ideal for kids aged 4 to 6 years old.
Follow unicorn experts Nancy and Bree as they go on an epic adventure to find a unicorn. Freddy and JoJo join in wanting to partake in the fun. While on their quest, they are on the lookout for glitter, unicorn horns, and silky white hair as they look for one of the most majestic, magical creatures.
5. Margaret's Unicorn
As a Teachers' Pick, this delightful storybook features breathtaking illustrations that any kiddo will love.
When Margaret moves to a cottage by the sea to be near her grandmother, her whole world changes. One evening, she spots what she believes to be mist, but it turns out to be a herd of wild unicorns. However, a baby gets left behind and becomes entangled in the weeds.
Margaret helps care for the foal, and the two go on many amazing adventures. She then reunites her small friend back to his family, but the two have a special bond that they will not forget.
Also Read: 15 Best Unicorn Toys for Kids.
6. Unicorn Day
Hooray for Unicorn Day! This bright storybook with over-the-top pictures is fitting for children aged 3 to 6 years old.
In this wonderful book that promotes inclusivity, Thelma the Unicorn gets to meet Uni the Unicorn. It is packed full of dazzling glittery pictures, rainbows, and of course, unicorns. This heartfelt book is great for teaching kids to love one another and to be joyful.
7. Uni the Unicorn: Uni's First Sleepover
As part of the beloved Uni the Unicorn series, Uni is breaking out of the picture book world and moving on to Step into Reading. Kids will get to read all about Uni's very first sleepover.
Though the others have been to sleepovers before, the whole experience is new to Uni. She struggles to play the games and by the time bedtime comes around, she isn't having a very good time. But will Uni find a way to have some fun?
Charming and relatable, the format is a great early reader format as kids learn to read all on their own. To tell simple stories, it uses basic vocabulary and short sentences. Suitable for children aged 5 to 7 years old.
Also Read: 7 Best Unicorn Board Games for Kids.
8. I'm a Unicorn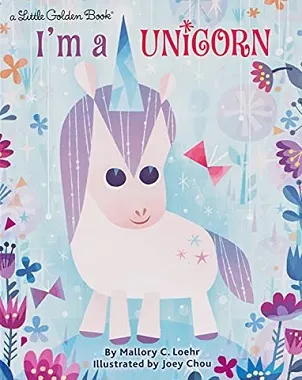 Introduce your child to the wonderful world of Little Golden Books with this adorable storybook. It includes beautiful illustrations and is fitting for kids aged 1 to 5 years old.
This charming book is told from the perspective of a unicorn. She tells readers all about herself and the magical powers she has. For little ones that love fairy tales and magical creatures, this book is sure to delight.
9. Thelma the Unicorn
As a Teachers' Pick, this enchanting book teaches kids to love themselves for who they are. Great for kids aged 3 to 5 years, this book teaches positivity and includes many beautiful illustrations.
Thelma is an ordinary pony who has a big wish to become a unicorn. In an exciting pink and glitter-filled moment, her dream comes true. She rises to international stardom, but with it comes an unexpected cost.
After some time, Thelma realizes she is happier as her glitter-free self. She ditches her horn and sparkles to return to her normal life, where she is greeted with many hugs.
10. The Last Unicorn
This literary classic is a must-read for all those who love fantasy and mythical creatures. Ideal for ages 12 and up, this book is captivating.
After living all on her own, a unicorn ventures out from the safety of her forest in hopes of finding her kind.
Along the way, she is joined by sidekicks as she learns all about the joys and sorrows of life and love. She makes her way to a castle with a sad monarch, where she meets the creature that drives her kind to extinction.
Also Read: 15 Best Unicorn Toys for Kids.