Our readers support us. This post may contain affiliate links. We earn from qualifying purchases. Learn More
Like many fans of Yellowstone, you are probably anxiously awaiting the release of the fifth season. Fortunately, there are plenty of great shows to watch as you wait to learn the fate of the Dutton family.
If you are looking for something to binge on in the meantime, these TV shows like Yellowstone are all great options.
Whether you want some more cowboy action, are looking for a western period piece, or want a family drama, we have you covered.
Here are the best TV shows like Yellowstone to add to your watch list.
1. 1883 (2021- )
If you love the Dutton family dynamic, then 1883 is a must-watch for you. As a prequel series to Yellowstone, 1883 tells the story of how the Dutton family got their land.
1883 starts out with the Dutton family fleeing poverty in Tennessee to start a new life. James Dutton, along with his wife Margaret and children Elsa and John, joins a European immigrant wagon train in Texas that is headed to Oregon.
The caravan is led by Shea Brennan, an employee of the Pinkerton Agency and former Union Army captain, along with his crew.
The journey is treacherous, as the caravan faces many hardships including bandits, disease, and tornadoes.
1883 has an IMDB rating 8.8 and is available to watch on the streaming service Paramount+.
2. Succession (2018- )
Just like Yellowstone, Succession deals with family, power, and politics. Essentially, it is the East Coast counterpart of Yellowstone.
Succession follows the Roy family who owns Waystar Royco, the biggest media and entertainment company in the world. However, the dynamic changes when Logan Roy steps down from power due to his failing health.
His children, Connor, Kendall, Roman, and Shiv, begin to seek prominence within the company.
This satirical black comedy drama is perfect for bingeing while you wait for the next season of Yellowstone.
Succession has an IMDB rating of 8.8 and is available to watch on Hulu, HBO Max, and Prime Video.
3. Longmire (2012-2017)
If you are wanting to watch a modern Western crime drama, Longmire is a great choice for you. The series is based on the Walt Longmire Mysteries novels by Craig Johnson.
Walt Longmire is the dedicated sheriff of Absaroka County, Wyoming. As a recent widow, he must put on a brave face with a comedic side, but deep down he is suffering. With the help of his daughter and best friend and confidant Henry Standing Bear, he is committed to getting back to normal.
Like Yellowstone, Longmire deals with family struggles in a western setting.
Longmire has an IMDB rating of 8.3 and is available to watch on Netflix and Peacock.
4. Outer Range (2022- )
A western series with a unique twist, Outer Range is a great show to add to your watch list. As a science fiction neo-Western, it is truly one of a kind.
As the Abbott family is fighting for their Wyoming ranch, Royal Abbott discovers a mysterious black void in a pasture. After this unnerving discovery, Abbott meets Autumn, a drifter with a unique connection to the ranch.
While the Abbotts deal with the disappearance of their daughter-in-law Rebecca, they must deal with their rivals, the Tillerson family. All this happens while dealing with an unfathomable supernatural mystery on their ranch.
Outer Range has an IMDB rating of 7.1 and is available to watch on Prime Video.
5. Godless (2017)
For those who are fans of powerful, fearless women like Beth Dutton, Godless is a must-watch. This western drama shares many of the same elements with shows like Yellowstone and 1883.
Roy Goode is on the run from his former mentor criminal Frank Griffin and his gang. While on the run, Goode seeks refuge in the town of La Belle, New Mexico, which is populated almost entirely by women. When the women get word that the gang is headed their way, they band together to protect their town.
Godless has several strong female charters in a genre that is often male-dominated.
Godless has an IMDB rating of 8.3 and is available to watch on Netflix.
6. Heartland (2007- )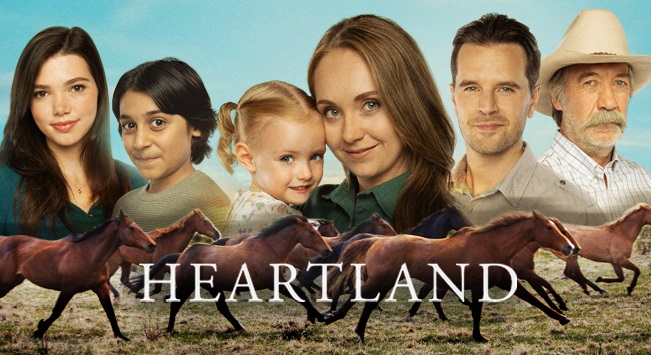 For those who can't get enough of the horses and ranch life of Yellowstone, Heartland is the show for you. The show is based on the beloved Heartland book series by Lauren Brooke.
Included in our best TV series for horse lovers list, Heartland follows Amy Fleming and her older sister Lou at the Heartland family ranch in Alberta. After an unfortunate tragedy brings the family back together, Amy learns she has her late mother's natural ability to work with horses.
While experiencing the good times and struggles of ranch life, the family grows together as they bond.
Heartland has an IMDB rating of 8.4 and is available to watch on Netflix, Hulu, Peacock, and Prime Video.
7. Mayor of Kingstown (2021-2022)
Another Taylor Sheridan creation, Mayor of Kingstown is a crime thriller series. While it may not be a Western, it is a compelling family drama.
Mayor of Kingstown follows the McLusky family, power brokers in Kingstown, Michigan, where the only successful business is that of incarceration.
The show navigates challenging themes such as systemic racism, corruption, and inequality. While the town lacks order and justice, the McLuskys attempt to change that.
This show will pull you in, and like with Yellowstone, there is a moral murkiness.
Mayor of Kingstown has an IMDb rating of 8.2 and is available to watch on Paramount+.
8. Hatfields & McCoys (2012)
Hatfields & McCoys follows the story of one of the most famous family feuds in American history. Yellowstone fans will particularly appreciate the fact that Kevin Costner stars as William Anderson "Devil Anse" Hatfield.
Though Devil Anse Hatfield and Randall McCoy were once close friends, a bitter feud formed between the two families after the Civil War.
With the Hatfields in Kentucky and McCoys in Virginia, tensions continue to increase, and misunderstandings escalate. Hostilities continue to grow, partially caused by a stolen pig, almost leading to war breaking out.
This historical Western drama is great for bingeing in a weekend.
Hatfields & McCoys has an IMDB rating of 7.9 and is available to watch on Peacock and Prime Video.
9. Justified (2010-2015)
A Western crime drama, Justified shares similar themes to Yellowstone. The show is based on Elmore Leonard's character Raylan Givens, particularly from the story Fire in the Hole.
After an incident, U.S. Marshal Raylan Givens is reassigned from Miami to Kentucky. The district he is assigned to happens to be his childhood home, which consists of the poor, rural coal mining towns of eastern Kentucky.
Givens prefers to use Wild West-style methods of upholding justice when dealing with criminals, much to the dismay of those around him.
The show revolves around the residents and culture of the Appalachian mountains in Kentucky.
Justified has an IMDB rating of 8.6 and is available to watch on Hulu and Prime Video.
10. Sons of Anarchy (2008-2014)
While Sons of Anarchy is not your traditional Western, it shares a lot of similarities with Yellowstone. Both shows have families/gangs that are hard to become a part of and even harder to leave.
Jax Teller tries to balance his life as a father and as a member of an outlaw motorcycle club, SAMCRO. However, things become complicated when Teller grows weary of the group's lawlessness. While the club works to keep drug dealers away, it runs an illegal arms business.
Sons of Anarchy deals with many similar themes to Yellowstone including loyalty and betrayal. It has an IMDB rating of 8.6 and is available to watch on Hulu, Disney+, ESPN+, and Prime Video.
11. Deadwood (2004-2006)
A beloved series, Deadwood is a must-watch for fans of Western period pieces. The show features many real-life historical cowboys, including Seth Bullock, Al Swearengen, Wyatt Earp, and Calamity Jane.
Deadwood is set in a mining town of South Dakota post-Civil War before it was made a state, making it lawless. The town attracts all sorts of people, including those looking to get rich on gold and those looking to capitalize on the lack of law.
This riveting show provides great entertainment for fans of classic Westerns. Deadwood has an IMDB rating of 8.6 and is available to watch on Hulu, HBO Max, and Prime Video.
12. Warrior (2019- )
Warrior brings together crime, drama, and martial arts in a Western period piece. The action-packed show is based on an original story by Bruce Lee.
Warrior takes place in the late 19th century in San Fransico Chinatown when brutal gang wars were happening.
Ah Sahm, a martial arts prodigy, immigrates from China and becomes a hit man for one of the most powerful organized crime families in Chinatown. Sahm wins the confidence of brothel madam Ah Toy, while also searching for his missing sister.
With powerful families and organized crime, it is a show Yellowstone fans are sure to enjoy.
Warrior has an IMDB rating of 8.4 and is available to watch on HBO Max, Hulu, Disney+, and ESPN+.
13. The Cowboy Way (2016-2020)
If you can't enough of all the cowboy action in Yellowstone, then you will enjoy watching The Cowboy Way. It gives you an in-depth look at what life is like for real-life cowboys.
The reality show follows three modern-day cowboys, Bubba, Cody, and Booger, who live in Alabama. They do everything from herding cattle, breaking horses, and operating their cattle business. The cowboys follow a strict code of life passed down from the Wild West.
The show gives viewers a fascinating glimpse into the life of modern American cowboys.
The Cowboy Way has an IMDB rating of 7.2 and is available to watch on Prime Video and Peacock.
14. Wynonna Earp (2016-2021)
The Wild West meets the supernatural in the hit series Wynonna Earp. Though it may be different than Yellowstone, it has plenty of western action to fulfill your cravings.
The show follows Wynonna Earp, the great-great-granddaughter of legendary lawman Wyatt Earp. Wynonna inherits a unique power to send the reincarnated outlaws that Wyatt had killed back to Hell.
Wynonna uses a special gun known as the Peacemaker to fight off supernatural beings and break the curse plaguing her family.
This sci-fi series is a great twist on the traditional Western genre.
Wynonna Earp has an IMDB rating of 7.3 and is available to watch on Netflix and Prime Video.
15. Joe Pickett (2021)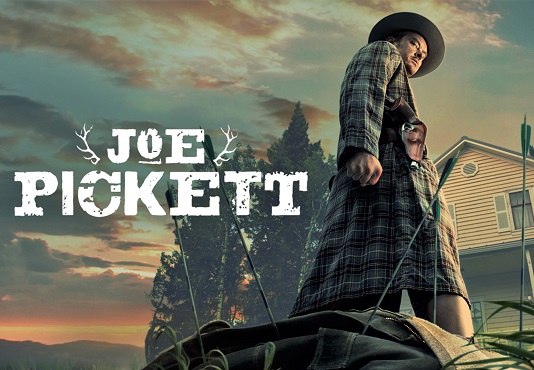 With beautiful Wyoming scenery, Joe Pickett is another neo-Western to add to your watch list. It shares many similar themes with Yellowstone.
Game warden Joe Pickett and his family navigate life in a small, rural town with a changing political and socioeconomic climate. With the town on the verge of collapsing economically, a murder victim shows up on Joe's doorstep.
The Pickett family finds themselves tangled up in a larger conspiracy while the town continues to struggle.
Joe Pickett has an IMDB rating of 7.6 and is available to watch on Prime Video.
16. Ozark (2017-2022)
If you enjoy the crime family aspect of Yellowstone, then Ozark will be right up your alley. In this crime drama series, the Byrde family is just as riveting as the Dutton family.
After a money laundering operation with a drug cartel goes wrong, Martin Byrde moves his family from Chicago to the Missouri Ozarks.
In the Ozarks, Martin sets up a bigger laundering operation to amend the debt. While in Missouri, he becomes entangled with local criminals.
The compelling family dynamic interviewed with criminal activity makes Ozark well worth the watch for Yellowstone fans.
Ozark has an IMDB rating of 8.5 and is available to watch on Netflix.
17. The Last Cowboy (2019- )
Taylor Sheridan tries his hand at reality with his eye-opening series on the competitive world of reining. It offers a glimpse into the preparation that goes into competing at the highest level.
The Last Cowboy follows eight men and women who are all competing to win the Run for a Million competition at the South Point Arena and Equestrian Center in Las Vegas. As the richest competition in the sport of reining, Run for a Million offers a prize of $1 million.
From sliding stops to flying lead changes, the series showcases the incredible athletic ability of reining horses.
The Last Cowboy has an IMDB rating of 6.7 and is available to watch on Paramount+ and Prime Video.
18. Walker (2021- )
Walker is a reboot of the 1990s series Walker, Texas Ranger. The action crime drama is right up the alley for Yellowstone fans.
After being undercover for two years as a Texas Ranger, Cordell Walker returns home to Austin. As a widower with two children, he discovers that there is hard work that must be done at home. He must learn to reconnect with his creative son and headstrong teenage daughter.
Walker must also navigate the clashes he has with his brother and parents. While finding new common ground with his partner, he grows suspicious surrounding the circumstances of his wife's death.
Walker has an IMDB rating of 6 and is available to watch on Prime Video, Apple TV, and HBO Max.
19. Big Sky (2020-2021)
If you love the beautiful Montana scenery of Yellowstone, you will enjoy watching Big Sky. It is based on The Highway series of books by C. J. Box.
Private detectives Cassie Dewell and Cody Hoyt join forces with Jenny Hoyt, Cody's estranged wife. The trio works together to search for two sisters who have been kidnapped on a remote Montana highway by a truck driver.
Upon discovering these are not the only local girls who have disappeared, they must find who is behind the kidnappings before another woman goes missing.
The search intensifies, and the mystery deepens as they learn drug dealers, cartel members, and corrupt officials are all involved.
Big Sky has an IMDB rating of 6.8 and is available to watch on Hulu and Prime Video.
20. The Son (2017-2019)
If you are wanting to watch a period piece Western, The Son has you covered. The show is based on the 2013 novel of the same name by Philipp Meyer.
After being kidnapped and raised by Commanches, Eli McCullough becomes a powerful and relentless oil businessman. Despite hardships, Eli works to keep his business empire in hopes to pass it on to his children and grandchildren.
Like John Dutton, Eli can be a ruthless businessman and father, who hopes all his hard work will stay in the family.
The Son has an IMDB rating of 7.4 and is available to watch on Prime Video and Hulu.
Also read: