Heartland is easily the most popular TV show among horse lovers worldwide. Now that Season 14 has aired and the production of another season is still uncertain, fans are left to deal with that familiar empty feeling that remains after the end of a beloved show.
However, all hope is not lost! There are many binge-worthy shows like Heartland out there that might fill that gap until Season 15 arrives (hopefully!).
Although each of these shows deviates from Heartland one way or another, they all have that family vibe so characteristic of the series. Most importantly, they all have horses! Also, after reading, check our guide on the best TV shows for horse lovers.
Here are 8 shows like Heartland you will love:
Free Rein
If you love Heartland, you are going to enjoy watching this charming British drama series about an American girl and her very special horse Raven. Set on a fictional island off the coast of England, the series follows the adventures of a teenage girl Zoe (portrayed by Jaylen Barron) who visits her mother's hometown for the summer.
As it happens, Zoe soon stumbles upon Bright Fields, one of the best riding stables in the area. There, she meets a problematic but beautiful black horse called Raven and wows everyone with her ability to calm him down. The pair will go on to compete in show jumping and become the best competitors from Bright Fields.
Along her journey, Zoe makes many new friends, faces rival riders from Holloway, and entangles herself in romance. Although Free Rein targets younger audiences than Heartland, equestrian girls of all ages will enjoy the series.
Free Rein is readily available to stream on Netflix, where you can find all 3 seasons of 10 episodes each. You can also watch two additional specials on the platform, "The Twelve Neighs of Christmas" and "Free Rein: Valentine's Day".
McLeod's Daughters
A bit heavier than Heartland, McLeod's Daughters is one of the most successful series in Australian television history. Whether you're looking for family drama, stories of ranch life, or horsey adventures, this series has it all.
McLeod's Daughters sets off with the reunion of two half-sisters, Claire McLeod (Lisa Chappell) and Tess Silverman McLeod (Bridie Carter), who co-own the family ranch Drovers Run. Similarly to Heartland, the ranch has been in the McLeod family for generations and is now being managed by women for the first time.
The two sisters will attempt to run Drovers Run with the help of ranchhands Becky Howard and Jodi Fountain, Jodi's mother and housekeeper Meg Fountain, and their wealthy neighbors the Ryans. As the show goes on, viewers will grow fond of the lovable characters, well-written storylines, and family atmosphere. The series is not short of drama, romance, love triangles, tragedies, and, of course, horses!
The show shifts focus after the end of Season 3, as several members of the main cast decide to leave the series. However, you can enjoy the show for another 5 seasons and get to know many new characters. What's more, all 8 seasons and 224 episodes of McLeod's Daughters are available on YouTube!
Yellowstone
Yellowstone is an American family drama set in the beautiful mountainous regions of the Rockies, just like Heartland. In the series, we get to know the Dutton family, who own the largest ranch in the entire United States. The ranch borders several national parks, Native American reservations, and territories of land developers, which causes conflicts between stakeholders.
Located in Darby, Montana, Chief Joseph Ranch is the home of John Dutton (portrayed by Kevin Costner) who is willing to do everything in his power to protect it. Little does he know that his own family members are also plotting to take over the property.
Unlike in Heartland, there's a lot more violence going on in Yellowstone and so is not suitable for very young viewers. So far, 3 seasons with around 10 episodes each have been aired on Paramount Network in the United States, with the 4th season expected to release in June 2021. The show is also available for purchase from Amazon Prime.
Fans of Yellowstone can look forward to two spin-offs that are currently in production. 1883, a prequel series will release at some point in 2021. Whereas, another spin-off set in the present day 6666 is at the planning stage.
Wildfire
If you liked the storylines of the troubled kids on Heartland, you should consider binging Wildfire. The series has 4 seasons with 13 episodes each, so there's plenty to get through!
Former jockey Kris Furillo (Genevieve Cortese) is serving her sentence for theft at a teen detention center when a volunteer notices her hidden talent. Pablo is a horse trainer who, after seeing Kris calm down several problematic horses, gets her a job at Raintree Ranch and so hands Kris her freedom.
Arriving at her new home, Kris faces several challenges while desperately trying to please her foster family. While she battles with a love triangle involving the owner's two sons, the ranch is also on the verge of bankruptcy. The family's last hope might lie with Kris and Wildfire, a special horse she rescued from slaughter that will eventually become a champion racehorse.
While in Heartland Amy trains horses in a variety of disciplines, Wildfire's primary focus is horse racing. The series is available to stream in the United States on Tubi.
The Ranch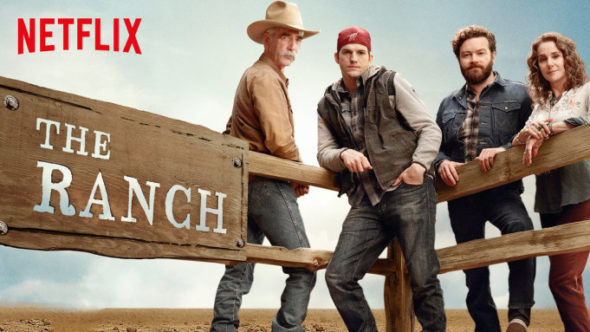 The Ranch is an American sitcom centered around the life of the dysfunctional Benett family. With Heartland it shares not only a similar setting, but The Ranch even has a Maggie's bar!
In the series, the ranch owner's younger son Colt (Ashton Kutcher) returns to the family home after failing at his football career. Together with his father and older brother Jameson "Rooster" (Danny Masterson), Colt attempts to save their Colorado ranch Iron River from financial ruin.
The show also stars Debra Winger as the boys' mother Maggie, who runs the local bar. The Ranch has actually been filmed in front of a live audience in California, on a sound stage.
The series consists of 4 seasons with 20 episodes per season, each 30 minutes long. The full show is available to stream on Netflix.
The Saddle Club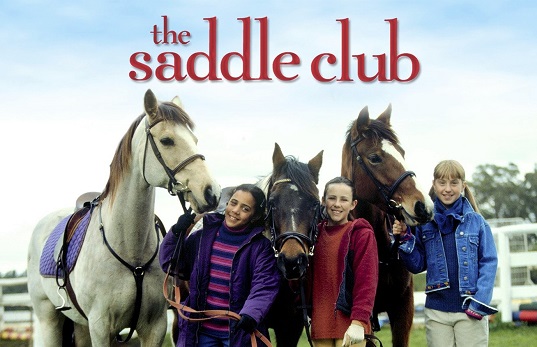 The Saddle Club is an adorable Australian-Canadian children's TV series that is all about horses! Based on the popular book written by Bonnie Bryant, the show revolves around three best friends who attend the riding school Pine Hollow Stables.
The three girls: Lisa (Lara Jean Marshall), Carole (Keenan MacWilliam) and Stevie (Sophie Bennett) are all part of "The Saddle Club" and go on many adventures together. They also share the same rival in Veronica DiAngelo, a spoiled and snobby girl who also rides at Pine Hollow.
Similarly to Free Rein, The Saddle Club is aimed at younger audiences, but the characters do grow older over the seasons. There's always a lot going on in each episode, as the girls train for upcoming horse shows, deal with challenges in their personal lives and get mixed up in dramas at the barn. Ultimately, the moral of the show is that anything is possible when you have true friends by your side.
You can enjoy 3 long seasons of The Saddle Club with 26 episodes each, all available on YouTube.
Caitlin's Way
Similar to Wildfire, this Canadian-American teen drama revolves around a troubled girl who drifts between foster homes in Philadelphia. By chance, she will soon find herself on the Montana ranch of her distant family. There, she forms a special bond with a horse named Bandit.
When the teenage Caitlin Seeger (portrayed by Lindsay Felton) gets arrested on the streets of Phillie, she has the option of going to a juvenile detention center or the ranch of her mother's cousin. She chooses the latter and moves in with her distant relatives. Even though she feels out of place at first, after getting over the culture shock Caitlin eventually falls in love with her new life.
Ever since her mother's unexpected death, Caitlin has been looking for a loving, permanent home. In her kind relatives and a horse she rescues at the ranch, she finally finds what she's been seeking all those years.
Unlike Heartland, the time period of Caitlin's Way is set back in the 90's. Heartland fans might find the show's filming location oddly familiar, as the family ranch is located close to High River, which appears as the fictional town of Hudson in Heartland. Caitlin's Way is 3 seasons long with 52 episodes in total, available to stream on YouTube.
Anne with an E
Out of all the shows on the list, perhaps Anne with an E has the atmosphere most similar to that of Heartland. This heartwarming Canadian drama series is based on the classic children's novel "Anne of Green Gables", written by Lucy Maud Montgomery.
In the center of the show is the orphan girl Anne Shirley (Amybeth McNulty). Anne grew up in an orphanage following her parents' tragic death when she was only a few months old. The show is set in the late 1800s on Prince Edward Island, where it was actually filmed.
Marilla and Matthew Cuthbert, an elderly brother and sister live on the farm of Green Gables. They are looking to adopt an orphan boy to help with the chores. However, when picking up the boy from the railway station, Matthew finds a very talkative and bright teenage girl instead.
Following a misunderstanding, the Cuthberts return Anne to the orphanage, but realizing their mistake they bring her home again. Anne goes through many adventures with her adopted family and classmates. The series ends with the character arriving to University and finding true love.
This family-friendly show deals with a range of social issues that were highly prevalent at the time. Some of these are gender inequality, freedom of speech, racism, and religion. Anne with an E is just a click away on Netflix, where you will find all 3 seasons.
Read our guide: Where is the Heartland ranch located?
We also have fun guides answering common FAQs and interesting facts about all of the main Heartland actors such as Amy Fleming, Ty Borden, Jack Bartlett. Use our search bar or scroll below to see more!