Our readers support us. This post may contain affiliate links. We earn from qualifying purchases. Learn More
Roy Rogers was a legendary American actor, singer, television host, and owner of the famous palomino stallion, Trigger. The iconic duo of Rogers and Trigger graced the big screens in the 1940s and 50s.
The American icons were beloved for their many cowboy movies and TV shows. "The King of Cowboys" and his beautiful palomino stallion were fan favorites, known for their wonderful Hollywood performances.
Here are seven interesting facts about Trigger, Roy Rogers' beloved horse and film co-star.
Trigger Originally Went by A Different Name
The original name of Roy Roger's horse Trigger was Golden Cloud. Golden Cloud was one of many horses that were brought in for Rogers' to try for his role in "Under Western Stars".
After the first ride, Rogers knew that the palomino stallion was the perfect match and didn't even consider any other horses. Golden Cloud was smart, fast, had a nice lope and a good attitude.
While on set, actor Smiley Burnette told Rogers, "Roy, as quick as that horse of yours is, you ought to call him Trigger." The name stuck, and the stallion's rise to fame began.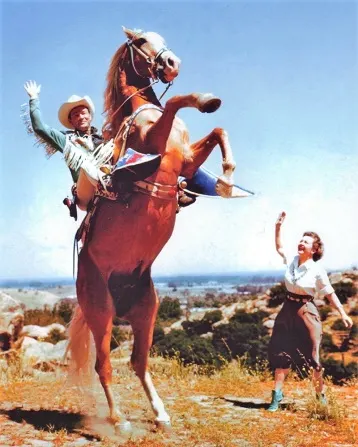 After the release of "Under Western Stars", Rogers realized his equine co-star was almost as popular as him. As a huge fan of Trigger himself, Rogers set out to buy the lovely palomino so they could star in more films together.
Rogers ended up buying Trigger from his owner Clyde Hudkins of Hudkins Stables. He bought the horse for $2,500 (approximately $30,000 today) and made payments until he was paid off in full. Rogers went on to say that purchasing Trigger was "for sure and certain the best $2,500 I have ever spent."
Also Read: 17 Famous Horses in Movies and TV Series
Trigger is a Thoroughbred Cross
Trigger was out of a Thoroughbred sire and an unregistered mare, that was sometimes described as cold-blooded. His mother, who was also palomino, was thought to be a Quarter horse cross.
Trigger was said to be born on July 4, 1934, though some sources say he was born in 1932. He was born in San Diego, California and stood at 15.3 hands tall.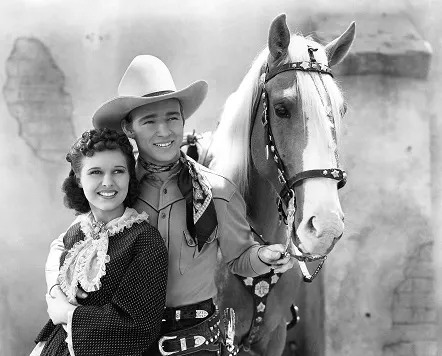 Trigger Had Backup Horse for Stunts
For some of his more dangerous stunts, as well as personal appearances, Trigger had backup stunts. Trigger's famous backups included Little Trigger and Allen's Golden Zephyr.
Little Trigger was said to be a Morgan that was recognizable by his white blaze and four white stockings. He was slightly shorter than Trigger, standing at 15 hands tall, and had a slightly stockier build. He was said to know over 100 tricks, and he performed some of Trigger's most difficult action shots.
Allen's Golden Zephyr, also known as Trigger Jr., was a registered Tennessee Walking horse that also had four white stockings and a blaze. Trigger Jr.'s main job was to make personal appearances on behalf of Trigger. He was also a very successful stud, siring many offspring. Unlike his doubles, Trigger only had one sock on his left leg and a wide blaze.
Also Read: 7 Most Incredible Horses In History
Trigger Was Known as "The Smartest Horse in Movies"
Trigger was often referred to as "the smartest horse in movies." Famed Hollywood horseman Glenn Randall was Trigger's trainer and was responsible for teaching the stallion most of what he knew.
Trigger's signature trick was his vertical rear. However, the stallion was said to know over 100 tricks. One of the most impressive stunts Trigger was able to perform is walking up to 50 feet on his hind legs.
Included in our list of the most famous horses ever, Trigger appeared in 88 movies and 100 episodes of TV.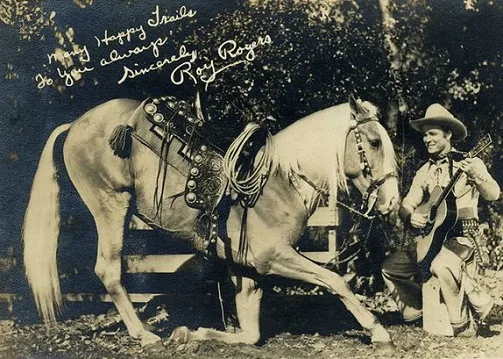 Though Trigger Was a Stallion, He Was Never Bred
Trigger was a stallion for his entire life, but he was never bred. Rogers opted to not breed Trigger, as he thought the stallion may lose his sweet disposition and find mares more interesting than movies.
Due to his celebrity status and kind nature, Trigger made many personal appearances. He would do events, visit children's hospitals and shelters.
Rogers would often park his horse trailer with Trigger outside event arenas so even kids without tickets would get the chance to see the legendary stallion.
Trigger Lived to an Old Age
Tigger died on July 3, 1965, at Rogers' ranch in Apple Valley, California. Trigger was 30 years old when he passed, and his cause of death is unknown.
After a largely successful career in Hollywood, Trigger lived out his days with his doting owner. He was so famous at the time that he even got his own comic books.
Also Read: 8 Oldest Horses in History
After His Death, Trigger Was Stuffed and Mounted
After his passing, Trigger was preserved and mounted by Everett Wilkens of Bischoff's Taxidermy in Los Angeles. His hide was carefully stitched over a foam mold of his likeness.
The taxidermied Trigger is posed rearing, as that was one of the stallion's signature moves. He was put on display at the Roy Rogers and Dale Evans Museum in Apple Valley, California, after opening in 1967.
Trigger was a very popular attraction at the museum, with people coming from all over to view the stunning palomino. In its prime, the museum would receive over 200,000 visitors a year.
That same year, Rogers had a 24-foot tall fiberglass statue of Trigger rearing made. The statue sat on top of the museum for guests to see from the highway.
In 2003, the Roy Rogers and Dale Evans Museum moved from California to Branson, Missouri. Trigger is displayed at the Missouri museum alongside his fiberglass statue, Buttermilk, Dale Evans' horse, and Bullet, a German Shepherd dog. The preserved animals were on display at the museum until it closed in 2009.
After the museum closed down, the items were auctioned off in 2010 in New York City. Trigger's preserved remains were sold to television channel RFD-TV for $266,500.
A developer by the name of Bob Tinsley bought the fiberglass statue and in 2018 returned to Apple Valley, California for display.