This post may contain affiliate links, we may receive a commission if you make a purchase using these links. As an Amazon Associate I earn from qualifying purchases.
Thoroughbreds are undoubtedly one of the most well-known horse breeds globally due to their use in racing. Their speed, stamina, and spirit amazed large crowds gathered to watch these horses thunder down the track.
The origins of the Thoroughbred horse date back to the 17th and 18th centuries. The breed was created when Turkoman, Barb, and Arabian breeding stallions were crossed with native English mares.
In the next 200 years, Thoroughbreds spread worldwide as more countries recognized their value in racing.
Thoroughbred horses are relatively tall, ranging from 15.2 to 17 hands in height. The most common colors are black, bay, brown, chestnut, or gray, but many others are accepted. Other than racing, Thoroughbreds also excel in jumping, eventing, fox hunting, polo, and dressage.
Here are 15 interesting facts about Thoroughbred horses:
Thoroughbreds Are a Hot-Blooded Horses
The Thoroughbred is one of only three hot-blooded breeds, alongside the Arabian and Akhal-Teke. In the horse world, 'hot-blooded' is used to describe horses bred for speed and agility that are also high-spirited.
In contrast, cold-blooded horses have docile temperaments and include draft breeds such as the Shire or Percheron. At the same time, warmbloods refer to crossbred horses between hot- and cold-blooded breeds.
There Were Three Thoroughbred Founding Sires
Today, all purebred Thoroughbreds trace back to just three founding stallions that came to England in the 17th and 18th centuries. These were the Darley Arabian, the Godolphin Arabian (also known as Godolphin Barb), and the Byerly Turk.
Out of the three stallions, the Darley Arabian had the most significant influence on the breed. The horse was a gift to Richard Darley from his brother, working as a merchant in Syria. According to a 2005 study by researchers at Trinity College, 95% of male Thoroughbreds today descend from the great Darley Arabian.
Another interesting fact is that all foundation mares of the breed belonged to English Kings. These are known as The Royal Mares and were owned by James I and Charles I of England.
Also Read: 8 Most Influential Arabian Horses in History
Millions of Thoroughbreds Exist Worldwide
The Thoroughbred is one of the most populous horse breeds in the world. According to Wikipedia, millions of Thoroughbreds exist worldwide today, with around 100,000 new foals registered each year.
The majority of Thoroughbreds reside in the biggest horse racing countries in the world. These are the United States, Canada, the United Kingdom, France, China, Japan, and Australia.
According to the 2017 Economic Impact Study of the U.S. Horse Industry, 7.2 million horses were in the United States that year, out of which 1.1 million were Thoroughbreds.
Thoroughbreds Influenced Many Horse Breeds
Being such a remarkable and athletic breed, the Thoroughbred influenced many modern horse breeds throughout its history. These include popular horse breeds such as the American Standardbred, Quarter Horse, and possibly the Morgan, among many others.
Many Thoroughbred crosses went on to become recognized horse breeds themselves. Examples are the Anglo-Arab (Thoroughbred x Arabian), Appendix (Thoroughbred x Quarter Horse), Irish Sporthorse (Thoroughbred x Irish Draft), and American Paint Horse (horses with Thoroughbred ancestry and Pinto coloring).
Breeders often use thoroughbred horses to improve the athleticism and value of their horses. Moreover, certain studbooks are open to horses with Thoroughbred bloodlines, such as the Westphalian, Danish Warmblood, Dutch Warmblood, Holsteiner, and Hanoverian registries.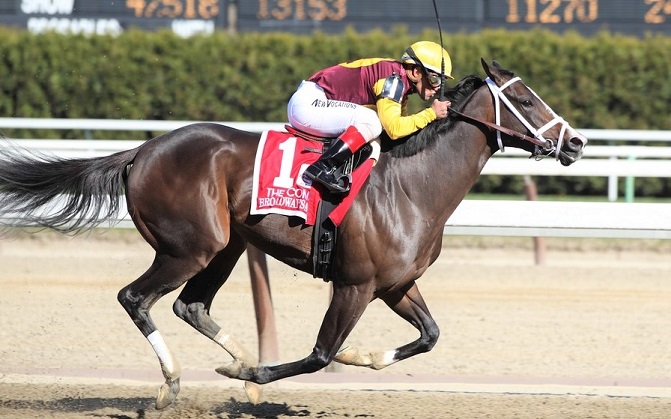 Thoroughbreds Can Race From the Age of 2
In the horse racing industry, it's tradition to break horses at the age of one and race them as two-year-olds. Officially, foals are called weanlings until their first birthday, after which they become a yearling. Starting from the age of two, horses are eligible for racing.
The racing of young horses is highly controversial in the wider equestrian community. Since the horse's back doesn't mature until the animal is five to six years old, many experts consider two-year-olds too young for racing. However, racehorse trainers argue the Thoroughbred breed matures earlier than other horses.
See our article Is Horse Racing Cruel? to learn more.
The Biggest Thoroughbred Race Is the Breeders' Cup
The Breeders' Cup World Championships is the most prestigious racing event limited to Thoroughbreds only. Organized by Breeders' Cup Limited since 1984, the championships consist of fourteen Grade I races spanning over two days.
Taking part in the Breeder's Cup is the dream of many jockeys, owners, and trainers across the globe. The total prize money for all races racks up to $31 million, with the highest prize offered to the Breeder's Cup Classic winner ($6 million).
This elite series of Thoroughbred races is undoubtedly one of the most prominent events of the sport. Other big horse races not exclusive to Thoroughbreds are the Kentucky Derby, Prix de I'Arc de Triomphe, Melbourne Cup, and Dubai World Cup.
The Official Birthday of Thoroughbreds Is on the 1st of January
The 1st of January is the universal birth date of all racing Thoroughbreds born in the Northern Hemisphere. This means that regardless of when the horse was born, it will automatically be considered a year older on New Year's Day.
This custom has been in place for nearly 200 years and enables the standardization of horse races by age groups. It also means that horses born later in the year will face a disadvantage when racing against slightly older horses. Therefore, Thoroughbred breeders aim to bring foaling season as close to the 1st of January as possible.
Before 1858, May 1 was the official birthday of all Thoroughbreds as it coincided with the start of the racing season. However, that year Britain decided to change the date to the 1st of January, which became a worldwide tradition.
In the Southern Hemisphere, the custom is reversed. Instead of the 1st of January, the official birthday of Thoroughbreds is on the 1st of August.
Some Champion Thoroughbreds Had Giant Hearts
Thoroughbreds have on average larger hearts and lungs than other horse breeds. This allows them to maintain high-intensity exercise for much longer, boosting their athletic performance.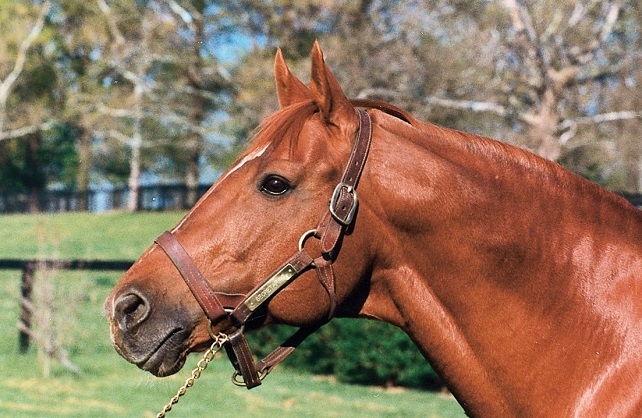 A big heart was, in fact, the secret of several horse racing legends. As we mentioned in our Secretariat facts guide, Secretariat had a heart that weighed an impressive 21 to 22 pounds (9.5-10 kg). Similarly, the Australian racing star Phar Lap's heart weighed 14 pounds (6.35 kg).
The average horse's heart weighs around 1% of its body weight. So a 1,000 pound (453.6 kg) horse's heart would weigh approximately 10 pounds (4.5 kg).
Also Read: 10 Facts You Didn't Know About Phar Lap.
The Fastest Thoroughbred Racehorse Ran at 43.97 Mph
In 2008, a two-year-old filly called Winning Brew set the record for the fastest gallop achieved by a Thoroughbred, running at 43.97 mph (70.76 km/h). In contrast, the average horse can reach around 27 mph (43.45 km/h) at a gallop.
You might be surprised to find out that Thoroughbreds are not the fastest sprinters in the world. This title belongs to the Quarter Horse breed that specializes in achieving high speeds over short distances.
In 2005, a racing Quarter Horse called A Long Goodbye galloped at 55 mph (88.5 km/h), the fastest speed achieved by a horse.
The Most Expensive Horse Was a Thoroughbred
Horse racing has by far the highest monetary turnover out of all equestrian sports. The prize money for prestigious races can reach millions, and a successful racehorse can bring in further profits as a breeding animal. Therefore, it's not surprising that racehorses can sell for astronomical prices.
The most expensive horse in the world is the Thoroughbred stallion Fusaichi Pegasus. Shortly after winning the Kentucky Derby in 2000, the horse was sold to the Irish Coolmore Stud for an eye-watering $70 million.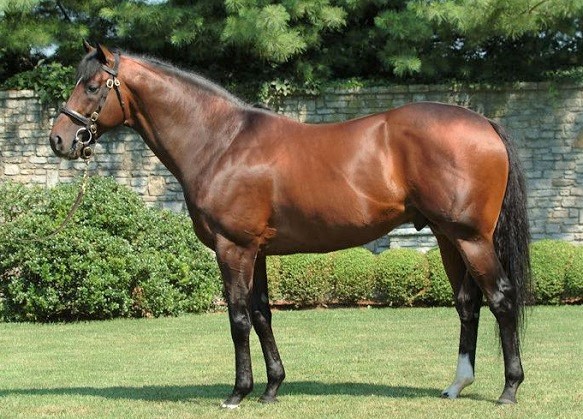 Born on April 12, 1997, Pegasus earned a total of $2 million in prize money and sired over 75 stakes winners. However, the stallion failed to live up to expectations as a breeding animal. Only three of his offspring won Grade 1 races and one of his descendants, Ruler on Ice, won the prestigious Belmont Stakes.
The World's Smartest Horse Is a Thoroughbred
Thoroughbreds are not only fast but also smart. A previously abused ex-racehorse called Lukas was deemed the smartest horse in the world after identifying 19 numbers in one minute.
The 17-year-old Thoroughbred achieved the incredible feat under the loving care of Karen Murdoch. Karen bought Lukas as a project horse but quickly realized he couldn't handle the pressure of traditional training. Trying out different tactics, she stumbled upon something Lukas really enjoyed, which was solving puzzles!
"Lukas would intently focus and attempt to understand. This was what was significant to me – he was making every effort with all of his might to comprehend what I was asking, and he truly enjoyed it." Karen told Guinness World Records.
An extraordinary horse, Lukas seemed to demonstrate abilities of higher thinking. He could recognize his reflection in the mirror, point out a missing object, identify letters, shapes, and even numbers.
After eight years of being together, Karen applied for the Guinness World Records title Most numbers identified by a horse in one minute. "I decided to achieve a Guinness World Records title to promote the kind treatment of animals, and ensure that Lukas' accomplishment was documented so that others would attempt to duplicate his progress," she said.
Watch Lukas set the world record below:
Also Read: How Smart Are Horses?
There Aren't Two Racehorses With the Same Name
Naming a newborn racehorse is not easy. Each newly registered name must be unique and approved by the Jockey Club, which governs all aspects of horse racing.
Before submitting the final name, owners must go through the Jockey Club rulebook that lists 17 requirements for new names. Any made-up words must be explained, and foreign names must have a translation. Owners can submit up to six different names for the Jockey Club to choose from.
You can check the availability of a racehorse name here!
The Largest Margin of Victory in Horse Racing Was 31 Lengths
In 1973, Secretariat won the Belmont Stakes and became Triple Crown champion by a margin of 31 lengths! No other racehorse in history ever came close to achieving a feat of this scale.
Ridden to victory by Ron Turcotte, Secretariat left the world stunned with his glorious Belmont Stakes win. It's no wonder that many call him the greatest racehorse that ever lived. His incredible story was turned into a Disney movie bearing his name in 2010.
Check out our list of the Best Horse Racing Movies.
Thoroughbreds Cannot Be Bred Artificially
Artificial Insemination (AI) is a popular breeding technique in the sports horse world. Jumping and dressage horses are routinely bred using AI that saves money for the owner and protects the mare from stress and harm.
However, the Jockey Club requires all racing Thoroughbreds to be bred using traditional live covering. This limits the number of mares a stallion can cover in one season, preventing the dilution of precious bloodlines. The limited availability of a stallion also makes its offspring much more valuable on the market.
The High-Jump World Record is Held By a Thoroughbred
The high-jump world record of 8 ft 1.25 in (2.47 m) was cleared by a chestnut Thoroughbred called Huaso in 1949. Ridden by Captain Alberto Larraguibel Morales, the horse jumped the obstacle on his third attempt in Vina del Mar, Chile.
Morales trained Huaso for two years specifically to break the previous record. After he fulfilled his purpose, the Captain retired Huaso immediately and never rode him again. According to the FEI, whoever wants to break the record has to clear 8 ft 2.03 in (2.49 m).