This post may contain affiliate links, we may receive a commission if you make a purchase using these links. As an Amazon Associate I earn from qualifying purchases.
When the Martin family of Oconee County, Georgia awoke to their barn on fire, their 16-year-old son Macon wasted no time jumping to the rescue.
Their barn, Classic City Clydesdales, had 14 horses inside when it caught on fire from a lightning strike.
The horses inside included a three-week-old colt and a pregnant mare that was due to give birth at any moment.
The lightning strike led to the power going out, causing the doors to lock. Meanwhile, the fire was raging all around the building.
A Miraculous Horse Rescue From Barn Fire
Without the quick thinking of Macon, all the horses would have likely perished in the fire. Fortunately, the brave teen sprang into action as soon as he saw the fire.
"I just ran right out, I had no clothes on, no shoes – no nothing," Macon told the local news.
Macon used his family's gator to break down the doors on the barn, calling for his mom, Shannon, to follow suit.
Together they were able to open up the doors and push the horses from their stalls. What could have been a tragic series of events turned into an amazing rescue?
Though the barn was completely lost, the Martins were able to save all of their Clydesdale horses. By the time firefighters arrived, the barn was completely engulfed in flames. Though they were able to put out the fire before it spread, the barn was a total loss.
"It shook the whole house. One minute I am in bed; the next minute I am standing up next to the bed trying to figure out what bomb went off," Shannon reported to the local news.
Here is a photo of Macon:
The Martins Have Since Recovered The Barn Fire
Fortunately, the Martins were able to recover after the tragic fire. They continue to breed and show beautiful Clydesdale horses.
Guests are welcome to visit their farm by scheduling a tour and they even offer trail rides on their gorgeous Clydesdale horses.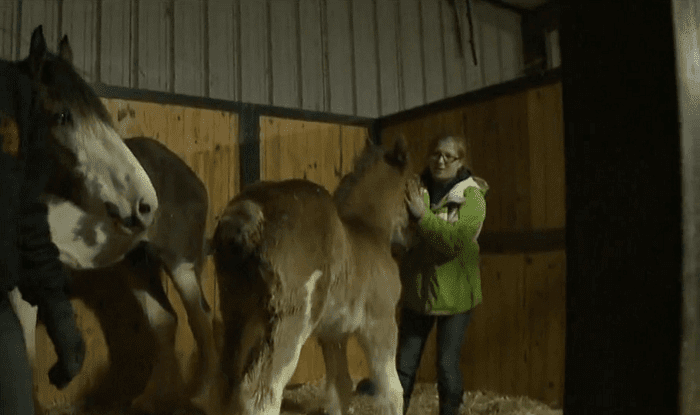 For those looking for even more of an adventure, they have a lodge on Airbnb that accommodates four people.
Thanks to Macon's quick thinking, he was able to save his family's horses. Be sure to follow Classic City Clydesdales on Facebook to see more of their beautiful horses!