This post may contain affiliate links. We earn from qualifying purchases. Learn More
Cowboy hats can be a great addition to your summer wardrobe. Not only can they block the sun, but they can also keep you looking good as well.
The best cowboy hats for summer are straw hats, as they are breathable and lightweight. They will keep you protected from the sun while also keeping you comfortable in hot temperatures. Straw hats pair great with jeans, sundresses, and even swimsuits.
Though felt hats can also be a great option for all-year-round wear, they won't be as cool or breathable as straw hats. If you do opt for a felt hat in summer, wear a lighter cooler that won't attract as much heat as black does.
Here are the best summer cowboy hats for men and women.
1. Livingston Woven Straw Cowboy Hat (Unisex)
Perfect for concerts or a night out on town, this adorable hat makes a lovely addition to your wardrobe. Made from 100% straw, it is lightweight and breathable, keeping you feeling comfortable all-day-long.
For added airflow, the hat features decorative cutouts on the brim and crown. The wide brim helps shield you from harmful UV rays from the sun. Inside the hat, there is a sweat-absorbent band to provide further comfort.
A decorative hatband made of faux leather with a decorative jewel piece adorns the crown. At a budget-friendly price, this classic western hat is a must-have.
2. Enimay Western Outback Cowboy Hat (Unisex)
Designed with comfort and style in mind, this budget-friendly straw cowboy hat is perfect for hot weather. Whether for rodeos, hiking, or lounging at the pool, the lightweight design will keep you cool and comfortable.
The structure of the hat is designed to help reduce your exposure to harmful UV rays. With a woven straw design, it not only looks good, but also creates better airflow. To keep you comfortable even as you sweat, there is a moisture-wicking sweatband that lines the inside.
For a touch of chic, it features a wooden beaded hatband with a jeweled metal emblem in the center. The dark tan body and coffee-colored trim of the hat go great with just about any outfit.
3. Resistol Amarillo Sky Palm Straw Cowboy Hat (Men)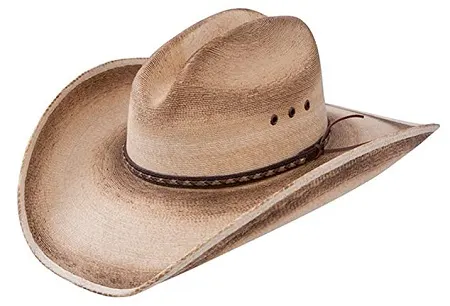 Simple yet chic, this classic western cowboy hat is perfect for summer wear. Designed in collaboration with Jason Aldean, it is the same hat the country star wears when he performs onstage.
Made from Mexican palm straw, it is durable while still being lightweight and breathable. The classic cattleman design is stylish while also providing protection from the sun. It features a leather hatband that pairs beautifully with the straw design.
To keep you cool and comfortable, it features a sweatband on the inside lining. Whether for everyday wear or special occasions, this hat makes a great choice to pair with your favorite cowboy boots.
4. Ariat Twisted Weave (Men)
With a traditional western look, this cowboy hat is a summertime must-have. From rodeos to everyday wear, it is stylish and also practical.
The woven straw design allows for additional breathability while also creating a lightweight build. The wide brim offers excellent protection from the sun, which is vital for those hot summer days. A two-cord chocolate hatband ties the look of the hat together.
No matter the occasion, this versatile hat will make a great addition to your outfit. To keep you comfortable, it even features a leather sweatband lining.
5. Stetson Straw Cowboy Hat (Men)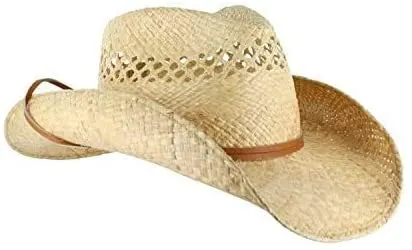 Whether you are heading to the beach or a concert, this Stetson is a great choice. Its casual yet comfortable design makes it a perfect option for summer.
Durable yet lightweight, the hat is made from Raffia straw. It features decorative cut-outs on the crown to give it excellent breathability and ventilation. The brim is shapable, allowing you to adjust it to the sun coverage you need.
For a classic western look, it features a leather corded hatband. To keep you cool even as you sweat, the inside is lined with a leather sweatband.
6. Vamuss Vegan Straw Cowboy Hat (Women)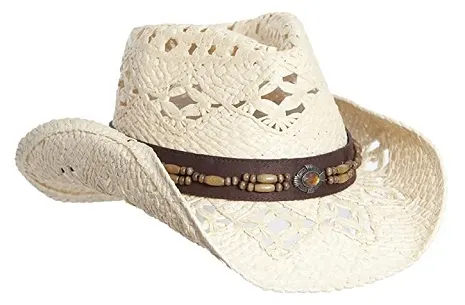 Fun and playful, this straw cowboy hat is perfect for all your summer outfits. It is available in seven stunning colors, giving you plenty of options to choose from.
The woven straw design provides top-notch ventilation to keep you cool no matter the weather. The faux suede band is decorated with beautiful wood beads and an antiqued amber stone.
An interior elastic sweatband not only provides a snug fit, but also helps keep you cool and comfortable. With a shapable brim, you can adjust it to the style you want to match your look while shading you from the sun.
7. Stetson Madrid Cowboy Hat (Men)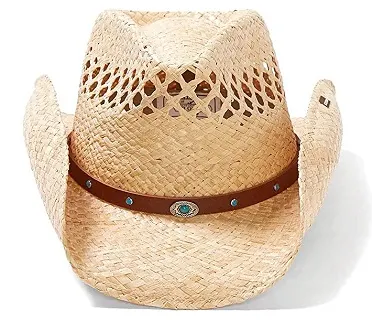 As a part of the Stetson Rodeo Drive Collection, this hat has a beautiful western design. It is a great option to wear outdoors while enjoying the summertime, whether that is at the beach or in the saddle.
The hat is made from durable Raffia straw and features a lovely cut-out design for superior ventilation. For a touch of elegance, the leather hatband is accented with stunning turquoise and silver details. It offers great protection from the sun so you can enjoy your time outside.
The shapable brim allows you to adjust the style as you desire. A twill sweatband provides a comfortable all-day-long fit to keep you feeling good no matter what you are doing.
8. Queue Essentials Woven Straw Cowboy Hat (Unisex)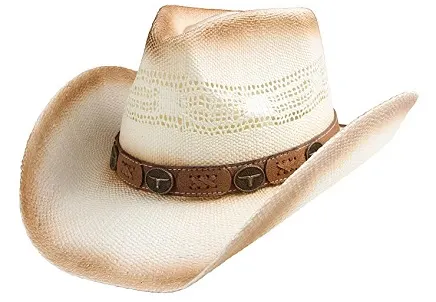 No matter your summer plans, this stylish hat will make a great addition to your outfit. It is versatile, as it pairs great with jeans or a sundress.
The straw build is durable while also breathable, keeping you feeling good no matter what you are doing. The faux leather hatband features a stylish buckle design that is great for making a fashion statement. It gives you the sun protection you need for long days outside.
To stop sweat from dripping down your face, the inside features a comfortable elastic sweat headband. There are 14 gorgeous styles to choose from, each that comes with its own decorative hatband.