This post may contain affiliate links. We earn from qualifying purchases. Learn More
Behind the scenes of every great racehorse and jockey is a trusty caretaker. Stephen Payne, better known as Stevie, is one of the most dedicated strappers in the horse racing industry.
Stevie Payne was born in Miners Rest, Australia. He is the second youngest of ten siblings. Sadly, his mom passed away when he was a young boy, leaving his dad, Paddy, to care for him and his siblings on his own.
Payne was born with Down Syndrome and has long been a fan of horse racing. With his father being a horse trainer, he grew up being around horses and shared the family's passion for them.
The Brother of the famous female jockey, Michelle Payne, Stevie followed his family's tradition to have a career in the horse world.
Here are six facts about Stevie Payne.
1. Eight of His Siblings are Jockeys
Horses are a big part of life in the Payne family. Of the ten children, eight of them went on to become jockeys.
Out of all the Payne children, Brigid, Patrick, Maree, Therese, Andrew, Bernadette, Cathy, and Michelle all went on to pursue careers as jockeys. Patrick and Michelle also went on to become horse trainers as well.
Stevie also went on to have a career in horses, working as a strapper. Margaret, who is the only child not to work in horse racing, works as an accountant.
In 2007, Brigid had a serious accident while horseback riding. Though she initially survived the fall, six months later she sadly passed away from a heart attack that was caused by a seizure. Doctors believe the seizure was brought on from her injuries from her fall.
2. Stevie Payne Works as a Strapper for His Sister Michelle
Stevie works as a strapper for his sister Michelle. His duties include grooming and tacking up horses for Michelle to ride.
Stevie works at Michelle's farm, MJ Payne Racing, which is located at Nottingham Farm at Ballarat Turf Club. The small, boutique stable features both day yards and boxes. It is conveniently located next to Ballarat Racecourse.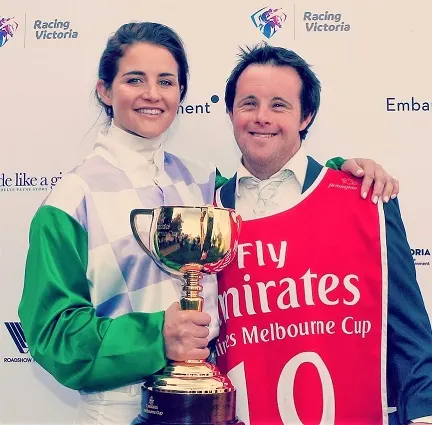 At the stable, Michelle trains and sells horses, making the transition from being a jockey to a trainer. She keeps a small number of horses in training at a time in order to be hands-on. She relies on Stevie to help with the everyday care of the horses.
In addition to working at his sister's farm, Stevie also travels to races with her. With an outstanding work ethic, he is a huge asset to Michelle's farm. He has a reputation for being one of Australia's best trappers.
When not at the farm, Stevie volunteers at St John of God Ballarat Hospital cafeteria and also sings in the hospital choir. In addition, Stevie also plays on a netball team. He also enjoys spending time at the farm even when he is not working.
Growing up, Stevie and Michelle were close, as they were the youngest two siblings. They enjoyed watching the movie Phar Lap, the story of Australia's greatest racehorse, together. Michelle reckons that she and Stevie probably watched the movie hundreds of times together as kids.
3. Stevie Payne Was Ecstatic After His Sister Won the Melbourne Cup
In 2015, Michelle made history by becoming the first woman ever to win the prestigious Melbourne Cup. Throughout her victory, Stevie was right by her side.
The Melbourne Cup takes place at Flemington Racecourse in Melbourne and is Australia's most famous horse race. The exciting race draws in over 80,000 spectators every year, as people come from all over to watch some of the world's best racehorses run. In addition to being one of the most famous horse races, it is also one of the richest, with a purse worth $8 million.
Prior to the race, Stevie drew number one at the barrier draw, giving his sister a lucky boost. He helped groom and tack up Prince of Penzance, Michelle's winning mount. He was excited to be a part of such an important event and was absolutely thrilled when Michelle won in a historic finish.
"Such a great ride! Great by Michelle, she needed it. Good luck to all the owners. It's a great moment, it's a great win, it's a great ride. Ten out of ten!" said Stevie after Michelle's victory in the Melbourne Cup.
Also, check out our guide on 10 famous female jockeys who made history.
4. Stevie Payne Starred as Himself in the Movie Ride Like a Girl
After Michelle's historic win in the Melbourne Cup, her inspiring story was made into a movie, Ride Like a Girl. The feature film hit theaters in Australia in September 2019, bringing in $11.5 million at the box office.
As talked about in our Ride Like a Girl facts guide, Stevie played himself and made a stellar performance. He was dead set on appearing as himself in the film. Michelle was played by actress Teresa Palmer and Paddy was played by Sam Neill.
"They asked me and I wouldn't say no, because that's me – I don't say no to anything!" said Stevie.
"He takes it in his stride. He loves watching himself up there on the big screen. I think it's perfect how they've captured him in a really natural way for the story. He is really witty, " said Michelle about her brother.
Though Stevie continues to work as a strapper for Michelle, he isn't ruling out hitting the big screen again. Critics praised his performance in his film debut.
The movie did a wonderful job of portraying Michelle's emotional journey to win the Melbourne Cup, along with her relationship with her family.
"It's been unbelievable, been great working with the actors and doing something that I haven't done before," said Stevie.
5. Stevie Payne Has a Racehorse Named After Him
At Michelle's farm in Ballarat is a very special up-and-coming young horse named Stevie. The brilliant bay gelding is owned by none other than his namesake.
The Thoroughbred gained his name as he is a favorite at the barn. Stevie the horse finished in a respectable fourth place in his first trial at Cranbourne.
With a bright future ahead of him, Stevie the horse will make his loving owner proud.
6. Stevie Payne Was the 2016 King of Melbourne's Moomba Festival
At Melbourne's 2016 Moomba Festival, Stevie, along with his sister Michelle, were named King and Queen of Moomba.
The Moomba is Australia's largest free community festival and is celebrated every March, spanning four days. The festival includes a carnival, parade, fireworks, water activities, live music and more.