This post may contain affiliate links. We earn from qualifying purchases. Learn More
Cowboy boots, steeped in Western tradition, are renowned for their unique blend of style and durability. Yet, achieving maximum comfort in these boots relies significantly on what you wear underneath – the humble sock.
Choosing the right pair of socks for your cowboy boots can enhance your comfort, boot longevity, and overall experience. Elements like material, thickness, height, and durability, each playing a critical role in the perfect sock-boot partnership.
Whether you're a cowboy boot veteran or a style-conscious newbie, let's embark on this journey to discover the best socks to pair with your cowboy boots.
Best Socks to Wear With Cowboy Boots
1. Wrangler Men's Western Boot Socks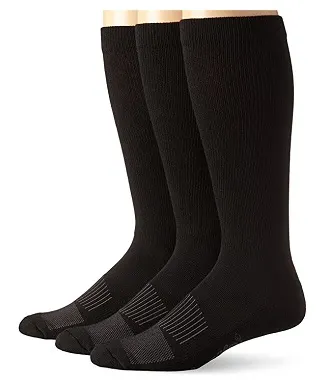 Designed with working cowboys in mind, these comfortable over-the-calf boot socks are great for all-year-round wear. The polyester design is breathable while also keeping your feet comfortable.
For a cozy fit, the smooth toe seam reduces bulk and irritation. The ribbed leg and top help prevent the socks from sliding down as you work or ride. With moisture-wicking abilities, your feet will be cool no matter what.
To reduce foot fatigue, they feature a half-cushion foot for arch support. They help eliminate chaffing and rubbing that can occur from your boots.
2. Wrangler Women's Western Boot Socks
Whether you are horseback riding or out dancing, these over-the-calf socks provide you with the support you need. The ultra-spun polyester design is comfortable to wear no matter the time of year.
For a cooler, drier experience, they include moisture-wicking technology. The ribbed leg and top prevent the socks from slipping down as you wear them.
With a smooth toe design, you don't have to worry about bulk or irritation when wearing them with your cowboy boots.
To keep you comfortable on your feet, they feature a half-cushion foot with arch support. They are a great option to wear with just about any style of cowboy boots.
3. Dickies Women's Dri-tech Moisture Control Crew Socks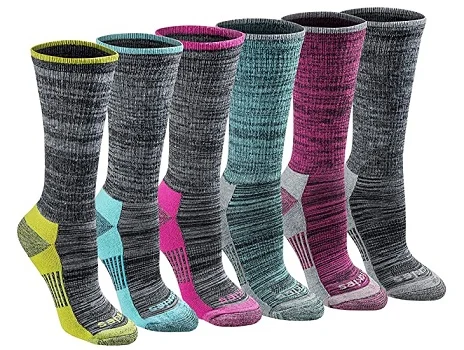 For the ultimate comfort during hot summer days, these socks have you covered. The crew length works great with a variety of cowboy boot styles.
The moisture-wicking fibers keep your feet dry no matter what you are doing. Ventilation channels provide additional air circulation and moisture control. For stability and support, they have arch compression.
With a reciprocated heel and toe, they offer a superior fit and added comfort. The ribbed top and leg keep them in place all day long.
4. Dan Post Cowboy Men's Over the Calf Socks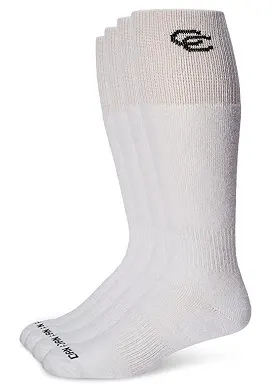 No matter the time of year, these over-the-calf socks will keep your feet feeling good. They are designed to be worn with all types of cowboy and work boots.
With superior moisture management, you don't have to worry about dealing with sweaty feet. The supportive ribbed fit will stay up without creating fatigue for the lower leg. The reinforced toe and heel along with added ankle support will keep your feet comfortable for hours on end.
Thanks to the low profile, no-rub toe seam you don't have to worry about bulkiness or irritation. The cotton design adapts to any season so you can wear them all year.
5. Danish Endurance Unisex Adults Outdoor Socks
No matter if you are walking, horseback riding, or working, these merino wool blend socks will keep your feet comfortable. The crew length will fit comfortably with most cowboy boots.
With the natural thermoregulation of the merino wool blend, you can rest assured that your feet will be cozy during winter. They can even be a great option during the summer thanks to their moisture-wicking technology and temperature control. The ribbed leg and top keep them in place even when you are active.
Ventilation mesh lanes work to wick away sweat, increase breathability and promote odor control. Cushioning and padding throughout the socks reduce the risk of getting blisters and aches, while also aiding in shock absorbance.
6. Carhartt Men's Force Performance Work Socks
Designed to keep you comfortable on your feet all day, these polyester blend socks offer the cushion and airflow you need. The over-the-calf build makes them great with many different styles of boots.
The innovative FastDry design wicks away sweat while also fighting odor. Thanks to the heel, toe, and ankle cushioning, they provide the support your feet need. An enhanced heel pocket even ensures a secure fit as you work or ride.
The ribbed channels improve ventilation while also keeping the socks in place. For additional coolness and breathability, they offer a mesh instep.
7. Darn Tough Boot Cushion Sock – Men's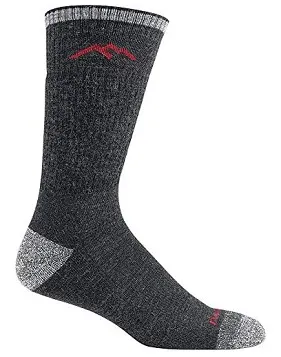 If you want a sock to match your active lifestyle, then these are for you. The crew height provides a versatile option to pair with your favorite boots.
The merino wool blend is fast-drying, breathable, and odor-resistant for all-day comfort. They will keep your feet cozy and winter while keeping them comfortable in summer. The superior knitting and ribbed leg design keep the socks from sliding down.
With a seamless toe, they reduce bulk and irritation as you walk. They feature cushioning in the heel and toe to provide lasting comfort while also alleviating foot fatigue in the arch.
8. Under Armour Men's Hitch Coldgear Boot Socks
These unisex socks are a must-have during cold winter days. The over-the-calf design is a great choice to pair with your boots when temperatures get cold.
The Coldgear design keeps your feet cozy in cold weather while also wicking sweat away and drying fast. With full-cushion construction, they provide maximum comfort in all parts of the sock.
The polyester and wool blend is not only warm, but also flexible and breathable. These durable socks will keep up with your active lifestyle.
9. Carhartt Women's Force Performance Work Crew Sock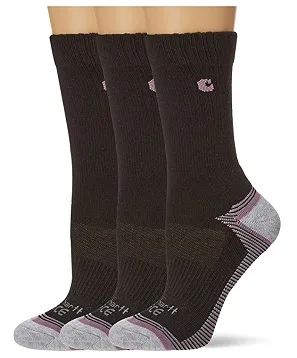 These high-tech polyester blend socks are sleek and functional, perfect for working women. The crew length pairs great with several styles of cowboy boots.
The superior moisture management lifts sweat from the skin for fast evaporation and cooling. Racetrack mesh panels ventilate to keep you cool as you work, ride or walk.
The compression arch provides full-motion support and stability to prevent foot fatigue. You won't have to worry about them sliding down with a ribbed design and top.
10. Wrangler Ladies Ultra Dri Merino Wool Blend Boot Socks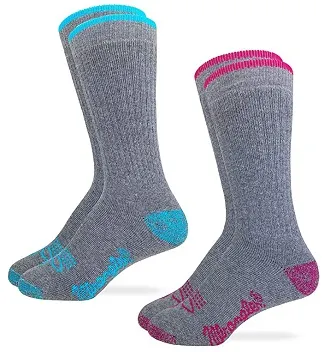 Perfect for all of your outdoor adventures, these merino wool blend socks will keep your feet feeling good. The medium-weight design on these crew socks makes for a comfortable option all year round.
With a full cushion leg and foot, they provide you with the support you need while you are active. They offer superior moisture control that keeps your socks and feet dry.
For added durability, they feature a reinforced heel and toe. To reduce foot fatigue, they have arch support for added fit.
Why Do You Need Tall Socks for Cowboy Boots?
Though ankle socks are great for sneakers, they just won't cut it for cowboy boots. You need tall socks for cowboy boots to prevent rubbing, chafing, and blisters.
In addition, socks can provide cushioning and support to keep your feet comfortable. They also absorb moisture, keeping your feet dry and healthy, as sweat can lead to bacteria and fungus growth.
Depending on the material of the sock, they can help regulate the temperature of your feet in winter and summer.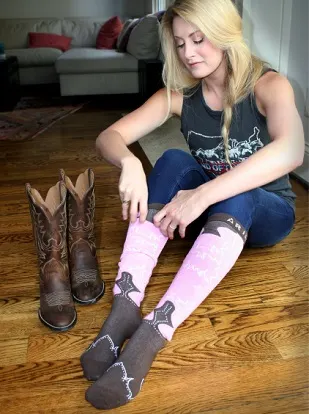 What Features Make Socks Good For Cowboy Boots?
When shopping for socks to wear with your cowboy boots, there are certain features you want to look out for. This includes moisture-wicking materials, length, ribs or elasticity at the top, and cushioning.
Moisture-Wicking Materials
Having a sock made of moisture-wicking materials is important, especially if you will be doing a lot of riding or working in your cowboy boots. Moisture-wicking materials absorb your sweat and then pass it through the material to evaporate.
Common materials that have moisture-wicking capabilities include merino wool, polyester, cotton, nylon, acrylic, lycra, spandex, and elastane.
Crew Length or Taller
In order to prevent rubbing, chaffing, and blisters, you will want to wear socks that are crew length or taller. This will protect your feet and legs from the boots, while also keeping them comfortable.
Ribs or Elactisity Around the Tops
Ribs or elasticity around the tops of the socks is another key feature to look for. This will help keep your socks in place and prevent them from sliding down your leg.
Cushioning
Additional cushioning on the socks is beneficial if you plan on doing a lot of walking or riding. Look for socks with added cushion in the toe and ankle.
What are the Best Socks to Wear With Cowboy Socks in the Winter?
In winter, the best socks to wear are wool socks. Wool socks will keep your feet warm and comfortable while also protecting your feet from any rubs, chaffing, or blisters.
Merino wool is a particularly great option for boot socks. They provide the warmth you need in winter while still being moisture-wicking. In addition, they are softer and less itchy than other types of wool.
What are the Best Socks to Wear With Cowboy Boots in the Summer?
In summer, you want socks that are breathable, moisture-wicking and lightweight yet supportive. Good materials to consider in summer include cotton, polyester, nylon and spandex.
What Socks Work Best With Different Styles of Cowboy Boots?
Cowboy boots come in a variety of different styles, with western, riding, roper, and dress being among some of the most popular styles.
Depending on what boots you are wearing, certain styles of socks will work better.
Crew Socks
Crew socks are an all-around great option for cowboy boots. They are a particularly great option for boots with shorter shafts, like packer boots, or certain riding boots, like Ariat Fatbabys. They are also a good choice for roper and walking boots.
Over-the-Calf Socks
Over-the-calf socks are one of the most popular options for cowboy boots. They are a good choice to wear with western, riding, dress, and stockman styles of cowboy boots.
Knee-High Socks
Knee-high socks are a great choice for cowboy boots with tall shafts, like buckaroo or exotic boot styles. They provide the most coverage and can also pair well with other styles.