This post may contain affiliate links. We earn from qualifying purchases. Learn More
In 1956, Harry de Leyer took a chance on a gray horse he saw at an auction that was destined for the slaughterhouse. Little did he know, Snowman, the $80 plow horse, would turn into a show jumping champion.
De Leyer, who was born in Holland, had moved to America with his family. He bought Snowman intending to use the gelding to teach his children how to ride.
However, the former Amish horse quickly proved to be a talented jumper, winning at some of the top shows in the country.
Snowman's Incredible Transformation
When de Leyer first arrived in America with his wife, he first began working at a tobacco farm before getting a job at a stable as a groom. In Holland, de Leyer grew up on a horse farm and competed in show jumping, so his new job let him show off his skills as a rider.
On a snowy February day, he headed to an auction to find a beginner safe horse that his kids and the students at the stable could ride.
However, he arrived late at the auction, and the only horses left were those destined for slaughter. Despite the auction being over already, a messy gray eight-year-old horse caught the attention of de Leyer.
De Leyer bought the 16-hand gelding former Amish plow horse for just $80. He was given the name Snowman by de Leyer's four-year-old daughter. Though he was in rough shape when he first arrived, the gelding quickly transformed into a new horse.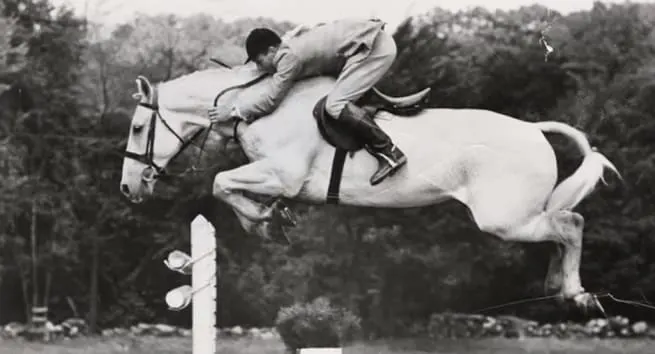 Also read: 17 Famous Horses in Movies and TV Series
Snowman Went From School Horse to Show Jumper
At the end of the school year, de Leyer sold off some of his horses. He sold Snowman to his neighbor for double the money he bought him for.
However, Snowman kept on escaping the paddocks at his new home and running back to de Leyer's barn. The gelding was jumping over fences as tall as five feet. After jumping out of pasture on several occasions, the neighbor decided to give the beautiful gray back to de Leyer.
Impressed by Snowman's ability to jump fences, de Leyer decided to jump the gelding over a four-foot fence. Snowman showed incredible athletic ability so his owner decided to give him a go at show jumping.
The pair quickly rose through the ranks and were winning against the best jumpers in the nation. De Leyer, a skillful rider himself, successfully guided Snowman to many exciting victories. Snowman is now widely regarded as one of the best showjumping horses ever.
Here is a short clip of Harry & Snowman in action:
The Cinderella Horse
Less than two years after de Leyer bought Snowman, the gray gelding won The American Horse Shows Association (now known as United States Equestrian Federation) Horse of the Year, Professional Horseman's Association Champion, and Champion of Madison Square Garden's Diamond Jubilee.
The next year, Snowman went on to win the Open Jumper Championship at Madison Square Garden, becoming the first horse to do so two years in a row.
According to De Leyer, "He could jump the biggest jumps, 7 feet 2 inches. He was a freak of nature.
After defying the odds and beating some of the top jumpers in the nation, Snowman was given the nickname 'The Cinderalla Horse.' De Leyer was given several offers to buy Snowman, including one at $100,000, but he turned them all down.
The pair quickly became media favorites and even appeared on The Tonight Show with Johnny Carson.
Also read: Why Don't We Eat Horse Meat? 4 Reasons Why
What happened to snowman the horse?
After an incredible career, Snowman retired from the show ring in 1962. He lived out his retirement years with his beloved owner.
Snowman passed away in 1974 at the age of 26 from kidney failure. He left behind an incredible legacy and was inducted into the Show Jumping Hall of Fame in 1992 and the Equus Foundation Horse Stars Hall of Fame in 2015.
The Eighty-Dollar Champion
Snowman's amazing story was told in the 2011 book The Eighty-Dollar Champion: Snowman, the Horse That Inspired a Nation by Elizabeth Letts. In 2015, a documentary film about Snowman was released called Harry & Snowman. Find the book here on Amazon.
Here is the trailer of Harry & Snowman:
After serving as an Amish plow horse and almost being sent to slaughter, Snowman led an incredible life as a showjumper.
Winning some of the highest honors in jumping, the gray gelding inspired the nation. Snowman and de Leyer had an astonishing career in the show ring and shared a close bond.
Also read: