This post may contain affiliate links. We earn from qualifying purchases. Learn More
In the vast and diverse world of horse breeds, there exists a unique subset that continually fascinates horse enthusiasts and casual observers alike: the smallest horse breeds.
These breeds, often no taller than large dogs, display all the grace, strength, and spirit of their larger counterparts, wrapped in a petite and irresistibly charming package.
This article will guide you on an exciting journey, exploring the world's five smallest horse breeds. From the charismatic Shetland Pony to the almost mythical Falabella, we'll delve into each breed's unique characteristics, history, and notable features.
Prepare to be enchanted by the remarkable world of the smallest horse breeds, where small size meets big personality.
Thumbelina, the Smallest Horse in the World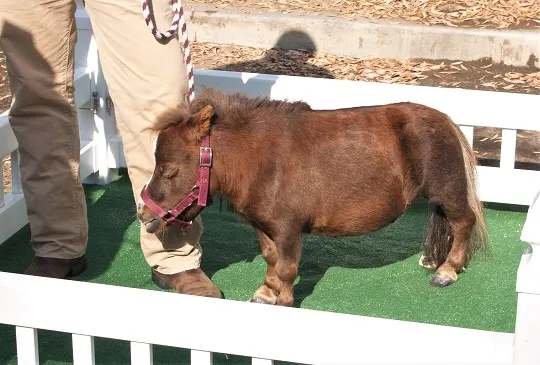 Miniature horses are, by nature, quite small. Thumbelina manages to be even smaller. Standing at 17 in (43 cm), this little mare earned a Guinness World Record for smallest horse alive.
Her extremely small stature is due to a physical condition called dwarfism. As in other species, dwarfism makes her exceptionally small, even among others of her breed, although it does come with a price.
Dwarfism in horses often causes conformation problems, such as shorter-than-normal legs, deformed skulls and wider barrels. This can cause ongoing complications on horses and can be quite debilitating.
This doesn't make Thumbelina any less special or active, however. Fortunately, despite some conformation issues and her small size, she is quite healthy and relatively sound. Thumbelina goes on tours around the U.S., and has even met Big Jake, the world's tallest living horse at the time.
5 Smallest Horse Breeds
5. Noma Pony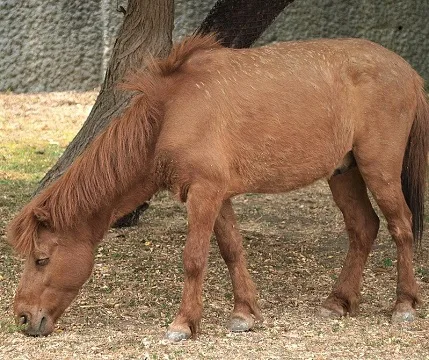 The Noma Pony, one of Japan's native horse breeds, stands at an average height of only 48 inches (120 centimeters), making it one of the world's smallest equine breeds.
The Noma breed originated from the Japanese island of Shikoku. The breed's name, "Noma," is derived from "no-ma," which means "field space" in Japanese, referring to their small size that enables them to move easily in limited spaces.
Noma Ponies have a sturdy and muscular build, with a compact body, short legs, and a well-defined chest. Their heads are proportionate, with large, expressive eyes and small ears. They typically sport a bay or black coat, and their manes and tails are dense, adding to their overall charm.
Historically, Noma Ponies served as working animals, primarily used for transportation and agricultural work. Their small size made them ideal for working in the narrow paths of rice fields and navigating the steep, rugged terrain of Shikoku.
In modern times, the use of Noma Ponies has shifted significantly. Today, they are mainly kept as pets and for horse shows, where their small size, agility, and pleasant demeanor make them popular. Despite their small stature, they are robust and hardy, with a good tolerance for various climatic conditions.
The preservation of the Noma Pony breed has become a priority in Japan due to its declining population. Several conservation efforts are in place to ensure the breed's survival, which includes a breeding program at the Nomauma Highland in Ehime Prefecture.
Despite being one of the smallest horse breeds, the Noma Pony is a breed with a big heart. Known for their gentleness, strength, and resilience, they have earned a beloved place in the equine world and the hearts of those who have had the privilege of knowing them.
4. Guoxia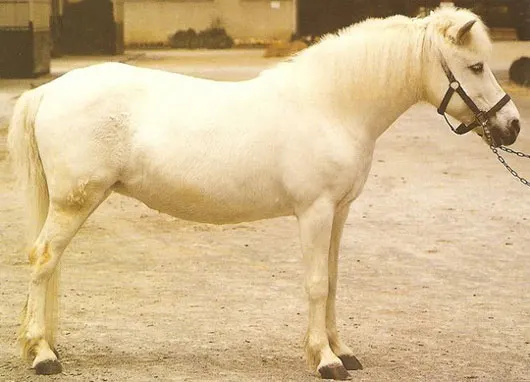 The Guoxia Pony, a little-known but charming breed, typically stands less than 42 inches (107 centimeters) tall, earning its place among the world's smallest horse breeds.
This pony breed hails from China and is one of the country's oldest and most traditional breeds. "Guoxia" translates to "under fruit tree," and the breed was named so because of its small stature, which allowed it to walk freely beneath the low-hanging branches of fruit trees.
Sporting a small head, large eyes, and small, well-set ears, the Guoxia Pony is an attractive breed. They have a broad chest and muscular, compact body, which hints at their inherent strength despite their small size. Their coat, which can come in a variety of colors, is thick and dense, offering protection from the elements.
Historically, Guoxia Ponies were used for riding and as pack animals in mountainous regions due to their robust nature and sure-footedness. These ponies were well-suited to navigate steep and treacherous terrains, providing vital transport and carrying capabilities for the people living in these regions.
In modern times, the Guoxia Pony's roles have diversified. They are used for riding, especially for children, due to their gentle temperament and manageable size. They also participate in showing and performance activities, including dressage and jumping.
Despite their diminutive stature, Guoxia Ponies are known for their strong work ethic and friendly disposition. Their endurance and adaptability, inherited from their history in challenging terrains, make them a resilient and versatile breed. Coupled with their striking looks and sweet nature, these qualities make the Guoxia Pony a true, though somewhat hidden, gem among the world's smallest horse breeds.
Fun fact: There are statues believed to show Guoxia horses from 2000 years ago.
3. Miniature Horse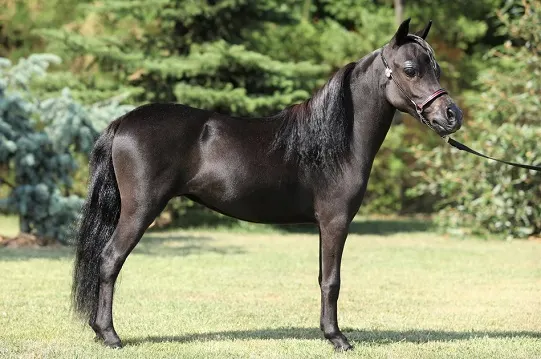 The Miniature Horse, with its tiny stature and captivating charm, is a favorite among horse lovers. Standing between 34 and 38 inches (86 to 97 cm) tall, these horses are some of the smallest equine breeds in the world.
Originating from European bloodlines in the 1600s, Miniature Horses initially held appeal due to their diminutive size, providing novelty value in noble courts. However, they later found more practical uses during the Industrial Revolution when they were employed in coal mines, their small size and notable strength making them ideal for navigating narrow underground passages.
Miniature Horses possess a wide range of coat colors and patterns, making each individual uniquely beautiful. They have horse-like proportions, despite their small size, contributing to their appeal. Known for their kind and interactive temperament, they form strong bonds with humans, making them excellent companion animals.
In terms of uses, these small equines are surprisingly versatile. Their friendly nature and trainability have led them to roles beyond companionship. Many Miniature Horses are involved in horse shows, performing in classes ranging from halter to jumping and obstacle courses. They also excel in driving competitions, where their strength and agility come into play.
In therapeutic settings, Miniature Horses have found a special place. They are often used as guide animals or in therapy programs due to their gentle nature and intuitive connection with humans. Their manageable size makes them particularly suited for indoor environments, allowing them to interact closely with individuals requiring their therapeutic benefits.
While they may be small, Miniature Horses carry a world of love and charm within them. Their small size, coupled with their versatility and loving nature, makes them a joy to own and a wonderful addition to any horse lover's family.
2. Shetland Pony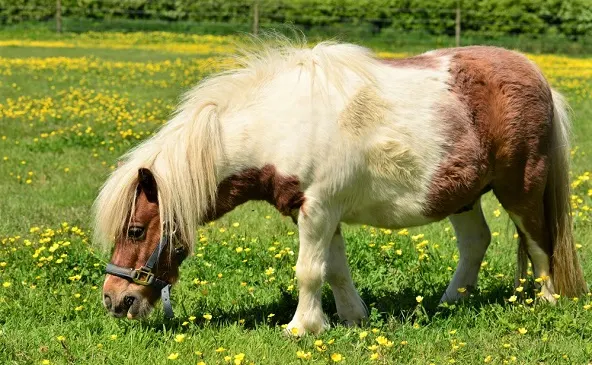 Among the smallest horse breeds globally, the Shetland Pony consistently captivates with its endearing features and strong, sturdy build. This breed stands between 28 and 42 inches (71-107 centimeters), placing it comfortably within the 'small horse breed' category.
Shetland Ponies originate from the Shetland Isles of Scotland, where harsh weather and limited resources have played a significant role in shaping this resilient and adaptable breed. Over time, Shetlands developed a robust constitution and an ability to thrive in less-than-ideal conditions.
Their coats, which can be any color, are thick and double-layered, providing excellent insulation against the cold. They are also renowned for their long and often wavy manes and tails, adding to their overall charm. The breed's small stature is complemented by a stocky body and short, strong legs, making them capable of carrying or pulling heavy loads relative to their size.
Known for their intelligent and good-natured disposition, Shetland Ponies are particularly popular with children. They make excellent riding ponies for young learners due to their gentle demeanor and manageable size. However, they are also known for being somewhat willful at times, which necessitates proper training and socialization from an early age.
Historically, Shetland Ponies were used for labor, working in coal mines and carrying peat and other supplies.
Today, their roles have diversified greatly. Besides being loved as children's ponies, they are also used in harness racing, therapeutic riding programs, and are regularly seen in the show ring due to their versatility and eye-catching looks.
Fun fact: Shetland ponies would graze on seaweed during the winter, due to lack of available forage.
1. Falabella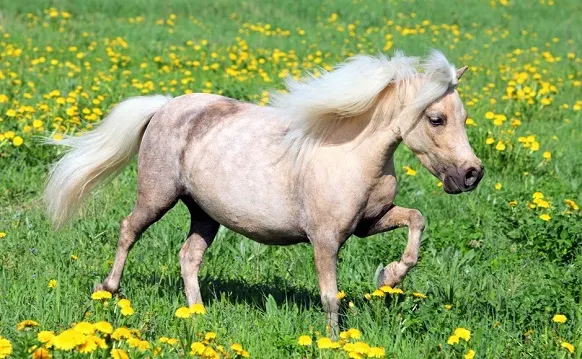 The Falabella is the smallest horse breed in the world, typically standing between 28 and 34 inches (71-86 centimeters) tall.
Originating from Argentina, the Falabella was developed by the Falabella family, hence the breed's name. It's believed that the breed's small size results from a mixture of Andalusian and Iberian horses, along with other small breeds including the Criollo, which were selectively bred for diminutive size over several generations.
The Falabella possesses a compact and well-proportioned body. They have a small and refined head, large expressive eyes, and a broad forehead. Despite their small size, they exhibit the same proportions and conformation as larger horse breeds. Their coats, which can be of any color, are often silky and thick.
Originally bred for their size as novelty creatures, Falabellas were later recognized for their high level of intelligence and gentle disposition. These qualities made them popular as companion animals. Despite their small stature, they are robust and hardy, often living longer than many larger horse breeds, with a lifespan that can extend well into their 40s.
Modern Falabellas serve in various capacities. They are often used in horse shows, competing in halter, driving, and agility classes. Due to their gentle nature and small size, they are also employed in therapeutic riding programs, providing comfort and companionship to those in need.
Falabellas are well-regarded for their rarity and unique characteristics. Their miniature size, combined with their strength, longevity, and pleasing temperament, make them a highly sought-after breed, capturing the hearts of horse lovers worldwide.
Fun fact: Falabella ponies have seventeen vertebrae instead of eighteen and at least one less pair of ribs.
Also read: