This post may contain affiliate links. We earn from qualifying purchases. Learn More
Seabiscuit was a racing icon during the Great Depression, raising people's spirits with his legendary career. Often referred to as "The Biscuit," the bay Thoroughbred stallion was born on May 23, 1933, in Lexington, Kentucky.
Seabiscuit was owned by Wheatley Stable and trained by "Sunny Jim" Fitzsimmons. He was then sold to entrepreneur Charles S. Howard for $8,000 at Saratoga and began training under the direction of Tom Smith.
He ran a total of 89 races, with 33 wins, 15 seconds, and 13 thirds. Seabiscuit's most memorable race was beating the legendary Triple Crown winner War Admiral. Seabiscuit came through as the underdog, beating War Admiral by four lengths.
As an unlikely champion, Seabiscuit stole the hearts of people all across America. His stellar career won him the 1938 Horse of the Year, and he was inducted into the United States Racing Hall of Fame in 1958. He has been the subject of numerous books, documentaries, and even a movie.
Here are 8 of the best facts about Seabiscuit.
1. Seabiscuit is the grandson of Man o' War
Seabiscuit's paternal grandsire was the legendary Man o' War. Man o' War was one of the greatest racehorses ever to live.
During his career from 1919-1920, Man o' War won 20 of his 21 starts. Unlike Seabiscuit, who was small and bay, Man o' War was chestnut with a large build. He was also the sire of Seabiscuit's biggest rival, War Admiral
Also read: 8 Interesting Facts About Man o' War
2. Seabiscuit's Name is a Reference to His Sire
Seabiscuit is out of the sire Hard Tack and the dam Swing On. Hardtack is a type of cracker eaten by sailors that are also called sea biscuits.
Seabiscuit was commonly referred to as "The Biscuit" by his loving fans. For those close to him, he went by the barn name Pappy.
4. Seabiscuit Didn't Have A Great Start to His Racing Career
Though Seabiscuit is remembered as an incredible racehorse, the beginning of his career wasn't great. His first few races weren't that impressive, and people had doubts he would find success in racing.
In his first 40 starts, he won only one-fourth of the races. It wasn't until his 18th start that he won his first race.
While he was at Wheatley Stables and training under Fitzsimmons' direction, he was said to be lazy and lethargic. After failing to win any of his first 17 starts, he became somewhat of a laughing matter at the stables.
Seabiscuit who his first two at Narragansett Park, where he set a new track record. He was then purchased by Howard and began training under Smith.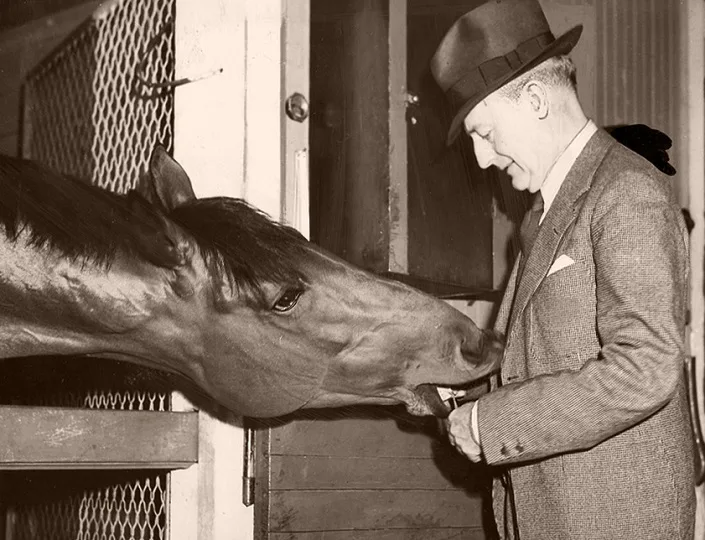 With his new trainer, Seabiscuit found much more success. In 1937, he won 11 of his 15 starts, and he began to gain recognition in the horse racing world.
3. Seabiscuit Had Unconventional Conformation
Seabiscuit didn't fit the typical look of a racehorse. Known for his less than ideal conformation, he was small, standing at just 15 hands tall, and was heavy-set, which made him appear even shorter.
His legs, especially, didn't conform to the usual standards. They were stocky and his knees were knobby, appearing awkwardly large for his body size.
This unusual physique was initially perceived as a liability, as it didn't conform to the traditional lean and muscular build preferred for racehorses. His crooked knees and laid-back personality made him seem like an unlikely candidate for a racing career.
However, these physical traits eventually contributed to his iconic status as an underdog who overcame the odds.
5. Seabiscuit Made An Incredible Comeback After a Bad Injury
In 1938, Seabiscuit suffered a serious injury that threatened to end his career. During a race, his jockey George Woolf felt the thoroughbred stumble.
Seabiscuit suffered a ruptured suspensory ligament to his left front leg and it was believed his racing career was over. However, no one was ready to give up on the mighty racehorse.
Red Pollard, Seabiscuit's other jockey, was also recovering from an injury at the same time. Pollard had suffered a terrible fall while racing a horse named Fair Knightess. Together, Pollard and Seabiscuit recovered from their injuries.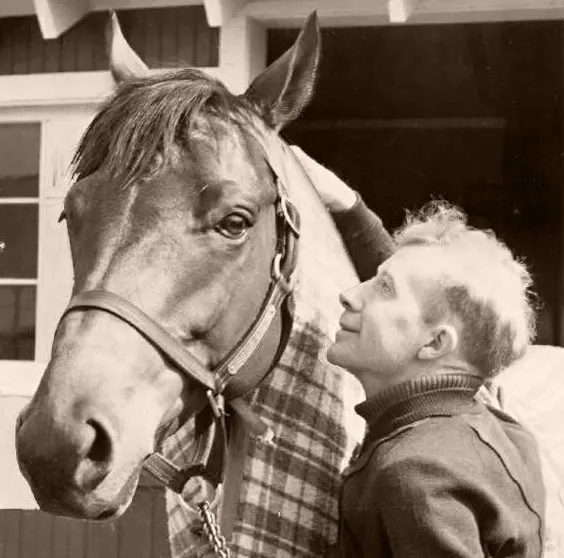 Pollard helped nurse the bay thoroughbred back to health, along with his wife, Agnes. The two began to learn to run again. Pollard was given a knee brace and gained his confidence to get back in the saddle again.
During the fall and winter of 1939, Seabiscuit made incredible improvements. By the end of the year, Smith put him back into race training.
On February 9, 1940, Seabiscuit and Pollard had their first race back from injury. The pair came in third, but in their third race back they were back to their winning ways.
6. Seabiscuit Had a Companion Horse Named Pumpkin
Like many Thoroughbreds, Seabiscuit had a company horse to keep him company. Pumpkin was a palomino that the Thoroughbred's trainer bought to keep him company.
Before Pumpkin, Seabiscuit was a nervous horse. He would pace his stall, becoming anxious and irritable. Smith brought in Pumpkin with the intention to help calm down the racehorse and keep him company.
Within minutes, Seabiscuit and Pumpkin became good friends. Pumpkin would travel just about everywhere with the thoroughbred, either stalling with him or staying in a neighboring stall. The palomino kept his bay companion calm and happy.
In addition to Pumpkin, Seabiscuit had two other unusual friends. A stray dog named Pocatell and a spider monkey named Jo-Jo also became companions with Seabiscuit and would keep him company in his stall.
7. He was a Playful and Cheeky Horse
One fun fact about Seabiscuit is that he was known for his playful and sometimes naughty personality. He was notorious for biting, earning him the nickname "The Biscuit Bites."
Despite this, he was adored by his handlers and the public alike, further solidifying his place as a beloved figure in horse racing.
8. Seabiscuit Had Unorthodox Training Methods
Seabiscuit's trainer, Tom Smith, was known for his unconventional methods, which many attribute to the horse's eventual success. Smith believed in the importance of relaxation and companionship in Seabiscuit's routine.
Smith introduced Seabiscuit to Pumpkin, a calm and steady horse who became his stable companion. Seabiscuit seemed to draw comfort from Pumpkin's presence and the two were often seen racing and lounging together.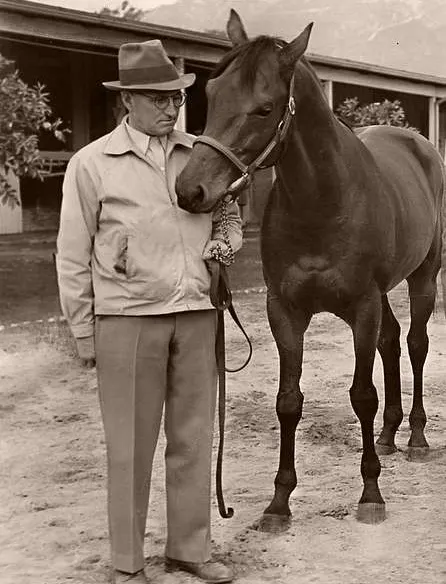 Additionally, Smith brought in Pocatell, a stray dog who quickly became a part of Seabiscuit's close-knit circle. Pocatell and Seabiscuit shared an uncharacteristic yet warm bond, and their interactions became a source of amusement and camaraderie in the stable.
Smith's menagerie didn't stop there. Seabiscuit also found companionship in a goat named Jo-Jo, who would often be found in his stall. Jo-Jo became a part of Seabiscuit's eccentric and lovable crew, contributing to the relaxed and friendly atmosphere Smith cultivated.
These practices were quite unusual in a time when rigorous training routines were standard. Yet, they were fundamental to Smith's training approach, proving that care, understanding, and companionship could yield remarkable results in the competitive world of horse racing.
9. Seabiscuit Sired 108 Foals
It is common for many winning racehorses to sire 300 plus foals, as people are often eager to get the next champion. For example, the legendary Secretariat sired a total of 663 foals.
After retiring from racing on April 10, 1940, Seabiscuit lived at stud Ridgewood Ranch in Willits, California. However, during his life, Seabiscuit only sired 108 foals.
Out of all of his offspring, two horses, Sea Sovereign and Sea Swallow, were moderately successful racehorses.
10. After Retiring, Seabiscuit Became a Ranch Horse
Once Seabiscuit retired from racing, he enjoyed life as a ranch horse. Despite being the most famous horse in the world, he was used by workers at Ridgewood Ranch to check cattle and for pleasure riding. During his time at the ranch, he received over 50,000 visitors.
11. He was an Inspirational Figure During the Great Depression
Seabiscuit became a symbol of hope and perseverance for many Americans during the Great Depression. His story of overcoming odds resonated with people who were facing economic hardship and struggles.
His racing victories provided a sense of joy and national pride during a difficult time in American history.
12. Seabiscuit Was 13 Years Old When He Died
Seabiscuit died on May 17, 1947, at only 13-years-old of what is believed to be a heart attack. He was just six days shy of his 14 birthday.
Seabiscuit is buried at Ridgewood Ranch in California. There are currently seven statues of Seabiscuit located around the world, including one at his resting place.
FAQs About Seabiscuit
How Tall Was Seabiscuit?
Seabiscuit was 15 hands tall and weighed 1,199 pounds. At only 15 hands tall, he was considered relatively small for a racehorse.
Though he was not tall in stature, he had incredible fitness. He was able to beat larger racehorses 16 hands and over due to his elite athletic ability.
Many consider him an underdog for never letting his small height slow him down.
Who Was Seabiscuit's Jockey?
Seabiscuit's main jockey was Red Pollard, but George Woolf also rode him. Pollard had a rough life, struggling with alcoholism, life-threatening injuries, and only seeing out of one eye.
Pollard didn't have much luck as a jockey before pairing with Seabiscuit. However, together the pair flourished and struck winning ways.
After Pollard received a serious injury from another horse, Woolf raced Seabiscuit until Pollard healed from his injury.
How Much Did Seabiscuit Earn as a Racehorse?
During his career, Seabiscuit earned $437,730. Today, this would be worth over $8 million. At the time, he set a record for the most earnings by a racehorse.
Is Seabiscuit Related to Secretariat?
Though they were two of the greatest racehorses ever to live, Secretariat is not a direct descendant of Seabiscuit. However, the two are distantly related.
Both horses are related to Fair Play, who was the sire of Man o' War. Fair Play is Seabiscuit's great grandsire on his paternal side. For Secretariat, Fair Play was his great-great-great grandsire on his paternal side.
Also read: 8 Interesting Facts About Secretariat