This post may contain affiliate links. We earn from qualifying purchases. Learn More
Shea Brennan is a Pinkerton agent in the 1883 TV series. He and his fellow Pinkerton agent Thomas are hired by a group of immigrants as armed escorts to guide and protect them along the Oregon Trail.
Before embarking on the journey, Shea meets James Dutton who he believes is a strong capable man who will be invaluable on the long journey to Oregon. She convinces James along with his family to join them.
Much like the actor who plays him, Shea Brennan is a tough no-one character with a deep sense of duty.
Shea Brennan in 1883 TV series is played by actor Sam Elliot. Elliott is an award-winning American actor who was born on August 9, 1944, in Sacramento, California.
| | |
| --- | --- |
| Birthday: | August 9, 1944 (age 78) |
| Birthplace: | Sacramento, California, U.S. |
| Height: | 6ft 2 (1.88 m) |
| Wife: | Katharine Ross ​(m. 1984) |
| Children: | 1 |
With a deep, resonant voice and a rugged demeanor, Sam Elliot has become one of the most recognizable actors in the western genre.
Sam Elliott's Movies & TV Shows
Road House (1989) as Wade Garrett
Tombstone (1993) as Virgil Earp
Gettysburg (1993) as Brigadier General John Buford
The Big Lebowski (1998) as The Stranger
The Hi-Lo Country (1998) as Jim Ed Love
We Were Soldiers (2002) as Sergeant Major Basil L. Plumley
Hulk (2003) as General Thaddeus Ross
Ghost Rider (2007) as The Caretaker / Carter Slade / Phantom Rider
Up in the Air (2009) as Captain Maynard Finch
Parks and Recreation (2009-2015) as Ron Dunn
Justified (2015) as Avery Markham
The Ranch (2016-2020) as Beau Bennett
The Hero (2017) as Lee Hayden
A Star is Born (2018) as Bobby Maine
1883 (2021-present) as Shea Brennan
8 Facts About Actor Sam Elliott
1. His Dad Didn't Want Him to Pursue a Career in Acting
In the 1960s, Elliott moved to Los Angeles to pursue a career in acting. His father was not a fan of this idea and tried to persuade his son to get a college degree instead.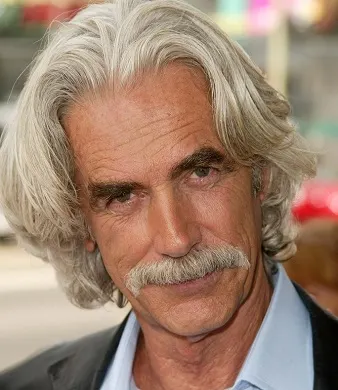 Elliott's father told him 'You've got a snowball's chance in hell of having a career in (Hollywood).'" He proclaims that his father was a hard worker and that he fashioned his work ethic after his father's, which has led to his success in acting.
While he studying acting, Elliott worked in construction. He also served in the California Air National Guard's 146th Airlift Wing.
2. He Began His Acting Career as a Character Actor
Elliott's career as an actor kicked off with him taking roles as a character actor. His appearance, voice, and bearing made him a good choice for Westerns. He started off with small roles in Westerns such as The Way West (1967), Butch Cassidy and the Sundance Kid (1969), and Gunsmoke (1972).
3. Sam Elliot is Married to Actress Katherine Ross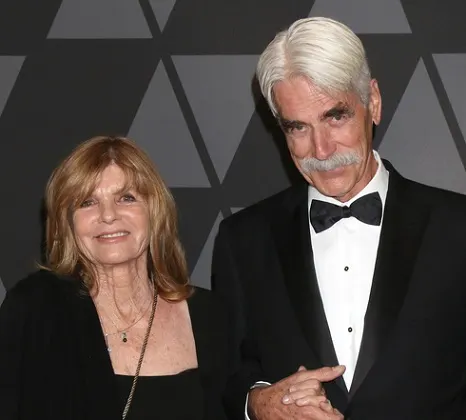 Elliott is married to actress Katherine Ross. He met Ross through acting and the two got married in May 1984.
Ross is an award-winning actress who has starred in notable films including The Graduate (1967), Butch Cassidy and the Sundance Kid (1969), The Stepford Wives (1975), and Voyage of the Damned (1976). Elliott and Ross have one daughter together named Cleo Rose Elliott, who is a model, singer, and musician.
4. He is an Award-Winning Actor
Elliott is an award-winning actor noted for his distinct deep voice. He has taken home awards for his roles in Justified and A Star is Born.
Elliott won the Best Guest Performer in a Drama Series for Justified at the Critics' Choice Television Awards. For A Star is Born, he won the National Board of Review award for Best Supporting Actor and the Santa Barbara International Film Festival's Virtuosos Award.
5. He Does Voice Work
In addition to starring in movies and TV shows, Elliott also does voice work. He is the voice for various campaigns for Dodge, IBM, Kinney Drugs, Union Pacific, NFL, Coors Beer, and more.
6. He and His Wife are Horse Lovers and Advocate for Mustangs
Both Elliott and his wife are horse lovers with a deep appreciation for Mustangs. Both he and his wife have ridden horses for many of their films.
Elliott took learning to ride seriously, as he did not want to make a fool of himself in front of his fellow co-stars. Ross, on the other hand, began riding when she was just seven years old.
"Any of those parts that required some iota of horsemanship always got my attention and made me work harder. If you're going to get on a horse, you want to look good on one. There are too many people out there who know the difference," said Elliott.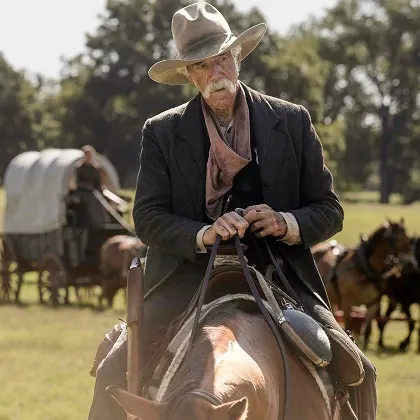 Ross and Elliott also actively work towards helping American Mustangs. Ross even painted a life-size replica of a Kiger Mustang that was then sold with the proceeds benefiting Return to Freedom American Wild Horse Sanctuary.
7. He Was Honored by the National Cowboy and Western Heritage Museum
Thanks to his numerous roles in films and TV shows within the Western genre, Elliott was honored by the National Cowboy and Western Heritage Museum.
In 2018, both he and his wife were honored at the Western Heritage Awards.
8. He Was Named the Grand Marshal of the Calgary Stampede Parade
Elliott's love for the cowboy lifestyle goes beyond his acting career. In 1998, Elliott was named the grand marshal of the Calgary Stampede parade. He rode in the procession before a crowd of approximately 300,000 spectators.
Also read: 1883 Cast and Where You've Seen Them Before
FAQs
Is Sam Elliott in Yellowstone?
While Sam Elliott does not star in Yellowstone, show creator Taylor Sheridan did offer him a role in the show. Elliott turned down the offer and revealed that he is actually not a fan of the show, saying it is like a soap opera.
"I'm not a 'Yellowstone' fan. I don't watch 'Yellowstone. I love (Kevin) Costner. There's a lot of good people on the cast, a few of them I've worked with before. Nothing against any of them, but it's just too much like f—ing 'Dallas' or something, for me," said Elliott.
Is Sam Elliott a Real Cowboy?
While Sam Elliott is not a real cowboy, he is often type-casted as a cowboy. He has starred in numerous Western movies and TV shows, the most recent being 1883.
Does Sam Elliott Do All His Own Stunts?
Sam Elliott has done his own stunts in several of his roles. For example, in the film The Quick and the Dead (1987) Elliott did all of his own stunts and he all did stunts in The Man Who Killed Hitler and Then the Bigfoot (2018).
What is Sam Elliot's Net Worth?
According to Wide Open Country, Sam Elliot has a net worth of $20 million. As a multi-award-winning actor, Elliot has had a long and prominent actor career, especially in western movies.
Also read: 20 Best 1883 Characters Ranked