Our readers support us. This post may contain affiliate links. We earn from qualifying purchases. Learn More
Every little horse-loving kid dreams of having their own pony to ride. Fortunately, these adorable and fun ride-on unicorn toys for kids will make their magical horseback riding dreams come true.
These unicorn rideable toys you can ride will not only put a smile on your child's face, but they will also help with coordination, strength, and even motor skills. They will provide hours of entertainment for active kids of all ages as they will love having their very own unicorn.
Here are the best ride on unicorns that kids will love.
1. WondeRides Ride on Unicorn Horse Toy
Kids absolutely love this colorful and bright rideable unicorn toy. Any unicorn-lovers from ages four to nine years old will have a blast galloping on their noble mount.
The motion of the child bouncing up and down power the horse, so no batteries are required. With easy-to-steer handlebars, children can go as fast or slow as they want. Riding the horse encourages balance, motor skills, and strength in your kid.
It is ideal for both indoor and outdoor use, keeping your child happy no matter what. The plush design is soft and inviting while the non-slip pedals help keep your kid secure as they ride.
2. Vroom Rider X Ponycycle Ride-On Unicorn
The ultimate ride-on unicorn toy, your kids will have an absolute blast with this PonyCycle. With the ability to go anywhere, your kid will feel like they are riding a real horse.
By bouncing up and down in the saddle, the horse's legs and head will move. It does not need any batteries as it is only powered by the motion of your child. The plush design is not only beautiful but also soft to the touch.
The PonyCycle is ready to use right out of the box. It is the perfect Christmas gift for children ages four to nine.
3. iLearn Bouncy Pals Unicorn Hopping Horse
If you have an energetic kid that is always moving, this bouncy pal is the perfect solution. Ideal for kids 18 months and up, it will provide hours of entertainment.
With a safe design, you don't have to worry about your kidding falling, or tipping off as they play. While riding the unicorn, your child will develop body strength, balance, motion exposure, and brain development. They can hold onto its ears as they bounce around.
The bouncy pal is suitable for both indoor and outdoor play. The soft fabric cover is even machine washable.
4. Stable Buddies Electric Ride On Unicorn
The Stable Buddies electric ride-on unicorn will delight your little unicorn lover. Made from soft plush material and comfortable to ride.
The Stable Buddies unicorn is powered by a 6-volt motor that has a maximum speed of 2.5 MPH, making it safe and thrilling. The toy makes cute unicorn sounds, comes with a light-up horn, and play stable. It comes with pedals on the side and handles for your child to hold on tight.
5. VTech Prance and Rock Learning Unicorn
This cute and vibrant unicorn makes a wonderful first horse toy for children. It is designed for children ages 12-36 months.
As your child grows, the unicorn goes from a rocker to a ride-on toy. It encourages imagination as it plays songs, melodies, and playful phrases. Kids can even spin the bead wheel as it plays sounds and lights up the horn.
This toy is great for developing motor senses. Your kids will have a blast zooming around on this interactive toy horse.
6. Step2 Unicorn Rocking Horse
This classic rocking horse design features an adorable white unicorn with a beautiful golden horn and soft, colorful mane. It is ideal for children ages 18 months to ten years.
The rocking horse has a sturdy design, so it is sure to last against even the toughest kiddos. With easy-to-grip handles, it promotes important motor skills as they ride the rocking horse. The contoured seat is comfortable and will keep your child safe during playtime.
7. labebe – Baby Rocking and Ride On Toy
Included in our best rocking horses for kids guide, this precious rocking horse unicorn features an award-winning design that children will love. With a safe build, it is perfect for children ages 1 to 3 years old.
The three-sided seat features a seatbelt so your child will be secure and safe as they play. Your child will love how soft and plush the material of the rocking horse is, along with its shiny silver horn. It features a sturdy wooden structure, so you know you are getting a quality toy.
8. Kid Trax Toddler 12 Volt Unicorn Ride-On Toy
This enchanting unicorn electric riding toy is a fun battery-powered and interactive gift. The unicorn, Josie, makes over 100 unique sounds and movements. Her eyes, ears, head, and wheels are all fully motorized.
Kids can delight at the munching noises Josie makes as they give her a tasty treat or watch her ears move as they brush her mane. As well as walking Josie, kids can ride their new best unicorn friends. With a 12-volt battery powering her, Josie can go up to 4 MPH forward, or 3.5 MPH backward. She can even sing fun unicorn songs as your child rides her.
Josie comes with a grooming brush, cupcake, flowers, saddlebag, and a 12-volt rechargeable battery.
9. Animal Adventure Ride-On Plush Unicorn Rocker
This sturdy rocking horse unicorn is crafted to handle everyday wear, even with the most active kids. It is ideal for ages three and up and comes completely assembled, which parents will love.
Kids will love how soft the unicorn's body, mane, and tail are. It even features a beautiful pink saddle with embroidered details. The reins are moveable, allowing children's imagination to run free as they gallop along.
The durable Polyester fibers fabric is easy to clean, keeping it safe from messes. Your child will love waking up to this plush rocker unicorn on Christmas morning.
10. Kid Trax Silly Skaters Unicorn Toddler Ride On Toy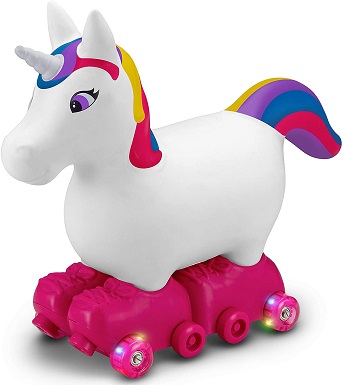 Fun and funky, this unicorn is wearing light-up pink skates. Ideal for riding or pushing, your child will have lots of fun as they play.
The motion-activated skates light up as the pony moves. The soft, inflatable rubber build is easy to ride, which your kid will love. It will help encourage balance, strength, and motor skills as your child plays.
Also Read: 12 Best Ride On Horse Toys for Kids