Every horse-crazy kid loves toy ponies they can ride and play with at home. Since they can't keep an actual pony in their room, a toy horse they can ride is the next best thing.
These ride on horse toys are all parent and child approved. Providing hours of horsing around, children will love these exciting equine playmates.
We have carefully selected interactive toys for kids that are safe, fun, interactive, and adorable. Little ones will have a great time romping around on these play ponies while developing balance and coordination.
Best Ride-on Horse Toys for Kids:
Rockin' Rider Legacy Grow-with-Me Pony
Let your child grow with this ride-on horse toy. Soft and huggable, this pony starts off as a bouncer and can be changed into a rocker, then a spring horse as your child grows.
Kiddos love that the mouth moves as it sings and talks when its ears are pressed. Made from soft plush, this sweet pony is huggable and great for the quickly growing tiny tot.
Stirrups and easy-grip handles are featured so older youngsters can safely ride. Parents adore how easy this toy can change as their kid gets older.
Why we like it:
Easily converts from a bouncer to a rocker then to a spring toy as tiny tots grow.
Can sing and make different noises when its ears are pressed.
Soft, huggable and safe for ages 9 months to three years.
Radio Flyer Plush Interactive Riding Horse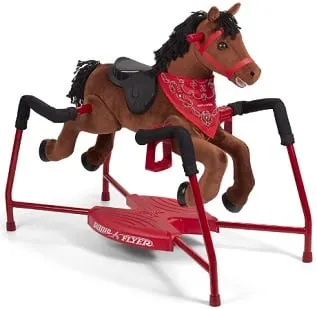 Kids absolutely love this realistic and interactive ride on plush horse named Chestnut. Depending on what speed your child is moving, Chestnut will make walking, trotting and galloping sounds.
When not riding, youngsters can feed and brush their adorable friend, as a carrot, comb and bandana are included. When being fed, realistic eating noises are prompted.
An EZ climb step is built-in so parents can rest assured their children can safely get on and off. This is the perfect present for the kid who has been asking for a pony for Christmas.
Why we like it:
Realistic and interactive, Chestnut provides hours of entertainment.
Walk, trot, gallop, and eating sounds are made depending on the activity.
An EZ climb step is included for safe mounting and dismounting.
Bojangles Ride On Horse
With soft fluffy fur and a comfy saddle, this sweet donkey will take little ones on many fun adventures. With multi-directional caster wheels, little ones are able to scoot all around the house.
Made from a solid wood frame with a leatherette saddle, this toy is well crafted. The soft padded body, it is safe and fun for children to ride on. It provides support for tiny ones who are still developing their balance. Toddlers especially love how cuddly and huggable Bojangles is.
Why we like it:
Features multi-directional wheels easy for scooting around.
Durably built with a solid wood frame.
Made with soft, cuddly fur that toddlers love.
Little Tikes Rocking Horse Blue
A classic rocking horse, this sweet blue pony is great for young aspiring equestrians to get their start. Kids can get rocking both indoors and outdoors as they develop balance and coordination.
With easy-grip handles and a smooth seat, children will sit safely and comfortably as they romp around. Lightweight with sturdy construction, this holds up against even the toughest little cowboys and cowgirls. For those energetic, bouncing tots, this is a great affordable toy.
Why we like it:
Ideal for energetic toddlers.
Helps with balance and coordination.
Safe and comfortable to ride.
Smart Gear Pony Cycle
Kids will be galloping away with this fun pony that stimulates riding a real horse. No batteries or electricity needed, this pony is powered by children's movement. By bouncing up and down in the saddle, kiddos are able to control the speed and direction of their equine friend.
Both parents and children rave about this toy, as it is safe and fun. The wheels are designed to not roll backwards, giving parents peace of mind.
Available in chocolate or brown, these ponies feature soft fur. Sold in two different sizes, small for kids 3 – 5 years old and medium for kids 5 – 9 years old, this ride on horse toy will be a huge hit for any pony-crazy child.
Why we like it:
Comes in two sizes that are kid-safe.
Powered by kids, no electric or batteries needed.
The pony is realistic looking, with soft fur and a saddle.
Qaba Kids Plush Toy Rocking Horse Pony
A modern take on the classic kids rocking horse, this precious pony neighs and makes galloping noises. Made from soft, fluffy plush this realistic looking horse is great for young riders.
With gentle rocking on a soft seat, this will bring hours of fun to those two years and older. This sturdy equine will last for several years thanks to its durable build. For those toddlers eager to get in the saddle, this would make a wonderful birthday present.
What we like it:
Realistic in appearance with soft fur and a comfy saddle.
By pressing the ear, it neighs and makes galloping noises.
The classic rocking horse build is durable and provides hours of fun.
ECR4Kids My Wild Pony
Kids will go crazy for this fun interactive pony that they can ride for hours. Battery operated, children can control the speed and direction by an easy-to-use handheld accelerator.
For when youngsters aren't riding, a hairbrush is included to style the luscious mane and tail. When pet on the head, this pony will make neighing and galloping noises. Ideal for riding indoors and outdoors, kiddos will have a blast riding around all day.
Why we like it:
The speed and direction can be controlled with a handheld accelerator.
When not being ridden, a brush is included for the mane and tail.
Can be ridden indoors and outdoors, with the ability to make neighing and galloping noises.
Princess Horse & Carriage
Your little one will feel like royalty in this wonderful horse-pulled carriage. The beautifully built carriage features a storage compartment and cup holders, so your princess can pack snacks and toys along for a magical adventure.
Parents can use the reins to pull the carriage around while their child rides along as clip-clop noises play.
As children grow, the floor bottom can be removed for them to drive around themselves. This durable and magical ride on horse toy will provide hours of entertainment for young equine lovers.
Why we like it:
Children can be pulled by their parents or drive themselves.
Storage room is included.
Clip-clop noises play when this magical carriage is in use.
Rockin' Rider Coffee Stable Horse Ride On
Horse-obsessed boys and girls adore this realistic and interactive ride on horse toy that includes a saddle and bridle. Interactive and soft, kids can groom and ride their fluffy friends.
In addition to playing a song by pressing its ear, Coffee the pony has three activation points that make different noises when touched.
Youngsters can pull his reins to hear him neigh, pet his nose to hear him snort, and pat his rear to hear trotting and galloping noises. Young riders will absolutely adore owning this fun pony
12-Volt Interactive Ride-On Pony Toy
Little cowboys and cowgirls will adore this cute ride-on pony that they can play with for hours on end. Kids can lead, ride, groom, and feed Scout, as he includes a grooming brush, carrot, apple, and saddlebag.
This battery and electric powered steed features over 100 unique noises. With a fully motorized head, eyes, ears, and wheels, Scout simulates a real horse.
Parents can rest assured that the Power Trax™ rubber traction strip tires will keep their youngsters safe while galloping around. In addition to all its other features, this fun toy can also do a special dance that little ones love.
Why we like it:
Scout can be ridden, groomed, led and fed, with accessories included.
With awesome interactive capabilities, he can make noises, dance and move its head, ears, eyes and wheels.
Rockin' Rider Charger 2-in-1 Rocking Pony
A new take on the classic rocking horse, this pony easily converts from a rocking to a rolling toy. If you press its left ear it will sing and if you press its right ear it will speak different phrases, making it great for toddlers. It even synchronizes its mouth when it sings and talks.
Soft and huggable, this cute pony will keep boys and girls occupied for hours. Children love how interactive this pony is, with the ability to rock, bounce, roll, sing, and talk. Parents enjoy the ability to control the volume to their liking.
Why we like it:
Can easily be converted from rocking to rolling.
Sings and talks while being safe, soft, and huggable.
WALIKI Bouncy Horse Hopper
This hopping horse is great for kids who are eager to ride. Little ones can spend all day galloping around on their bouncy pony.
With comfy handles, a soft saddle, and long back, kids will have no problem safely riding all around the house. Easy to inflate, children will be bouncing around in no time. This huggable bouncy horse toy helps children develop balance and coordination while having fun.
Available in large sizes, older siblings and parents can join in on the fun too.
Why we like it:
Helps develop coordination and balance.
Great for active kids as it has a long back, saddle, and comfy handles.
Available in bigger sizes so other family members can play along.
Also read: