Struggling to find a unique and fun gift for the young horse lover in your life? These remote control unicorn toys are the perfect solution as they provide hours of entertainment.
Remote control toys can help kids develop their motor skills, gain spatial awareness, and even help with STEM. They also allow children's imaginations to run wild as they can get creative at playtime. These adorable unicorn toys will make any little boy or girl happy.
Here are the seven best remote control unicorn toys for kids.
1. Twirlux Unicorn Toy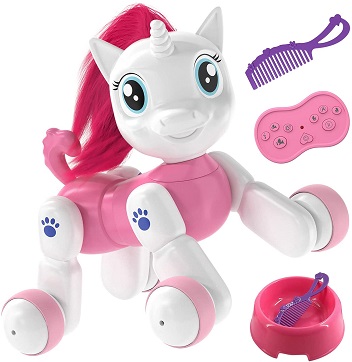 The Fillybot is an interactive unicorn that can move in every direction. Not only can kids control it with a remote, but they can also tap her back to play music and make noises.
In addition to making noises, the Fillybot unicorn also zooms around and lights up. She can even dance as well which kids will love. When not using the remote to play with her, children can brush her mane and feed her from her food bowl.
When you want quiet playtime, you can turn the sound off with the simple click of a button. The Fillybot is appropriate for ages three years and up.
2. Power Your Fun Robo Pets Unicorn
With an adorable smiling face, kids will absolutely love having their very own unicorn. Not only can it walk, but it can also jump, sit, stand, and step forward.
Kids can use the remote to control their unicorn, along with using hand gestures to guide their it as well. There is even the ability to create a sequence of moves and lights. Children can even feed their unicorn and watch its eyes light up with joy.
There is also a handy comb to brush the unicorn's luscious mane. Included in our best unicorn toys guide, this fun Robo unicorn is great for developing STEM skills in kids ages three and up.
3. My Little Pony: A New Generation Movie Sing 'N Skate Toy
Kids can pretend to be a movie star with this awesome singing My Little Pony unicorn. There are over 50 combinations of sounds, lights, and movements, so children are free to create their own adventures.
A microphone is included that kids can sing into and use as a remote control for their unicorn. The My Little Pony named Sunny has a horn that lights up and she has wings that flap, along with a soft, flowing mane and tail. Sunny is even wearing a pair of roller skates so she can zoom around.
There is also a pack of stickers so kiddos can decorate Sunny and the microphone. This remote control unicorn toy set makes a wonderful unicorn Christmas gift for kids ages five and up.
4. Electric Unicorn Leash Control Toy
This adorable plush remote control unicorn toy walks, plays music, and even dances. Kids can take it for a walk with the convenient remote control leash.
When not walking their unicorn, kids can cuddle it and brush its mane and tail. They won't be able to get enough of its soft coat, glittery horn, rainbow mane and tail, and glittery hooves. Children ages three and up will have a blast taking their unicorn out on walks.
Also Read: 10 Best Ride On Unicorn Toys
5. Plush Unicorn Remote Control Toy
This magical remote control unicorn toy will take playtime to the next level. Kids have full control of it with a remote control magic wand.
The plush unicorn can walk forward or backward while making walking noises and playing music. It even has the ability to twist its tail, light up its horn and rotate its eyes. The unicorn even has a gorgeous set of rainbow wings.
A set of stickers is even included so kids can decorate their beloved unicorn. Children ages 3-8 will have a blast playing with their magical unicorn friend.
6. The Learning Journey Remote Control Dancing Unicorn
This adorable remote control unicorn toy has two modes: action and learning. It would make an awesome birthday present for any horse-loving young child.
In action mode, it will move all around the room, both forward and backward, as well as dance. In learn mode, it will ask questions about ABCs, colors, numbers, and shapes. No matter what mode kids are playing in, they will have fun while also developing motor and tactile skills.
This cute RC toy is durable while also featuring flashing lights and fun sound effects. It makes a great learning toy for ages two and up.
7. Flying Fairy Unicorn
Kids can pilot their very own flying unicorn all around the house. Their eyes will light up with joy as it floats over their hands in the air.
The flying unicorn is durable and also features thin propellers in order to reduce damage and keep your child safe. The bright, LED flashing lights give it a great visual appearance, especially if flying at night. With a convenient remote, kids will be able to turn it on and off with ease.
Whether indoors or outdoors, kids will have a blast playing with their flying toy. It would make an exciting Christmas present for kids ages six and up.
Also Read: 10 Best Unicorn Books for Kids