Our readers support us. This post may contain affiliate links. We earn from qualifying purchases. Learn More
Few equestrians haven't heard of Free Rein, the popular British drama series about a teenage girl and her remarkable horse. Zoe's life had nothing to do with horses until she met the majestic Raven on a beach while searching for her sister.
On their first encounter, Raven was agitated and wild, rearing up in front of Zoe. Despite having no experience with horses, Zoe somehow gets through to the horse and leads him back to the stables.
Raven is undoubtedly the show's equine star. The connection that forms between him and Zoe is what makes the show so magical. This article reveals some fun facts and info about the real Raven from Free Rein!
*Warning: spoilers ahead*
The Original Raven in Free Rein Was a Chestnut
Surprisingly, the show's writers originally envisioned Raven as a chestnut horse. Imagine how different the series would've turned out if Zoe was riding a fiery chestnut instead of a jet-back horse!
So what happened to the original Raven? As it turns out, Free Rein stunt coordinator Steve Dent had other ideas for the show's main horse. His company supplies stunt horses for movies and series like Free Rein, but only about 2/100 of his horses are chestnut.
When discussing the filming of Free Rein, Steve Dent told director Paul Walker, "I've got white horses ready, I've got black horses ready. They're the colors for the film."
And so the show's writers adjusted the script to make the main horse black. We can all agree they made the right call bringing the beautiful Raven to our screens!
What Breed Is Raven From Free Rein?
Raven from Free Rein is a Thoroughbred in the series, which is revealed at the end of Season 1. However, in real life, he is played by a Friesian cross gelding.
Raven's breed in Free Rein is unknown until his rightful owner turns up at the end of the first season. We then find out that Raven in fact has "blue blood" and is descended from royal Thoroughbred bloodlines.
Also read: Where is Free Rein Filmed?
What Happens to Raven in Free Rein?
In Free Rein Season 2, Raven is at risk of being taken from Zoe by his rightful owner Meredith. When Zoe fails to win the Nationals, Meredith prepares Raven's trip to the mainland. However, in the season finale, Pin reveals he is a duke and that he bought Raven for Zoe.
When Meredith first learns about Raven's whereabouts, she insists on taking the horse back with her. After all, Raven is a valuable horse with the potential for a bright future. However, the bond between Zoe and Raven convinces Meredith that she is worthy of riding and training Raven.
After some consideration, Meredith proposes a deal. If Zoe and Raven win the Nationals, the horse can stay at Bright Fields. If not, he will go to a professional training facility in mainland UK.
Due to an unfortunate incident, Zoe and Raven come fourth at the Nationals. As per the deal, Meredith readies the horse for travel. Zoe and Raven would've parted ways forever if it wasn't for Pin, who purchased the horse alongside the entire Bright Fields Stables.
Season 3 brought new developments in the story of Zoe and Raven. Zoe is seriously considering moving back to her old home in Los Angeles with her beloved horse. The season ends with a prestigious riding school in Florida inviting Zoe to audition for a place.
Who Owns Raven From Free Rein?
As we find out in the finale of Season 1, Raven from Free Rein is owned by Meredith. The horse was stolen from her as a foal, and after four years of searching, she is finally here to take him back.
However, things don't go as smoothly as she has planned. While loading Raven, Pin sabotages the trailer, so Raven breaks out, displaying his affection for Zoe.
Seeing the horse's behavior, Meredith decides to board Raven at Bright Fields and have Zoe train him. This is a turning point in Zoe's life, who chooses to stay on the island instead of returning home as planned.
As time passes, Raven's talent becomes more and more obvious to Meredith. Even though she makes a deal with Zoe, she secretly plans to take the horse away regardless of the outcome of the Nationals. Luckily, Pin saves the day by buying the horse back for Zoe.
Also read: 7 Interesting Facts You Didn't Know About Free Rein.
What Is Raven's Real Name?
Raven's real name in Free Rein is Midnight Blue. He is the son of Ruby Dawn, a world-famous Thoroughbred racehorse who won every race she ever entered.
Raven's official name is revealed in Season 1 Episode 10 "Show Down" when Meredith comes to collect him from Bright Fields.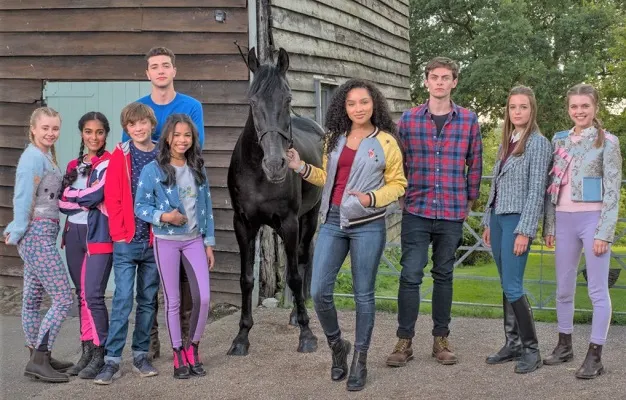 Who Plays Raven the Horse in Free Rein?
Raven in Free Rein is played by a jet-black Friesian cross horse called Maca. Alongside most other horses in the show, he belongs to stunt coordinator Steve Dent.
According to the show's lead actress Jaylen Barron, Maca is a wonderful horse with a unique personality. He is particularly special because of his color, which shows no shade other than black.
To find out more about the horses of Free Rein, check out the video below:
Raven Is Jaylen Barron's Favorite Horse on the Set
Unsurprisingly, Raven is Jaylen Barron's favorite horse on the Free Rein set. After three years of working together, the horse now takes up a special place in her heart.
"… he's the sassiest little thing", the actress told Showtimes.com. "He definitely has his moods, so if he's in the mood to be a good boy that day, then you're going to get a good boy but if he's not feeling the day, you're not going to get anything out of him, to be honest. He's kind of like me."
Is Raven Zoe's Horse in Real Life?
Raven is not Zoe's horse in real life. He is one of Steve Dent's stunt horses, who professionally trains horses for films.
Before landing her role in Free Rein, Jaylen Barron (Zoe) didn't have much experience with horses. However, after countless riding lessons to prepare for the shooting, the actress came to love the experience.
Barron misses riding and working with animals now that the series has finished. According to Showtimes.com, she also thought horse riding was a great way to stay fit.
Also read: