This post may contain affiliate links. We earn from qualifying purchases. Learn More
The Quarter horse is the most popular horse breed in America. When it comes to breeding, there are multiple ranch and Quarter horse bloodlines famous for producing top-quality horses.
Seven of the most famous ranch and quarter horse bloodlines are Doc Bar, Driftwood, Two Eyed Jack, Joe Hancock, Playgun, Old Sorrel, and Peppy San Badger. These horses have played an influential role in the Quarter horse breed and ranch horse industry. Their incredible bloodlines are highly sought after by breeders today.
Here are the best ranch and quarter horse bloodlines.
Driftwood
Born in 1932, Driftwood, who was first known as Speedy, came from a relatively unknown pedigree. The bay stallion first began his career as a top-match racehorse in Texas.
After his racing days, he became a top-performing rope horse at professional rodeos. Channing and Catherine Peake then went on to buy the talented stallion. The Peakes used the handsome stallion in their breeding program and his offspring quickly found success.
His offspring were known for their speed and intelligence, allowing them to excel as ranch, rodeo, and rope horses. Driftwood sired many horses with natural cow sense and durability, which made them fantastic working horses. In addition, his bloodline is famous for crossing well with others.
Doc Bar
As one of the most well-known Quarter horses, Doc Bar is one of the greatest cow-horse sires to ever live. Born in 1956, the chestnut stallion began his career as a racehorse, but only won $95.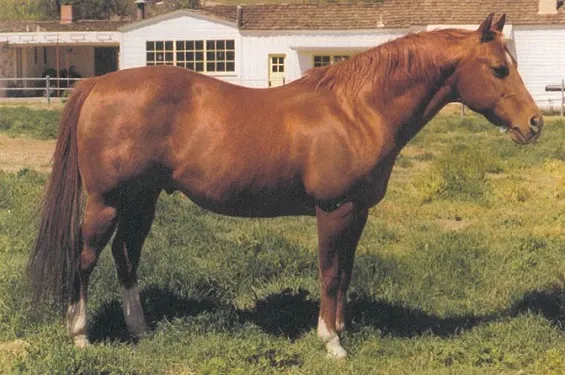 Despite his unsuccessful racing career, Doc Bar went on to shine as a halter horse, winning nine grand championships. Though he never was a cutting horse himself, Doc Bar's offspring went on to excel in the discipline. As we mention in our guide to Doc Bar, his offspring are famous for their incredible athleticism, gracefulness, calmness, and trainability.
Famous for their natural cow sense, Doc Bar's offspring included several cutting futurity winners as well as multiple world championship winners. Many champion cutting and ranch horses have Doc Bar in their pedigrees.
Two Eyed Joe
Two Eyed Jack's pedigree traces back to the great Joe Hancock. He began his successful career as a halter horse before excelling in reining, western pleasure, and working cow horse competitions.
The stocky sorrel stallion's calm and gentle disposition made him a star both in and out of the show ring. His offspring displayed his winning attitude and gentleness. Like their sire, they found success in the show ring.
Two Eyed Jack holds the top spot in the all-time leading sires of AQHA Champion horse. He sired 149 AQHA champions, with an incredible 16 AQHA World Show Champions.
Joe Hancock
Joe Hancock, who was named after his owner, was born sometime between 1923 and 1925. His sire was the legendary foundation stallion Peter McCue, and his dam was a grade mare out of a Percheron stallion and a Thoroughbred-type mare.
His unusual breeding gave him a stout confirmation, with a calm disposition, speed, and cow sense. He was not only a talented racer, but he was also wonderful at working with cattle. After a successful racing career, Joe Hanock retired to stud.
Joe Hancock's offspring proved to be stellar working horses, with hardy conformations. He was the sire of several champion roping horses. Like Joe Hancock, several of his foals had an incredible natural cow sense that many breeders sought out.
Playgun
Playgun is recognized as being one of the most successful ranch horse producers in the industry. The stunning stallion was born in 1992 and has gone on to make a name for himself in the Quarter horse breed.
Playgun won over $185,000 in cutting competitions and his offspring have gone on to earn more than $5 million in cutting, reining, reined cow horse, roping, and ranch versatility competitions.
Ranchers across America praise the stallion for his cow sense, conformation, and athleticism. His foals have inherited not only his sound conformation, but his ability to excel at ranch work.
Playgun has played a large impact on ranching bloodlines. His offspring are popular in the Quarter horse world for their size and substance, with the natural ability to work with cattle.
Old Sorrel
Old Sorrel is famous for being the foundation sire for the popular King Ranch located in Texas. Born in 1915, many regard him to be one of the best working cow horses in history.
Old Sorrel was quick with an incredible natural ability to work cattle. He had a solid confirmation and he also was able to work long, hard days doing ranch work. The sorrel stallion displayed wonderful balance, build, and temperament.
Old Sorrel passed on his wonderful conformation and work ethic to his get. His foals made stellar working horses, keeping up with the hard demands of ranch life.
Peppy San Badger
Also known as Little Peppy, Peppy San Badger was born in 1974. The sorrel stallion won the NCHA Futurity in 1977, despite suffering distemper as a foal.
Peppy San Badger was purchased by the Kings Ranch and was famous for his stellar athleticism as a cutting horse. He was a calm, attentive horse, which allowed him to shine when working. His incredible talent in cutting has been passed down to his offspring, who have won over a whopping $25 million in earnings.
His offspring have gone on to shine as cutting, reining, and reined cow horses. He receives praise for being one of the best producing ranch horse bloodlines in the breed. His legacy still shines in working horses today.