There are over 350 horse and pony breeds in the world, each with its own distinctive qualities that make them unique. Of all these breeds, we are going to take a look at the most popular horse breeds in America.
Each of these breeds stands out for its beauty, versatility, and overall good demeanors, making them among the most popular horses. They have captured the hearts of horse lovers all across the world.
From working to racing to showing and everything in between, these stellar breeds have risen to fame.
Here are the 10 most common horse breeds in America:
American Quarter Horse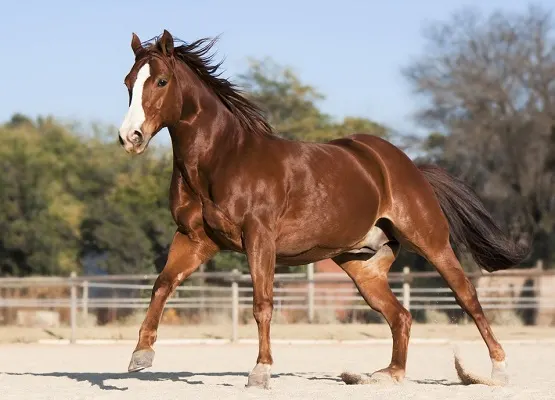 The Quarter horse is the most popular breed in the USA today with over two million registered horses living in America and over 400,000 international registered horses.
With over two million Quarter horses registered worldwide, it is no wonder that these sturdy equines have become one of the most popular breeds to own.
Quarter horses excel in western disciplines and also make wonderful jumping, hunter under saddle, dressage, and driving horses.
They are known to make great family horses and are loved by beginners and professionals alike. Their athletic yet muscular, stocky builds allow them to shine in the show ring, working cattle and on the trails. With calm demeanors and friendly attitudes, they are great horses to work with.
Arabian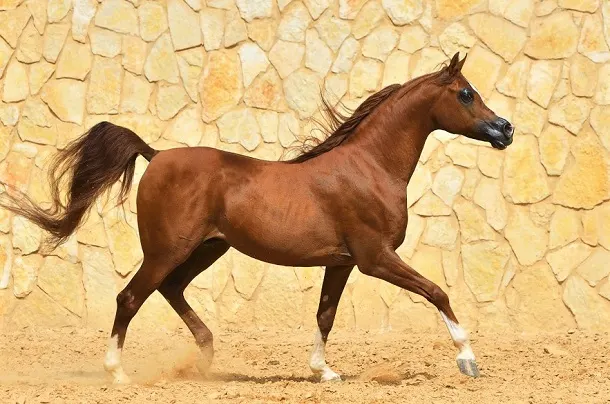 One of the oldest purebred horses in the world, Arabians have been admired by people for centuries. Their distinctive dished faces, chiseled heads, arching necks, and flagged tails have made them one of the most unique and beautiful breeds of horses.
Known for their intelligence, trainability, and gentle dispositions, they are well-loved by people of all ages.
Today, Arabians are easily one of the most versatile breeds, as they compete in saddle seat, hunter pleasure, western, jumping, eventing, dressage, and driving disciplines. Their incredible stamina has allowed them to dominate endurance competitions across the world.
Thoroughbred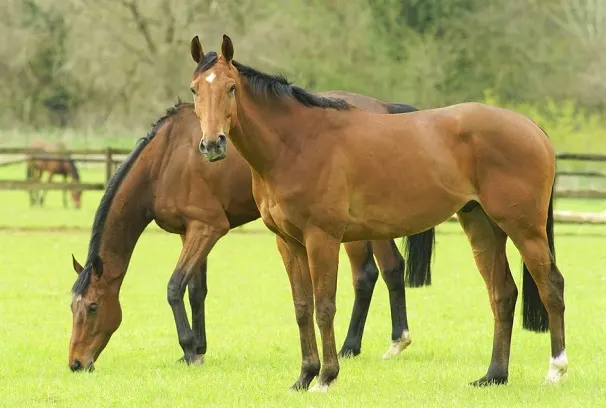 Thoroughbreds are known for being elite racehorses thanks to their incredible agility, speed, and stamina. Each year thousands of Thoroughbreds are bred in hopes of creating the next Triple Crown winner.
Outside the racing world, they excel in eventing, jumping, and dressage. Their tall, lean builds allow them to shine as athletes no matter what discipline they do. They are beloved by equestrians for their intelligence, bold spirits, and strong work ethic.
Morgan Horse
The Morgan is one of the first horse breeds developed in America and has become a popular horse breed all across the world. These stunning horses are known for their expressive heads, well-arched necks, and muscular yet refined bodies.
Morgans have grown to be one of the most versatile breeds, as they compete in saddle seat, hunter pleasure, dressage, eventing, jumping, endurance, driving, and western disciplines.
Outside the show ring, they make wonderful pleasure, trail, and working horses, thanks to their willingness to please and awesome athletic ability. They make fantastic horses for the entire family, as they have kind dispositions and friendly attitudes.
Paint Horse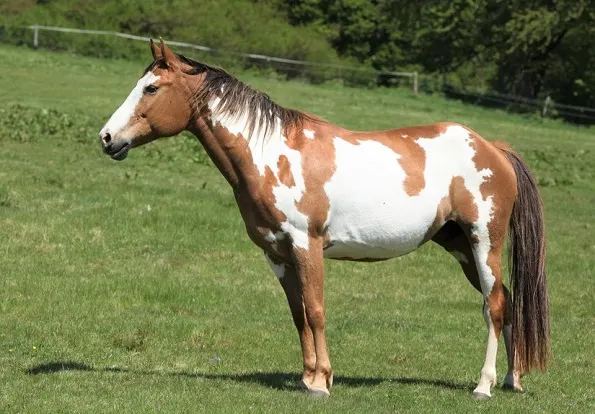 The beautiful flashy coat patterns of the Paint horse has led them to become one of the most popular horse breeds. They are known for their stocky yet athletic builds, unique coats, and well-muscled bodies.
Paint horses are known to be stars in western disciplines, however, they also shine in hunter under saddle and driving divisions. Outside of showing, they are one of the best horse breeds for trail riding, as well as being great working horses. Their easy-going attitudes and friendly demeanors make them ideal for both riders young and old.
Along with Quarter horse and Morgan, Paint horses are considered the best horses to buy for a beginner is one that is well-trained, safe, and has a calm disposition.
Tennessee Walking Horse
The Tennessee Walking horse has become a favorite among gaited horse enthusiasts thanks to their smooth running walk gait. These elegant horses are known for their chiseled heads, slightly arched necks, sloping shoulders, and long, yet refined bodies.
Tennessee Walkers stand out for their versatility both in and out of the show ring and are often sought after as trail mounts for their easy to ride gaits. As popular show horses, they often compete in saddle seat and western disciplines. Their sensible temperaments and docile attitudes make them a popular horse breed among riders of all abilities.
Miniature Horse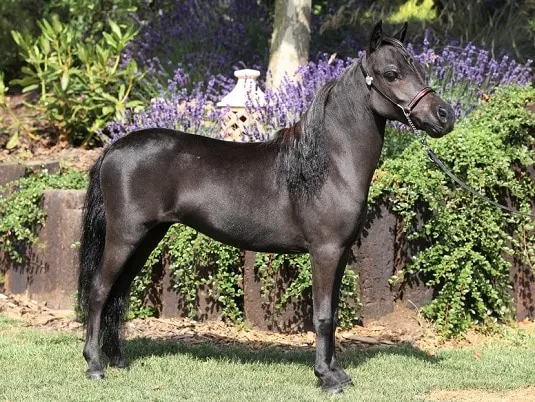 Thanks to their adorable pint-size build, Miniature horses have gained admirers all over the globe. These tiny equines were first developed in Europe in the 1600s and were commonly used in coal mines and kept as pets by the nobility.
Today, people keep miniature horses as pets, companions, and show horses, as they compete in driving and in-hand classes. Within the breed's two registries, horses will measure 34-38 inches and under, and are to be the same proportions of a full-sized light horse, only scaled down. This horse breed is gentle, friendly, and are known to be easy to train.
Appaloosa
The striking spotted coat patterns of the Appaloosa horse has led them to become one of the most popular breeds. They were developed by the Nez Perez tribe for hunting and battle, but are now commonly used for showing, pleasure, and trail riding.
Appaloosas commonly have a compact, muscular stock horse build. They are known for being athletic and resilient, which allows them to succeed in western and English disciplines. These spotted horses are willing to please and friendly attitudes makes them an ideal breed for equestrians of all ages.
American Standardbred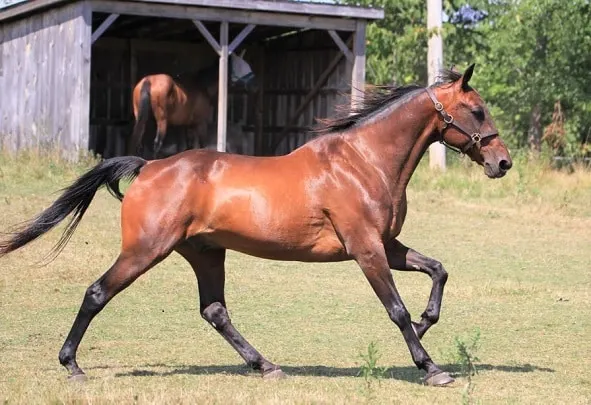 Standardbreds are best known as harness racing horses and many consider them to be the fastest trotting horses. They are separated into two groups when it comes to harness racing, trotters, and pacers.
Outside the harness racing industry, they are commonly shown in the roadster, jumping, hunter pleasure, dressage, and eventing disciplines.
Their build is similar to a Thoroughbred, but they are typically more muscled and have a longer body. Overall, they are generally calm horses with friendly personalities.
Warmbloods
Warmbloods are technically not a breed, but a group that comprises a number of breeds and types that include Dutch Warmbloods, Hanoverians, Trakehner, Holsteiners, and Oldenburgs. They are a popular horse breed in the horse sport world due to their dominance in showjumping, dressage, and eventing competitions.
Most warmbloods have open studbooks, which allows them to continually enhance the horses. In many cases, warmbloods allow stock from other similar populations that have been approved in order to improve their own stock, which is unlike "true" breeds with closed studbooks.
Almost all Olympic dressage, show jumping, and eventing champions have been warmbloods.