This post may contain affiliate links. We earn from qualifying purchases. Learn More
Phar Lap's incredible rise in horse racing from humble beginnings brought hope to the people of Australia during the early years of the Great Depression.
Phar Lap was born on October 4, 1926, in Seadown Stud on the South Island of New Zealand to breeder Alick Roberts. The chestnut Thoroughbred gelding was owned by David Davis and Harry Telford, with Telford being his trainer as well.
Despite a shaky beginning in his racing career as a two-year-old, Phar Lap went on to win 37 of his 51 starts. One of his most memorable races was his 1930 win of the Melbourne Cup.
Phar Lap's last race win was the 1932 Agua Caliente Handicapin Mexico, before his unfortunate death on April 5, 1932, in Atherton, California.
Overview of Phar Lap's stats:
| | |
| --- | --- |
| Born: | 4, October, 1926 |
| Died: | April 5, 1932 |
| Breed: | Thoroughbred |
| Sex: | Gelding |
| Height: | 17 hands (1.74 m) |
| Color: | Chestnut |
| Owner: | David Davis & Harry Telford |
| Breeder: | Alick Roberts |
| Trainer: | Harry Telford |
| Jockey: | Tom Queally |
| Sire: | Night Raid (GB) |
| Dam: | Entreaty (NZ) |
| Earnings: | 66,738 Australian Pounds |
| Race Record: | 51: 37–3–2 |
Here are 10 things you didn't know about Phar Lap.
Phar Lap Was Bought at Auction for only $336
Phar Lap was purchased as a yearling at an auction for only 160 guineas, which is the equivalent of $336. Today that would be about $700, which is a steal for a horse that turned out to be so successful.
Phar Lap was purchased for David Davis, an American entrepreneur living in Australia, by his brother Hugh. Davis had his brother purchase the chestnut yearling, who was simply listed at Lot 41, without seeing him. Sydney trainer Harry Telford persuaded Davis to buy the Thoroughbred based on his bloodlines.
When the colt arrived in Australia, he was gangly and awkward. Davis was furious when he saw the horse and refused to pay for his training. A deal was made that Telford would train the Thoroughbred for free, in exchange for a two-thirds share of his winnings. After three years, Telford became a joint owner with Davis.
His Name Means Lightning
Phar Lap's name is derived from the Zhuang and Thai word for lightning, ฟ้าแลบ or farlap. According to the Museum of Victoria, a medical student at the University of Sydney by the name of Aubrey Ping suggested naming the horse "farlap."
Telford liked the idea, but changed the F to a Ph to give it seven letters and split the name in two. He was said to do this to keep with the 'dominant naming pattern of Melbourne Cup winners.'
Phar Lap also had many nicknames given to him by his adoring fans. He was known as Wonder Horse, Big Red, Bobby and even Australia's Wonder Horse.
Phar Lap Was Tall For a Racehorse
At 17.1 hands tall, Phar Lap was taller than the average Thoroughbred, which is around 16 hands. His height gave him an advantage on the race track, as he was known for having a long stride.
Despite being gangly as a yearling, the gelding eventually grew into his height. In comparison, racing legends Man o' War and Secretariat stood at 16.2 hands tall.
Phar Lap Had an Abnormally Large Heart
Part of Phar Lap's success was due to his abnormally large heart. Phar Lap's heart weighed around 14 pounds, which is about double the size of an average horse's heart.
After his death, his heart was donated to the Australian Institute of Anatomy. It now remains on display at the National Museum Australia. The phrase 'a heart as big as Phar Lap's' alludes to his great strength, power and courage.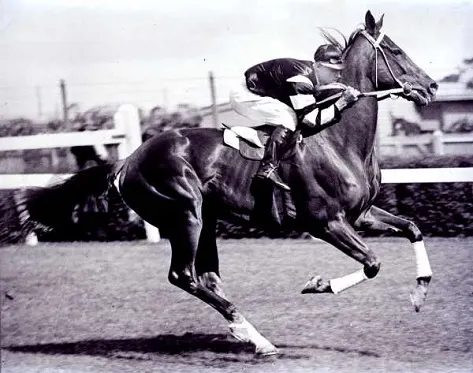 Phar Lap Set a Record at the Melbourne Cup
Phar Lap won the Melbourne Cup in 1930 by two meters. He set the record for the shortest odds winner at 8-11, which he still holds today.
The chestnut also raced in the Melbourne Cup in 1929 and 1931. In 1929, he came in third place, and in 1931 he came in eighth place. In 1931, setting one of the top weights on record for the race, carrying a whopping 68 kg, which is just under 150 pounds.
Phar Lap Had No Offspring
Despite being one of the most successful racehorses ever, Phar Lap has no offspring. The decision was made to geld him at a young age, so his only focus would be racing. Telford made the choice so the horse wouldn't get distracted by the idea of breeding during his racing career.
Phar Lap Had a Close Relationship With His Handler Tommy Woodcock
Phar Lap's best mate was perhaps his handler, Tommy Woodcock. Woodcock started as a stable boy at Telford's stable and soon grew close to the racehorse.
When traveling, Woodcock would sleep outside of the Thoroughbred's stall and would often indulge him with handfuls of sugar cubes. He even taught the horse some tricks such as sticking out his tongue on-demand and smoking his pipe.
When the gelding was in America, Woodcock served as his trainer. He was even with the gelding for the last few hours of his life.
"My friends in Australia know how I loved the horse. He was almost human, and he could almost speak. At home, they will realize what this death means to me," said Woodcock.
Phar Lap Has a Movie Based on Him
In 1983, the movie Phar Lap (also released under the title Phar Lap: Heart of a Nation) hit the big screen. The movie told the story of Phar Lap's success as a racehorse followed by his untimely death.
Featured in our list of the best horse racing movies, Phar Lap was first released in Australia before making its way to America. The American version was changed so it didn't start off with Phar Lap's death, as the American people weren't as familiar with his story.
Mystery Surrounds Phar Death
Sadly, Phar Lap died on April 5, 1932 at only five years old. Woodcock found the horse in severe pain and running a high temperature.
Within a few hours, Phar Lap died in Woodcock's arms. An autopsy was performed and it was revealed that the gelding's stomach and intestines were inflamed.
Theories of how he died began to arise, with some saying he passed away from consuming lead insecticide and a stomach condition. Others were led to believe that he was intentionally poisoned by members of a US gang. Some say that his death was the result of a tonic containing arsenic that was commonly given to racehorses.
In 2000, equine specialists concluded that the result of Phar Lap's death was likely from acute bacterial gastroenteritis. However, new technology led scientists to research the racehorse's death further in 2006. It was said that he died after consuming a large amount of arsenic.
It was thought to have been given to him by gangsters who didn't want him to inflict losses on their illegal bookmakers.
Later in 2008, samples of his mane were tested that confirmed arsenic in his system. This led some to believe that his death may have been from a buildup of arsenic over time from tonics. We may never know who killed Phar Lap or how exactly it happened.
Phar Lap's Taxidermied Remains Resides at the Melbourne Museum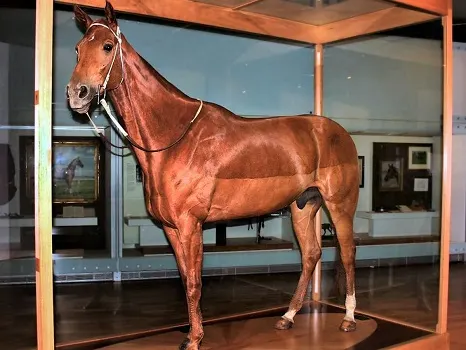 After his tragic death, Phar Lap's remains were taxidermied. After being stuffed by New York City taxidermists, his remains were sent to the Australia Gallery at Melbourne Museum where they still reside today. His skeleton was sent for display to the National Museum of New Zealand in Wellington.
Was Phar Lap Faster Than Secretariat?
Secretariat and Phar Lap were two of the greatest racehorses ever to live, who both shared the nickname Big Red. Secretariat is considered the faster of the two, as he set many records on the race track, including all three races of the Triple Crown.
Though Secretariat may be considered the fastest of the two, Phar Lap was a big weight carrier. If they were alive at the same time, a matchup between the two legends would certainly be exciting.
Who Was Phar Lap's Jockey?
Phar Lap's primary jockey was Jim Pike. Pike rode Phar Lap for the majority of his career, including his memorable Melbourne Cup win.
He was also ridden by Jack Baker, James L. Munro and Billy Elliot. Elliot was the last jockey to ride Phar Lap, after winning the Agua Caliente Handicap.
Who Was Phar Lap's Sire and Dam?
Phar Lap's sire was Night Raid and his dam was Entreaty. He had seven full siblings and several half-siblings. His half-sibling Nightmarch, was a rival of his and the winner of the 1929 Melbourne Cup.
Also read: