This post may contain affiliate links. We earn from qualifying purchases. Learn More
Horses have long held an essential place in the world of sports, labor, and leisure, with their variety and versatility being truly impressive.
One acronym that holds significant weight in the equine sphere is OTTB – a term that sparks curiosity among the uninitiated and nods of understanding from the seasoned equestrian.
But what exactly does this term signify? If you're intrigued by the world of horse racing, are interested in adopting a versatile pet, or you're simply an equestrian enthusiast eager to learn more about the different types of horses, you've come to the right place.
This comprehensive guide is designed to demystify the term OTTB, explore their characteristics, delve into commonly asked questions, and help you understand the costs associated with these unique creatures.
What Is An OTTB Horse?
An OTTB horse is also known as an off-the-track Thoroughbred, a Jockey Club registered Thoroughbred that has been retired from racing or race training. Due to the horses no longer able to race competitively, they are often sold by their race owners.
OTTB horses have not been trained for traditional riding, therefore they are often cheap. However, they need to be re-trained in order for them to make good riding horses. The Retired Racehorse Project only requires a horse to have a recorded workout to be eligible for the RRP.
How Much Does An OTTB Horse Cost?
An OTTB horse will cost on average between $1,000 to $3,000. The price of an off-the-track Thoroughbred will vary based on its race pedigree, temperament, height, and bloodline.
Why Do People Buy Off The Track Thoroughbreds?
Don't be fooled by any myths that Thoroughbreds are constantly "hot" horses and cannot be ridden by beginners. Countless riders have started on Thoroughbreds, and there are many retired racehorses teaching very young children to ride.
Many retired racehorses can make great horses for first-time owners and beginner riders. Like all horse breeds, some OTTB horses can be unsuitable and hot-headed, but no more than most common horse breeds.
Where Can I Find an OTTB Horse For Sale?
There are many ways to find an OTTB for every riding level. Well-trained OTTB horses can be found in Facebook sale groups, on popular horse-selling websites, or simply by word of mouth.
There are countless adoption agencies for matching Thoroughbreds with new homes. Groups such as Changing Saddles and CANTER offer Thoroughbreds coming off the track. These adoption agencies are fantastic resources for finding the perfect thoroughbred for any skill level.
Many Thoroughbreds who are retiring from racing are known as amateur-friendly, while some require a more experienced hand.
When searching for an off-track Thoroughbred, establishing a connection with a trainer is a wise decision. A trainer who knows your goals, ability, and budget will be able to help weed through the sea of horses to find the perfect horse.
Top Tip: Visit the TAA Accredited Organizations resource to find rehab, adoption, and sanctuary centers for OTTB horses.
OTTB Facebook Groups
There are many popular groups on Facebook dedicated to the Off Track Thoroughbred. These groups can provide a wealth of knowledge for a new Thoroughbred owner. But, like with any advice from the internet, take it with a grain of salt.
Many of these groups are frequented by track workers, exercise riders, jockeys, and racehorse owners. As a result of this, many OTTB owners love to try to find their horse's racetrack connections!
Finding people who used to work with your horse can lead to fun conversations, new friendships, and a glimpse into your horse's life on the track. These groups can also be an invaluable resource to finding videos and photos from a horse's racing career.
Another fantastic resource from social media groups is the ability to research your horse's pedigree. It's always fun to find close relatives of your horse and see what areas of riding they excel in.
It's often astonishing to see how closely related horses look alike. Many self-proclaimed pedigree experts can point a rider in the direction what bloodlines to look at for their specific discipline.
Do OTTB Horses Make Good Show Horses?
Thoroughbreds have dominated in the show ring long before warmbloods rose in popularity. True sport horses, Thoroughbreds have what it takes to turn heads and bring home the ribbons. Some of the more popular sport horses of yesteryear were thoroughbreds!
Gem Twist, who sat on many horse lover's shelves in Breyer form, was an American Thoroughbred gelding. His spectacular Grand Prix career earned him the American Grand Prix Association Horse of the Year title three times.
Touch of Class is another American Thoroughbred who dominated the show jumping ring. Ridden by Joseph Fargis, the bay mare had a brief racing career before being trained as a show jumper.
Touch of Class posted the first double clear rounds in Olympic history. She cleared 90 out of 91 jumps and brought home two gold medals.
In more recent times, Olympian Boyd Martin has also turned to retired racehorses for his choice of mounts. Olympic competitor Blackfoot Mystery had a less-than-successful racing career and retired from the track at age 3.
He found a new home at the Thoroughbred Rehab Center and it quickly became apparent that the horse was destined for great things. Boyd Martin later purchased the gelding for an astonishing $300,000.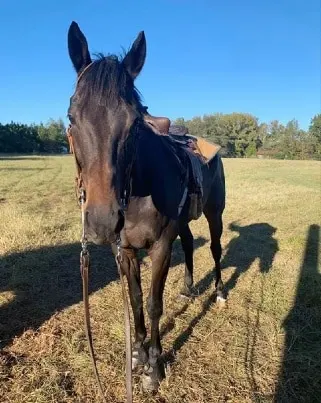 The 2018 AQHA World Champion barrel racer Fallon Taylor has also turned to the off track Thoroughbred. For the 2019 Retired Racehorse Project she purchased Cowboy Swagger from a friend of hers who knew him on the track.
Cowboy Swagger made 16 starts and earned $20,299 on the track. "I think the coolest thing about these Thoroughbreds is their demeanor," Taylor once said. Cowboy Swagger went on to be named the 2019 Thoroughbred Makeover Champion.
OTTB Clubs and Horse Shows
Even for riders who don't have Olympic aspirations, there are plenty of opportunities to show retired racehorses.
The Jockey Club has developed their Thoroughbred Incentive Program. This program, also known as TIP, recognizes shows at every level and awards points to competing Thoroughbreds.
The Jockey Club has a recreational riding division of the Thoroughbred Incentive Program for riders who don't compete. Through this program, riders log miles spent on trail rides, endurance rides, and drag-hunting events. The Jockey Club offers prizes based on total miles logged.
Perhaps the most famous Thoroughbred-only show is the Retired Racehorse Project. Competitors have 10 months to restart a horse from the track. Each October, hundreds of riders gather in Lexington, Kentucky, to showcase their horse's newly learned skills.
In the 10 years since the Retired Racehorse Project's founding, the popularity and demand for OTTBs are on the rise.
Final Thoughts
It's easy to see why a retired racehorse is a sought after horse for trail riders and Olympians alike. These fantastic horses are some of the finest that the horse world has to offer.
Their athleticism, class, heart, and determination make them trustworthy partners in any discipline.