This post may contain affiliate links. We earn from qualifying purchases. Learn More
Malcolm Beck, along with his brother Teal, joined Yellowstone in season two as power-hungry businessmen eager to take down the Dutton family dynasty.
The Beck brothers caused a lot of grief for the Dutton family, but John Dutton eventually caught up with Malcolm Beck by shooting him and leaving him to die.
Though we never see Malcolm Beck die, it is assumed he did. However, not seeing his death on screen has given rise to fan theories that he's not dead and could come back for revenge.
Malcolm Beck is played by actor Neal McDonough. He is an American actor born on February 13, 1966, in Dorchester, Massachusetts.
| | |
| --- | --- |
| Born: | 13 February 1966 (age 56 years) |
| Nationality: | American |
| Height: | 5ft 11 ¾ (182.2 cm) |
| Wife: | Ruve McDonough (m. 2003) |
| Social Media: | Instagram |
McDonough is a versatile actor, best known for acting in character roles in both film and television. He is specifically known for specializing in 'bad guy' roles. In addition, he also does voice work in animation and video games.
Notable Neal McDonough TV Shows & Movies
Star Trek: First Contact (1996) as Lieutenant Hawk
The Incredible Hulk (1996-1997) as Bruce Banner
Band of Brothers (2001) as First Lieutenant Lynn "Buck" Compton
Timeline (2003) as Frank Gordon
Desperate Housewives (2004-2012) as Dave Williams
Minority Report (2006) as Officer Gordon "Fletch" Fletcher
Flags of Our Fathers (2006) as Captain Dave Severance
Traitor (2008) as FBI Agent Max Archer
Justified (2010-2015) as Robert Quarles
Captain America: The First Avenger (2011) as Timothy "Dum Dum" Dugan
Suits (2011-2019) as Sean Cahill
Arrow (2015-2016) as Damien Darhk
Yellowstone (2018-present) as Malcolm Beck
Sonic the Hedgehog (2020) as Major Bennington
American Horror Story: Double Feature (2021) as Dwight D. Eisenhower
5 Facts About Neal McDonough
He Attended Syracuse University and the London Academy of Music and Dramatic Art
After graduating from Barnstable High School, McDonough went on to attend Syracuse University. While he received several college scholarships to play baseball, he chose Syracuse University because he thought they had the best theater program.
McDonough graduated from Syracuse University with a Bachelor of Fine Arts in 1988. He then went on to study classical theatre at the London Academy of Music and Dramatic Art.
He Has Duel Citizenship in America and Ireland
McDonough's parents emigrated from Ireland to America. His mother was from County Tipperary and his father was from County Galway.
Thanks to his Irish heritage, Neal McDonough is a citizen of both America and Ireland.
He is a Devout Catholic
McDonough is a devout Catholic and his faith is very important to him. Out of respect for his wife and his faith, he refuses to perform sex or kiss in any scenes. He even portrays Jesus in n "The Truth & Life Dramatized Audio New Testament Bible," an audiobook of the New Testament.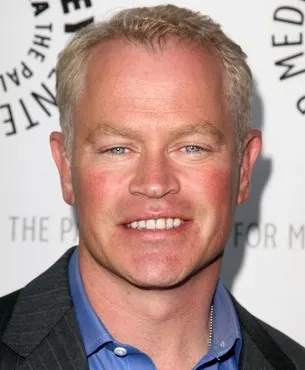 He is an Award-Winning Actor
McDonough has been acting for over 30 years. So far in his career, he has won three acting awards. His first award was the 1999 Atlantic City Film Festival Best Actor (Jury Award) for A Perfect Little Man.
He won the 2003 Satellite Award for Best Supporting Actor in a Television Series – Drama for his role in Boomtown.
McDonough also won the 2012 Satellite Award for Best Supporting Actor in a Series, Miniseries or Television Film for his role in Justified.
Also read: 10 Best Yellowstone Moments That Are Perfection
He Claims Malcolm Beck is Not Dead
According to an interview with McDonough, Malcolm Beck is not dead. While the last we saw of him was John Dutton leaving him to die from a gunshot wound, we never actually saw Malcolm die on screen.
"Malcolm Beck is certainly not dead. There have been lots of discussions about how you could ever bring Malcolm back if we did. And you know… I don't really watch any of the stuff that I do because it's always just kind of strange for me," said McDonough.
He went on to say, "the reason I don't want to watch Malcolm Beck is that I think he would just scare the heck out of me if I watched him on screen. I can't imagine what Malcolm Beck would be like after he comes back… and [gets] revenge against the whole Dutton family. I just think it would be fantastic television, but we'll see."
Also read: See the Real-Life Yellowstone Dutton Ranch Where Fans Can Stay
FAQs About Neal McDonough
Who is Neal McDonough Married to?
Neal McDonough is married to Ruvé McDonough (Robertson). Ruvé is a South African model and producer.
The couple met in the United Kingdom while Neal was filming Band of Brothers (2001). They went on to get married in 2003.
Also read: Who the Yellowstone Cast Are Dating or Married to in Real-Life
Does Neal McDonough Have Any Children?
Neal McDonough and his wife Ruvé have five children together. Their children are Morgan, Catherine Maggie, London Jane, James Hamilton and Clover Elizabeth.
Morgan was born in 2005, Catherine was born in 2007, London was born in 2010, James was born in 2011 and Clover was born in 2014.