Our readers support us. This post may contain affiliate links. We earn from qualifying purchases. Learn More
The beloved classic National Velvet first hit theaters in 1944. A favorite among horse-lovers of all ages, this fan-favorite movie is based on the 1935 novel, which is its namesake.
National Velvet embodies the dreams of every young equestrian. In the film, the glamorous Elizabeth Taylor portrays Velvet Brown, a young horse-crazy girl who wins an unruly gelding in a raffle, whom she names The Pie. After enlisting the help of jockey Mi Taylor (Mickey Rooney) the pair set out to train the handsome yet challenging horse for the world-famous Grand National.
Included in our list of the best horse movies, it proved to be a huge hit and won two Oscars in 1945. In addition, the United States National Film Registry selected the movie for preservation due to it being "culturally, historically, or aesthetically significant." Today, National Velvet is still a must-watch for equestrians everywhere.
Here are eight facts about the National Velvet movie.
1. King Charles, Who Played The Pie, Was a Grandson of Man o' War
The Pie was portrayed by King Charles, a stunning seven-year-old chestnut Thoroughbred. His grandsire happened to be the legendary Man o' War, making him a cousin to Seabiscuit.
Elizabeth Taylor first met King Charles while visiting the Rivera Country Club. His original owners had trained him as a showjumper. Taylor fell in love with the beautiful Thoroughbred, so MGM acquired him for $800.
In order to prepare for her role, Taylor spent countless hours riding, caring and bonding with King Charles. She would take 90-minute riding lessons and help with his care at the instruction of Riviera Country Club and Dupee Stables in Hollywood.
2. Elizabeth Taylor Broke Her Back While Filming a Riding Scene
Elizabeth Taylor did most of the riding scenes herself. In one scene, however, she took a nasty tumble that actually broke her back.
Fortunately, at the time, Taylor was able to quickly recover from her injury. However, the injury would come back to haunt Taylor later in her life, causing her suffering.
3. King Charles Was Supposedly Difficult to Work With, Except for Elizabeth Taylor
On set, King Charles was reportedly aggressive with his handlers. He would regularly bite crew members and at times, was simply a terror to work with.
Supposedly, King Charles once took "a hunk of shoulder" from a trainer who worked with him during filming. However, despite his antics, King Charles got along wonderfully with Taylor. In fact, the pair formed a tight bond while filming.
4. Monty Roberts Claims He Was a Stunt Double for Elizabeth Taylor
Many people know Monty Roberts as a world-renowned horse trainer. However, Roberts claims he worked as a stunt double for Taylor in National Velvet.
Monty claims that as a young boy he wore a wig to fill in as Taylor's stunt double in certain riding scenes. However, his younger brother Larry claims that Monty did not do any stunt riding for the movie and that Billy Cartlidge was Taylor's stunt double.
Also, read our guide 10 facts you didn't know about Monty Roberts.
5. After Production Was Completed, Elizabeth Taylor Was Gifted King Charles
Despite her back injury, Taylor had a close relationship with her equine co-star during the entire filming process. Once the production of the film was complete, Louis B Mayer gifted Taylor King Charles for her 13th birthday. The dashing Thoroughbred remained with Taylor for the rest of his life.
"He was given to me on the last day of shooting and it is a memory that I cherish. There never was a sweeter, more noble animal, and caring for him was a great source of responsibility and happiness. We trusted each other. We loved each other. He lived at stables in Pacific Palisades, California, and I rode and visited him whenever I could. Every little girl deserves the kind of miracle experience that I enjoyed while doing National Velvet and bonding with that magnificent soul. My heart still swells whenever I think of him, and I still do — often," Taylor told Cowboys & Indians magazine.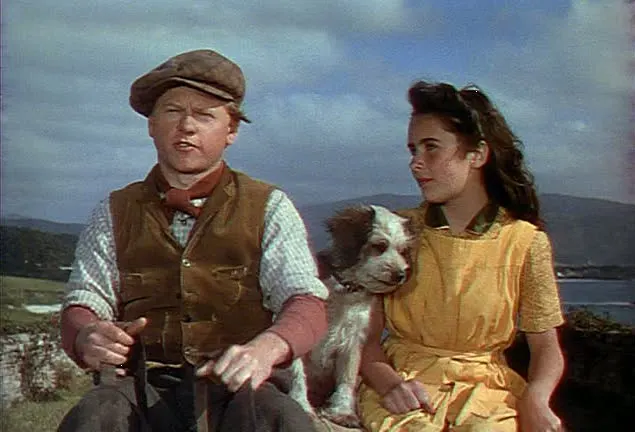 6. Mickey Rooney Had to Film All His Scenes in a Month
Mickey Rooney had just one month to complete all of his scenes for the movie. This was due to the fact that he had to report to basic training in order to serve in WWII.
Rooney served for more than 21 months for the United States Army. His duties included entertaining the troops in America and Europe in Special Services. He even won a Bronze Star Medal for entertaining troops in a combat zone as a radio personality on the American Forces Network.
Test yourself with our horse movies quiz after this article!
7. The Racecourse Map Used in the Film is an Accurate Depiction of the Actual Grand National Course
During the movie, Mi Taylor shows Velvet Brown a map of the racecourse The Pie is set to run. The map they used was an actual map of the Grand National, which takes place at Aintree Racecourse in Liverpool, England.
The Grand National takes place every April since its inception in 1839. This exhilarating steeplechase is "the ultimate test for horse and rider." Like the film depicts, the course does include the Beecher's Brook jump and a Canal Turn jump, which is notorious for its sharp left turn.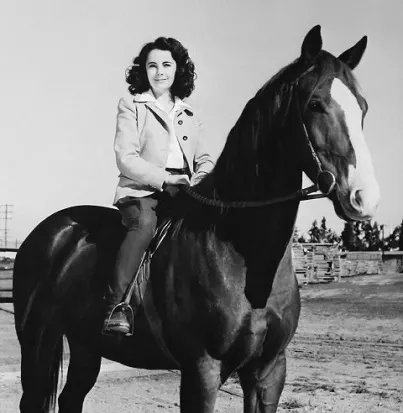 8. The Mechanical Horse Prop Used in Close Up Shots Was Later Used for Sleepy Hollow
Though King Charles starred as The Pie in many scenes throughout the movie, production had a mechanical prop horse for close-up shots. This same mechanical horse was refurbished and used for the 1999 movie Sleepy Hollow 55 years later.
Frequently Asked Questions
How Old Was Elizabeth Taylor in National Velvet?
Elizabeth Taylor was just 12 years old during the filming of National Velvet. Originally, eighteen-year-old Gene Tierney had been set to play Velvet Brown, but when the film became delayed she signed a contract with Twentieth Century Fox.
Taylor committed to her role at Velvet. At first, producer and director Clarence Brown said that Taylor was too "boyish" for the role. This only motivated the actress more, so she ate steak every day and doubled her meal portions.
In addition, she rode on a regular basis in order to train for the movie. Her dedication paid off, as within three months Taylor grew three inches and matured in appearance.
Where Was National Velvet Filmed?
Though National Velvet takes place in England, most of the movie was filmed in Pebble Beach, California. Other filming locations include Rustic Canyon, California and Calabasas, California.
Where Can I Watch National Velvet?
You can watch National Velvet on Amazon Prime Video, Google Play, iTunes and Vudu.
How Did The Pie Get His Name in National Velvet?
In the book, The Pie was a piebald, hence why he had the name The Piebald or The Pie for short. However, since King Charles was a chestnut, the movie gave a different reason as to why his name is The Pie.
In the movie, his first owner dubbed him as "a pirate not deserving of a name". After escaping from his pen, Velvet Brown stopped him and gave him the name The Pie.
Also read our other fun fact guides on other horse movies such as The Horse Whisperer, The Black Stallion, and Ride Like a Girl. Don't forget to test yourself on our horse movies quiz too!