Our readers support us. This post may contain affiliate links. We earn from qualifying purchases. Learn More
To all existing Heartland fans out there, this lovable character needs no introduction.
If you're new to Heartland, Scott Cardinal is a long-term friend of the Heartland family and the only veterinarian on the ranch.
Nathaniel Arcand is a Canadian actor of Nēhilawē (Plains Cree) heritage who plays Scott Cardinal in the hit TV series Heartland. He was born in Edmonton, Canada, and grew up in the Alexander First Nation Reserve.
| | |
| --- | --- |
| Born: | November 13, 1971 |
| Birthplace: | Edmonton, Alberta, Canada |
| Nationality: | Canadian |
| Height: | 180 cm (5'11") |
| Star Sign: | Scorpio |
Over his 30 years in the acting industry, Arcan has accumulated an impressive stack of credits. He has starred in a lot of First Nations-themed films and series, such as Grey Owl (1999), Two Indians Talking (2010), or Blackstone (2011-2015).
He is most known for his roles in North of 60 (1992-1997), FBI: Most Wanted (2020- ), and, of course, Heartland (2007- ).
Here is our ultimate fans guide to Nathaniel Arcand, a.k.a. Scott Cardinal from Heartland!
*Warning: Heartland Spoilers Ahead*
Nathaniel Arcand Has Been Acting Since the Age of 15
As he told APTN National News, Bruce Lee's performance in Chinese Connection (1972) inspired Nathaniel Arcand's acting career. Bruce has always been his role model and growing up, Arcand wanted to be just like him.
In a CBC Q&A with fans, Arcand revealed that from the age of 15, he was actively performing in the theater and taking drama classes. It wasn't until four years later that he began building his portfolio in the film & television industry.
Like most other actors, Nathaniel Arcand started small and gradually worked his way up to where he is now. He played smaller roles for local independent filmmakers until he was cast in the hit CBC series North of 60. It was at this point that Arcand's professional acting career started to take off.
After his breakthrough, Nathaniel Arcand landed several guest appearances in shows like Due South (1994-1999), Caitlin's Way (200-2002), or Jeremiah (2002-2004). He suddenly found himself acting alongside Hollywood royalty such as Luke Perry or Nicholas Campbell and never looked back.
And why would he? Through his job, Arcand gets to see the world, meet a lot of interesting people and above all, do what he loves every day. And because a good student never stops learning, he still takes acting classes and even found time to teach others.
He is an Award-winning Actor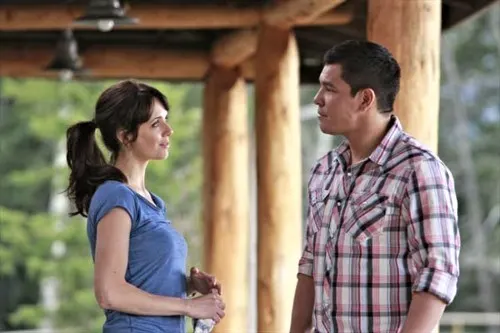 Naturally, all of Nathaniel Arcand's hard work didn't go unnoticed. He has received two awards and four nominations, which further increased his worth as an actor.
For his performance in the North of 60 episode "Traces and Tracks", Arcand received a Gemini Award nomination (the Canadian equivalent of the Emmy Awards) in 1997. At the 2005 American Indian Film Festival, he was awarded in the category of "Best Supporting Actor" for his role in Johnny Tootall (2005).
Next year, his work was acknowledged with a Performing Arts Award at the Aboriginal Role Models of Alberta ceremony.
In 2010, Nathaniel Arcand received two nominations in the category of "Best Actor" for his performance on Two Indians Talking. Another nomination followed in 2016 for "Best Actor" by the Alberta Motion Picture Industry Awards, this time for his role on The Northlander (2016).
He is Also a Director and Producer
As it turns out, acting is not Arcand's only area of expertise. He has also been experimenting with directing and producing and has even tried out stunt performing in the past!
According to APTN National News, Nathaniel Arcand has written and directed his own movie Sister, Daughter (2017). It's a very emotional story about missing and kidnapped Aboriginal women told from a male perspective.
What's more, he was the director of the APTN kid's TV show Coyote's Crazy Smart Science Show (2017) for six episodes. He has also contributed to APTN's Quest OutWest: Wild Food (2015- ) show as a director. One episode he appears in has even been nominated for a Leo Award!
Nathaniel Arcand Has Been on Heartland Since Day 1
Scott Cardinal has certainly been one of Nathaniel Arcand's longest-running roles. Ever since Season 1 Episode 1, "Coming Home," his character has consistently appeared in every season of Heartland, up until Season 14.
With that being said, we see far more of Scott before Season 11, as Ty has now taken over vet duties on the ranch.
On the show, Scott's backstory is strongly linked to the Bartlett-Fleming clan. In the past, Scott was rescued from the streets by Amy's mom Marion, who dies in the first episode. Thanks to Marion, he was able to earn a living as a ranch hand and later become a veterinarian.
During his time with the Heartland family, Scott also got together with Lou, but they split up when Lou went to university. We see this old relationship rekindle in the show's early seasons when Lou moves back from New York.
In the meantime, Scott becomes a high-demand veterinarian in High River who will mentor new members of the Bartlett-Fleming clan.
Despite his popularity with fans, Scott's face time on the show has gradually declined over time. Arcand has talked about this with APTN National News, saying that it happens to everyone who's not part of the main cast for Heartland.
However, he's grateful for all the positive feedback from fans, especially young girls who see his character as a role model. He has even inspired some of them to become large animal vets!
Nathaniel "cares for everyone and every living thing"
It turns out Scott is not only an inspiration to fans but also to the actor himself. "I always have thought of Scott as the person I would truly want to be as a human being who cares for everyone and every living thing," he told Horse Canada.
He goes on to say how Scott always stays true to his roots and is the one person others can always count on.
How similar are Scott Cardinal and Nathaniel Arcand in real life? Quite similar in character, according to the actor. While Arcand knows nothing about being a vet, he and Scott love horses and are good, kind souls.
What a shame it would be if this lovable character were to disappear from the show! Especially after Season 14, we all need someone like Scott to lighten the mood. Now that Ty's gone, he should really be resuming his vet duties on the ranch.
Either way, Nathanial Arcand has had a great run on Heartland. The most challenging scene for the actor to film was the plane crash back in Season 3, as it was very physically demanding.
Other than that, he loved the atmosphere of the set and working with the cast & crew, who always felt like a big family to him.
He Loves Being Around Horses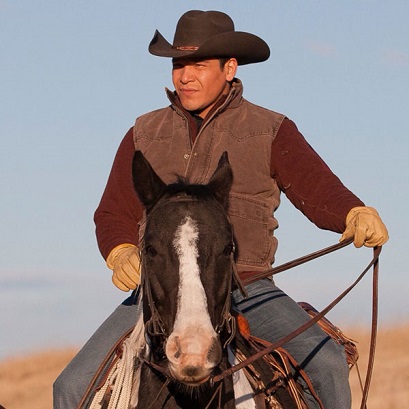 Not many Heartland actors come on the show as experienced horse people, but Nathaniel Arcand is one of them.
Since his father's side of the family have had horses for generations, Arcand was exposed to them at a young age.
He told Horse Canada, "Since the very first horse I laid eyes on, I was drawn in immediately and needed and loved being around them."
How delightful! Our favorite vet on Heartland loves horses in real life. He even contemplated what his life would be like if he went to vet school instead of becoming an actor.
Working with horses was also one of his favorite things about being on Heartland. Although his character doesn't ride much on the show, at least he takes care of horses which is still a dream come true for Arcand.
Throughout his career, Arcand has been in many horse-related shows, such as Longmire, Caitlin's Way, or American Outlaws. Whenever the opportunity arises to combine his passion for the craft and horses, Arcand surely doesn't think twice about it.
Also read: Heartland Actors Who Live Like Their Characters in Real Life
Is Nathaniel Arcand Married?
Nathaniel Arcand is married to Jolene Arcand. They got married on December 5, 2016. Together, they have three children and two grandchildren.
Before Jolene, Nathaniel Arcand was married to Shar Arcand, an artist and event planner who is the mother of all his children.
The actor has one daughter Trisha and two sons, Jaden Plaizier and Griffin Powell-Arcand, from his past marriage. His youngest son Griffin followed in his father's footsteps and became an actor himself.
Does Lou Marry Scott on Heartland?
Lou Fleming and Scott Cardinal have been friends since childhood and even went to the same class in high school. They dated as teenagers and also as adults, always supporting each other no matter what.
Unfortunately, Lou Fleming doesn't marry Scott on Heartland. In Season 2, Episode 4, Lou proposes to Scott, but Scott says no and suggests they should take a break instead.
Later in the series, we learn that Scott regretted his choice many times. When his plane comes down in Season 3 Episode 9, "Broken Arrow," he even told Ty how letting Lou go was the biggest mistake he ever made.
Despite so many fans rooting for Lou and Scott, the writers decided to take the show in a different direction. Even Scott's actor Nataniel Arcand hoped they would end up together but instead was forced to the sidelines.
"Scott will never stop loving Lou," the actor told a fan on CBC's Q&A session, saying that he will always be there for her.
Here is Lou Fleming and Scott Cardinal in a short scene on Heartland:
Does Scott Ever Marry on Heartland?
We don't find out if Scott ever marries on Heartland. In Season 11, Episode 13, "Reunion," Scott and Lou share a kiss, which suggests that Scott is probably not married at that point.
After Lou and Scott break up in Season 2, we don't really know much about the vet's personal life. In Season 5, Episode 16, "Wild Horses," Scott flirts with April Goodstoney, a woman he's known for a long time, but that's about it.
It would be interesting to find out who Scott ends up with since he's been part of the Heartland family for so long.
Also, read our similar guide on Michelle Morgan who plays Lou Fleming on Heartland.
7 More Facts About Nathaniel Arcand
In his spare time, he likes singing and playing the guitar
Occasionally, he plays music gigs in bars
He likes to eat sour soothers and frozen mangoes for no reason
If he wasn't an actor, he would be an environmental engineer
In the 2004 First Nations mini-series Dreamkeeper, he even acted alongside his son Griffin
His favorite music is old country and rock 'n roll
He is a very spontaneous person
You can follow Nathaniel Arcand on Facebook, Instagram, or Twitter.
Also read: