This post may contain affiliate links. We earn from qualifying purchases. Learn More
Cowboy hats can cost a small fortune, but have you ever wondered how much the most expensive cowboy hat sold for?
The most expensive cowboy hat ever cost $1 million to make and was worn by Lady Gaga was at the 2016 Victoria's Secret Fashion Show.
John Wayne's cowboy hat he wore in Big Jake, The Train Robbers, and The Cowboys also sold for a hefty price. In 2011, the legendary actor's signature cowboy hat sold for $119,500 at auction.
What Made the Most Expensive Cowboy Hat So Special?
Lady Gaga is famous for her bold and memorable fashion choices. She wore one of her most iconic outfits at the 2016 Victoria's Secret Fashion Show. The outfit included a stunning strapless sequin jumpsuit, bold platform ankle booties, and a one-of-a-kind black cowboy hat.
The black cowboy hat, which is valued at $1 million, was created by designer Gladys Tamez Millinery. The impressive hat took 10 people more than 300 hours to create.
Bold, elegant, and a true fashion statement, the hat has it all. The black hat features fringe made of hanging crystal strands that were all carefully hand-beaded. An incredible 45,700 Swarovski crystals gracefully adorn the show-stopping hat.
Also read: 10 Cowboy Superstitions That Are Still Practiced Today
Most Expensive Cowboy Hat Brands
There are countless cowboy hat brands on the market, with prices that range from $15 to the thousands.
The most expensive cowboy hat brands include American Hat Company, Stetson, JW Brooks Custom Hats, Resistol, and Larry Mahan.
American Hat Company began making top-quality cowboy hats in 1915 in Huston, Texas. They combine style, durability, and quality to create the iconic American cowboy hat. American Hats partners with some of the biggest names in the industry including PBR, AQHA (American Quarter Horse Association), Josey Ranch, and Jr. Rodeo.
Stetson is famous for being the maker of some of the most expensive and luxurious cowboy hats in the world. They use only the finest furs in the world to create their felt hats including beaver and chinchilla fur.
Since 1865, Stetson have outfitted celebrities such as Annie Oakley, Dua Lipa, Beyonce, and Gigi Hadid with their iconic hats.
If you are wanting a hat made custom for you, JW Brooks is the way to go. They handmake all of their hats using only the finest felt from beaver, mink, and chinchilla fur. Hats are custom made for each client's needs and can even be embroidered for a truly special finish.
Since 1927, Resistol has been handcrafting cowboy hats in Garland, Texas. They partner with some of the biggest names in country music including Jason Aldean, George Strait, and Cody Johnson. They design their hats with the hardworking cowboy in mind, making them practical and durable.
Larry Mahan is a former professional rodeo cowboy and now a maker of high-quality cowboy hats. During his career, he won six World All-Around Championships and two Bull Riding World Championships in the Professional Rodeo Cowboys Association. His hats are carefully handcrafted using only the finest felts and leather.
Also read: 8 Most Expensive Cowboy Boots Ever
Most Expensive Cowboy Hats For Sale
When it comes to buying a cowboy hat, most people will spend under $200-$300. These are a selection of the most expensive cowboy hats you can buy outright if you want the best of the best.
6. American Hats 500X Pecan – $1,259.99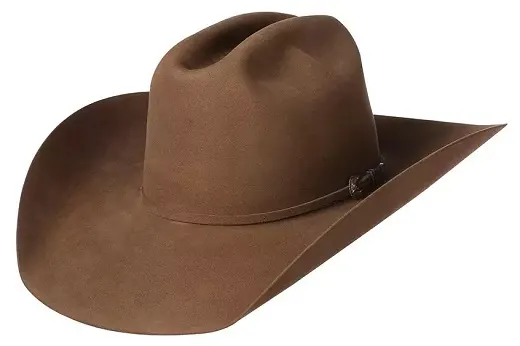 With top-quality craftsmanship, this sleek-looking cowboy hat is great for any occasion. The open crown style is a timeless style that is the epitome of western chic.
The hat is made from exceptional 500X felt that includes a blend of fur from rabbit, mink, and beaver. Expert artisans carefully handcraft this hat to every customer's satisfaction.
An elegant felt hatband features a dainty buckle that is beautifully carved. Every hat is hand-shaped to the customers' specifications.
5. Resistol Pure – $1,325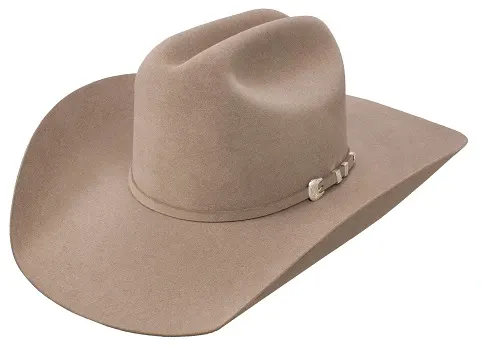 The epitome of classic western style, this cowboy hat is made to order in America. Thanks to the beautiful natural felt color, it makes a versatile addition to your wardrobe.
The felt on this hat is 100% beaver belly fur that comes from hand-selected pelts. A felt hatband is also included and features a beautiful buckle. The buckle consists of four pieces of genuine sterling silver that are meticulously carved.
The inside of the hat has a genuine roan leather sweatband. Each hat even comes with its own travel case.
4. Stetson El Amo – $1,620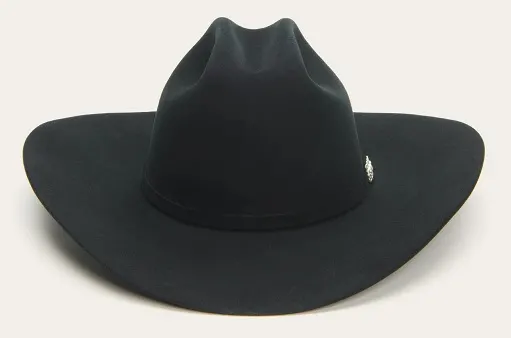 This expensive cowboy hat takes nearly two days to create with many steps to ensure only the highest quality. With a cattleman crown, it offers a style that will never go out of fashion.
The hat is made from premium 500X fur felt that is of the highest quality. A self-felt hatband is dyed to the same distinctive hue as the body for an elegant touch. The hatband features a three-piece buckle set made of solid 10-karat gold and silver.
The inside of the hat is lined with satin and includes a leather sweatband. Each hat is handmade in Garland, Texas, and includes a carrying case.
Also read: Why Are Stetson Hats so Expensive?
3. 1000x Larry Mahan Imperial Hat – $2,499.99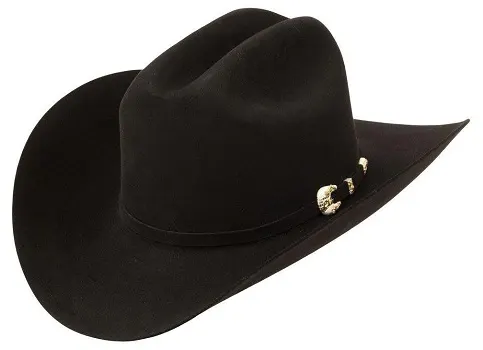 This exquisite cowboy hat is made to order in America. The stunning black felt makes it ideal for formal wear or even wearing to rodeos.
The hat uses the very best 1000x genuine mink for superior style and durability. A matching hatband includes a dashing three-piece buckle set. The buckle is set in sterling silver and gold with gorgeous genuine diamonds.
The inside of the hat includes a woven lining and a tooled leather sweatband. Every hat comes with a stunning handcrafted carrying case.
2. American Hats Silver Belly 1000X – $2,569.99
Perfect for rodeos or going out, this high-end hat is a cowboy's dream. The stunning silver belly felt pairs beautifully with many different outfits.
The 1000X felt is top of the line and comes from American minks. A matching hatband neatly sits on the hat with a dazzling three-piece buckle. The buckle includes gold and diamonds for high-quality luxury.
A genuine leather sweatband graces the inside of the hat. The hat is crafted in America by exceptional hatmakers.
1. Stetson Diamante Premier Cowboy Hat – $5,500
It takes a two-day process and numerous steps to create the masterpiece that is the Stetson Diamante Premier cowboy hat. Each hat is carefully made to order in America by some of the best hatmakers in the world.
The hat is made from the best 1000X felt in the world that comes from genuine chinchilla and beaver. The gorgeous silver belly color exudes elegance and quality. A felt hatband includes a state-of-the-art 14K gold buckle set with 26 genuine diamonds.
Inside the hat, there is a satin lining and a genuine sheepskin leather sweatband. Every purchase comes with a stunning leather carrying case that includes a lock.