Our readers support us. This post may contain affiliate links. We earn from qualifying purchases. Learn More
Cowboy boots can get pretty expensive, but have you ever wondered how much the most expensive cowboy boots sold for?
The most expensive pair of cowboy boots sold for a whopping $106,000 and took over 800 hours to create. These pricey cowboy boots shattered the previous record that was set in 2006 when a pair of cowboy boots sold for $75,000 from Tres Outlaws in El Paso, Texas.
The cowboy boots from Tres Outlaws took 100 hours to design, 300 hours to hand-carve, 200 hours to dye, and included $18,000 worth of gold and silver coins.
What Made the Most Expensive Boot Ever Sold so Special?
What exactly makes a pair of cowboy boots worth $106,000? It is a combination of the world's best materials, craftsmanship, and 800 hours of labor.
Howard H. Knight created incredible cowboy boots known as the "Phantom Boots" in Stevensville, Montana.
Knight, who is famous for designing over-the-top cowboy boots, went all out for the creation of the Phantom Boots. They feature impeccable attention to detail and use only the very best materials from around the world.
The Phantom Boots were named so because of the unique floral carvings which appear to be floating all around the boots. Each leather flower has six coats of coloring with a different shade of gray for each one to give it depth and definition.
The back of the flowers are designed to rise up off the back of the boots and each one has an 18kt white gold flower in the center. The unique design stands out unlike any other boots in the world.
For the background of the boot, saltwater crocodile leather obtained from the Hermes factory in Paris was used. The interior is lined with exotic black kangaroo leather.
Most Expensive Cowboy Boot Brands
The most expensive cowboy boot brands are Howard Knight Custom Leather, Lucchese, Tres Outlaws, Stallion Boots & Leather Goods, and Black Jack Boots. These brands offer high-end cowboy boots with prices in the thousands.
Howard Knight Custom Leather, the maker of the most expensive cowboy boots ever sold, makes one-of-a-kind boots and leather goods. However, you won't find this brand in stores, as every item is custom-made.
Since 1883, Lucchese has been creating high-end cowboy boots from the very best materials and experienced craftsmen. Several steps go into creating their magnificent boots, as they don't take any shortcuts. Though they do have boots under $1,000, some of their creations cost over $14,000.
Creator of the second most expensive boots to ever sell is Tres Outlaws. Tres Outlaws houses the only master bootmakers in the world. They handmake every aspect of the boot using only the best materials in the world, with their boots only being available in-store or by custom order.
Handcrafted in El Paso, Texas, Stallion Boots & Leather Goods is a favorite among the rich and famous. Their products are worn on runways from Milan to Paris. They handcraft all their boots from a variety of different types of leather.
Black Jack Boots offers a wide array of cowboy boots featuring some of the most expensive and unique exotic leathers in the world. Their boots are available at a limited selection of retailers, along with having their own line of custom-made boots.
Also read: 6 Most Expensive Cowboy Hats Ever Sold
8 Most Expensive Cowboy Boots For Sale
8. Black Jack Nile Crocodile Belly El Patron – $4,987
Handcrafted in America, these Black Jack boots come in with a price tag of $4,987. These sleek black boots have a simple yet sophisticated design.
The leather on these comes from exotic crocodile hide that creates a classy look. For the exact fit and look you want, you can choose the size, width, heel height, toe shape, and color. They are the epitome of high fashion, as they will pair perfectly with a suit or blue jeans.
For your comfort, the boots can also include a sole saver for an additional $23. Their classic design makes them a versatile addition to any wardrobe.
7. Black Jack Natural Alligator El Patron Cowboy Boots – $4,997
Another popular Black Jack style, these bold boots will cost you $4,997. They feature authentic texture and style from genuine alligator leather.
The alligator leather on these comes only from American alligators. Thanks to Black Jack's exclusive tanning process, you will not find boots like these anywhere else. They are carefully handcrafted in America by expert bootmakers.
Straight from the bayou to your wardrobe, these cowboy boots are sure to make a fashion statement. The natural leather still has the authentic appearance and texture of alligator skin.
6. Chocolate Majestic Crocodile Buffalo Boots – $ 5,350
Coming in at $5,350, these Stallion brand boots have a fun yet classic look. Each pair is made in El Paso, Texas by expert artisans.
The boots are a combination of alligator and buffalo leather. The shaft features an elegant hand-done stitch pattern and buck lacing along side seams. For all-year-round wear, they have lemonwood-pegged leather soles that allow for natural weather-induced expansion and contraction.
These boots are ideal for everyday wear and special occasions. Their vintage look is a fashion-lovers dream.
5. Lucchese Colton – $6,495
Luxurious with an authentic western look, these stunning cowboy boots cost $6,495. Each pair is handmade in Texas by highly trained bootmakers.
The boots use authentic American alligator leather that is beautiful, durable, and pliable. The shaft features simple yet classy decorative stitching. For greater comfort and support, bootmakers use the old-world technique of constructing the boot's interior with a hung vamp.
Bootmakers use genuine lemonwood pegs to secure the boot's steel shank to the sole for overall better construction. The chocolate brown leather is the perfect shade to match your best pair of blue jeans.
4. Lucchese Forde – $6,995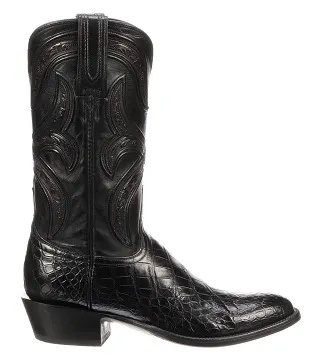 With a price tag of $6,995, these Lucchese boots are the epitome of elegance. Their sleek black design makes them the perfect choice for formal occasions.
Handmade in Texas, these boots have beautiful American alligator leather. They also use lemonwood pegs to secure the steel shank to the sole for superior comfort and support. Every pair is made with tried and true old-world techniques for an authentic product.
The shafts in these boots feature detailed tooling and precise stitching. They are soft and pliable while still being durable and comfortable.
3. Stallion Boots Full Crocodile Majestic – $9,995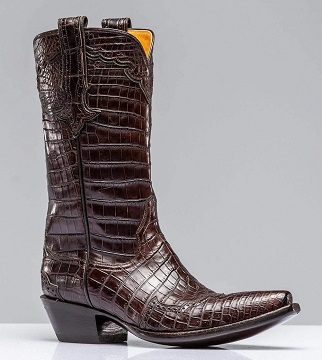 Coming in at a hefty price tag of $9,995, these expensive Stallion cowboy boots have a modest design that allows you to pair them with many different outfits. Their simple design is clean, classic, and fashion-forward.
Each pair uses only the finest alligator skin in the world. Artisan experts handcraft every pair in Texas, paying close attention to detail throughout each step. The leather soles are lemonwood-pegged to allow natural weather-induced expansion and contraction.
The chocolate crocodile leather is a timeless design that offers natural durability and comfort. They feature a scalloped wingtip and heel counter with double-layer leather for sturdiness and style.
Also read: 10 Cowboy Superstitions That Are Still Practiced Today
2. Lucchese Baron – $14,995
For a whopping $14,995 you can be the owner of a pair of Lucchese Barons. The Baron has been a staple style at Lucchese for generations.
The rich black cherry color pops while not overpowering the rest of your outfit. They are timelessly chic with a traditional western style that any cowboy can rock. The boots are handmade in Texas with the very best American alligator skin that money can buy.
To make them, bootmakers combine old-world techniques with modern craftsmanship. They include features such as a hung vamp, lemonwood pegs, hand-sewn seams, and stacked leather heels.
1. Jack Armstrong Cosmic Cowboy Boots – $6 Million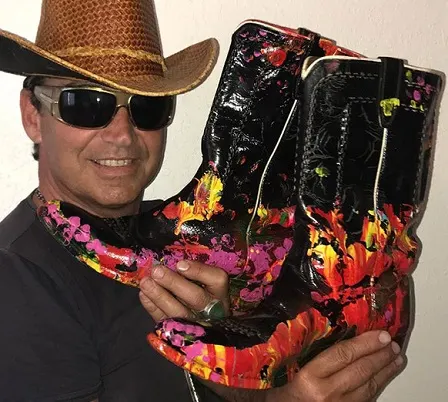 If you are wanting to own a piece of history and art, then the Jack Armstrong Cosmic Cowboy Boots are the right choice for you. That is if you have a spare $6 million sitting around.
Artist Jack Armstrong painted these boots using his very own style known as Cosmic Extensionalism or "Cosmic X." The boots feature bright splashes of vibrant colors and textures special to Armstrong's artistic creativity.
For a unique and one-of-a-kind touch, Jackson put in his own hair, fingerprints, and DNA while creating this project. This is a technique he does to all of his work to truly add his own personal touch.
The boots Armstrong used for his masterpiece are a pair of 1968 Tony Lama boots that are in perfect condition. The opportunity is awaiting you to break the record for the most expensive cowboy boots ever sold.