Internationally renowned for his natural horsemanship techniques, Monty Roberts is one of the most famous horse trainers and clinicians in the world. Ever since a young age, horses have played a large role in his life.
Monty Roberts was born on May 14, 1935, in Salinas, California. He grew up in a family of horsemen, as his father was also a horse trainer. At just four years old, he competed in his first rodeo and even won a trophy.
Horses continued to play an important part in his life growing up. After not seeing eye to eye with his father's harsh training methods, Roberts vowed to seek better methods for his horses. After carefully studying the body language of horses, he began Join-Up International to share his training program which encourages true partnership between horses and people.
Stats about Monty Roberts:
| | |
| --- | --- |
| Height: | 1.79 m |
| Nationality: | American |
| Born: | May 14, 1935 |
| Spouse | Pat Roberts |
| Occupation: | Horse trainer |
| Net Worth: | $8m - $10m |
Here are 10 facts about Monty Roberts:
1. At the Age of 13, He Began Observing How Mustangs Behaved
When Roberts was 13 years old, he was sent by the Salinas Rodeo Association's Wild Horse Race to observe wild Mustangs in Nevada. He spent hours watching and closely studying the body language of the horses.
The experience was life-changing for Roberts. He understood that utilizing silent body language would let training become more effective and humane, encouraging a healthy partnership between horses and people. The body language he learned inspired him to implement new training methods, which are the foundation for his program Join-Up.
2. Monty Roberts Rode for California Polytechnic State University's Rodeo Team
Roberts continued his riding career through college. While attending California Polytechnic State University he joined their rodeo team.
While on the rodeo team, he won two National Intercollegiate Rodeo Association (NIRA) National Championships. In 1956, he won the NIRA Champion Team Roping and in 1957, he won the National NIRA Champion Bulldogger. He graduated from California Polytechnic State University in 1959 with a degree in animal science.
3. He Believes Horses Communicate Using a Non-Verbal Language He Calls "Equus"
After observing and working with numerous horses, Roberts concluded that they communicate by a non-verbal language he calls "Equus." Roberts frequently refers to Equus in his videos and books. He believes that it is a horse's natural communication system.
4. He Strongly Disagrees With His Father's Training Methods
Roberts strongly disagrees with the training methods his father used on horses. His father, Marvin E Roberts, published his own book in 1957 called Horse and Horseman Training.
His father relied on traditional training methods which Monty describes as violent and often not fair to the horse. Throughout his childhood, his father would resort to violent discipline on Monty through force and pain. His father expected him to follow in his footsteps, but Monty vowed to seek better methods for the sake of his horses.
5. His Autobiography, The Man Who Listens to Horses, Spent 58 Weeks on the New York Times Bestseller List
In addition to being a talented horse trainer, Roberts is also a successful author. His most successful book, The Man Who Listens to Horses, spent a phenomenal 58 weeks on the New York Times Best Seller List.
The Man Who Listens to Horses is an autobiography that details his deep love and understanding of horses. In the book, he discusses relationships he's had with various horses as he describes communicating with them by "a silent language of gestures like signing for the deaf." Over 8 million people have read his inspirational biography.
Find Monty Roberts' autobiography here on Amazon.com.
His other published work includes Horse Sense for People, The Horses in My Life, and Shy Boy: The Horse That Came In From the Wild, which is another New York Times Best Seller. Shy Boy became so popular that he even has other books about him as well.
6. Monty Roberts Has Traveled All Around the World to Promote His Training Program, Join-Up International Organization
Roberts has traveled all across the world to educate people on better connecting with their horses using non-violent methods. His methods allow horses to perform closer to their optimum levels, as they are eager to perform rather than forced to.
With his program Join-Up, Roberts is committed to help people train and create relationships with horses in a non-violent manner. He coined the term Join-Up based on the "moment when the horse decides that it is better to be with the person than to go away."
Roberts, who has won 11 world championships in different disciplines, has worked with some of the top horse trainers in the world. Two-time World's Greatest Horseman winner Ron Ralls uses Roberts methods in his training. Olympic gold medalists Will Simpson, showjumping and Charlotte Dujardin, dressage, even use Roberts' methods with their horses.
In addition to performing in front of audiences of eager horse owners, Roberts has also volunteered his skills. He has even performed for incarcerated youth in juvenile detention facilities.
7. Monty Roberts Performed for the Queen
As Roberts began to gain attention across the world for his unique and effective training methods, Queen Elizabeth took notice. Her Majesty invited Roberts to come over in 1989 to the United Kingdom to perform in front of her and her staff.
While there, Roberts worked with the Queen's horses and the two formed a friendship. After seeing him display his training methods, the Queen urged him to write a book. This changed his life, as the Queen was his inspiration to write The Man Who Listens to Horses. He even met up with the Queen again after the release of his book in 1996.
In 2002 he visited Windsor Castle once again. Then, in 2011, Roberts even received an MVO (Member of the Royal Victorian Order) distinction from the Queen.
8. H Has Two Honorary Doctorates in Animal Psychology
Continuing on in his career with horses, Roberts received an honorary doctorate in animal psychology from the University of Zurich in Switzerland in 2002. In 2005, he gained another honorary doctorate in animal psychology from the University of Parma in Italy.
Throughout his career, he has also received many other awards and recognitions. In 2004, the Girl Scouts created a Join-Up badge and training program in honor of his work with horses. In 2005, he won the German Silbernes Pferd (Silver Horse) Award for his incredible contributions to promoting the love of horses. He is not only the first American to win the award, but also the first foreign-born person to win as well.
9. G Developed His Own Unique Halter
Roberts designed the Dually Halter as a way to make the horse, person, and halter work in a partnership. The unique design allows "horses find the halter's comfortable sweet spot and move with you to maintain it, without pain, knots or poll pressure."
The halter has an adjustable double noseband and training rings on both sides. There are three points of adjustment to allow for a more precise fit. The halter is available in five sizes to fit a wide range of horses. It comes with a DVD and booklet so people can use it on their horses following his Join-Up methods.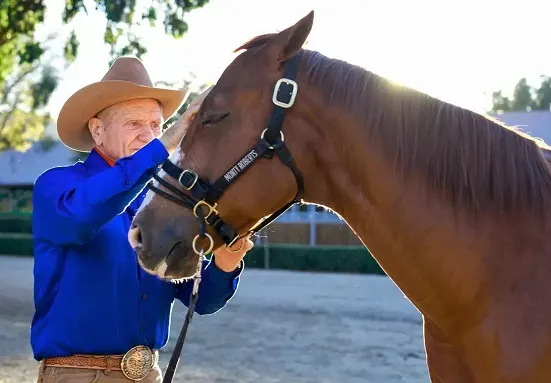 See the Dually Halter here on Amazon.com.
10. He Runs a Barn and Online University
Along with his wife Pat, Roberts owns Flag is Up Farms in Santa Ynez Valley, California. Since 1966, Roberts has trained horses across different disciplines at the farm.
The farm is home to a 5/8 mile training track, pastures, covered riding arena, world-class USDA-approved quarantine facilities, stalls with Comfort Stall mats, rehabilitation area, and much more. Flag is Up Farms offers full-service training for young horses, specialized training for remedial horses, boarding and racehorse training.
In addition to running a farm, Roberts also runs an online university. Monty Roberts Online University has over 550 videos, lesson notes, and supportive learning tools. The quick and easy training and instructional videos are geared towards all horse owners. Lessons are added every week and include special guests instructions from some of the best trainers and horsemen in the industry.
Can You Visit Flag Is Up Farms?
Guests are encouraged to come to visit Flag is Up Farms. Visitors are able to check out the farm from 9 am to 5 pm, seven days a week.
Guided tours of the farm are available for $20 a person. On the tours, guests will have the opportunity to view the world-class training facilities, meet Shy Boy and watch the farm at work. Shy Boy is a famous Mustang who was the focal point to see if Roberts could achieve Join-Up in the wild.
Can You Buy a Horse From Monty Roberts?
Roberts offers horses available for adoption through the Monty Roberts' Mustang & Transition Horse Program (MRTHP). The program uses his training methods to transition horses who are in need of a new career or owner.
The horses in MRTHP come from a variety of different backgrounds including wild Mustangs and former racehorses. In the program, unbacked horses are started and remedial issues are worked through. Horses are desensitized and made safe for their future owners. You can check out horses available for adoption here.
What is Monty Roberts' program The Movement?
The Movement was launched in May 2018 at Flag is Up Farms with a "vision to unite outstanding speakers and live demonstrations with horses." The mission of the movement is to help people learn the special power horses possess in order to teach better ways to interact in all aspects of life.
Two hundred participants traveled to Flag is Up Farms from all across the world for the event. It proved to be a success and is now an annual event. Each year, new speakers and attendees come to share their passion for horses.