Our readers support us. This post may contain affiliate links. We earn from qualifying purchases. Learn More
Famously known as Big Sky Country, Montana is home to some of the largest and most picturesque ranches in America.
The largest ranches in Montana are home to livestock, horses, and wildlife. With rolling mountains and open fields, the vastness of these ranches is impressive.
These spectacular Montana ranches are owned by some of the wealthiest people in the world.
In the TV show Yellowstone, the Dutton family owns Yellowstone Dutton Ranch of Montana, the largest ranch in America. However, in real life, King Ranch in Texas is actually the largest ranch in America.
While Texas may be number one in ranches, Montana certainly does have some of the most impressive ranches in the country.
1. Flying D Ranch
Flying D Ranch consists of 113,613 acres of land in Southwest Montana. The spectacular property is a part of Turner Enterprises INC, which media mogul Ted Turner owns.
Flying D Ranch operates as a working ranch, managing bison populations, and wildlife. The picturesque property consists of steep, wooded land, rolling meadows, and high-rolling bench topography.
The ranch is home to a wide variety of native wildlife including deer, elk, gray wolves, moose, black bears, mountain lions, eagles, and much more.
The Flying D ranch also has beautiful rivers and streams, that house trout fisheries. In addition, the ranch offers hunting opportunities with the Montana Hunting Company.
2. Broken O Ranch
The stunning Broken O Ranch encompasses approximately 124,000 acres of land in Augusta, Montana. In 2012, the ranch was purchased by billionaires Stan and Ann Kroenke.
Previous owners Bill and Desiree Moore of Kelly-Moore Paint Company built the ranch to have the largest irrigated farming operation in Montana. The ranch is also one of the largest cattle operations in the Rocky Mountains.
The magnificent ranch features 20 miles of the flowing Sun River. With spectacular mountain views, fascinating wildlife, and recreational assets, Broken O Ranch has lots to offer.
3. N Bar Ranch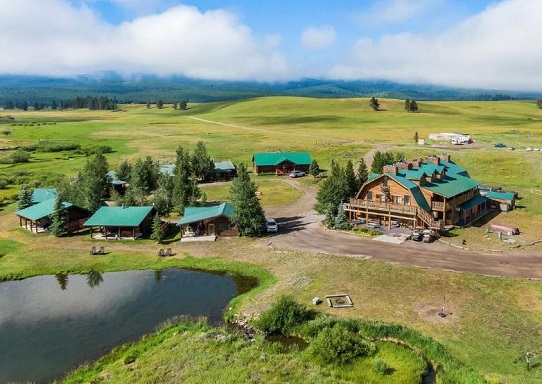 Just South of Grass Range, Montana, N Bar Ranch consists of 200,000 acres of land. The ranch is owned by brothers Farris and Dan Wilks of Wilks Ranches.
N Bar Ranch dates back to 1885 when brothers Zeke and Henry Newman established a cattle operation. Over the years, the ranch changed hands several times.
Today, the ranch consists of several sections with 4,500 animals including commercial heifers and Black Angus breeding stock.
N Bar Ranch has incredible timberlands, lush bottomland, and spectacular wildlife. The iconic ranch is part of the National Register of Historic Places.
4. Beaverhead Ranch
Beaverhead Ranch is located in Southwest Montana and sprawls 340,000 acres. In 2021, Rupert and Jerry Murdoch purchased the ranch from Matador Cattle Co., a subsidiary of Koch Industries.
As the largest and most expensive ranch in Montana, Beaverhead Ranch has roots that go back to 1865 with Phillip Poindexter and William Orr. The ranch was originally used to raise cattle, sheep, and draft horses.
In 1951, Koch Industries purchased the ranch and operated it under Matador Cattle Co. for the next 70 years.
Beaverhead Ranch is home to 7,000 cow-calf pairs and 15 families who are employed on the ranch. In addition, there are 4,000 elk, 800 antelope, and 1,500 mule deer on the property for rotational grazing.
5. Galt Ranch
Galt Ranch spans 248,023 acres in White Sulphur Springs, Montana. The ranch has been owned by the Galt family for over 100 years.
Combining technology with the "cowboy way," Galt Ranch uses old and new traditions to run their ranch. They raise Black Angus cattle and sell premier Waygu beef. The ranch also breeds Quarter horses with world-class bloodlines.
In addition to ranching, Galt Ranch also offers hunting and fishing. They work with Birch Creek Outfitters to offer hunting of elk, deer, and antelope.
6. IX Ranch
IX Ranch operates on over 120,000 acres of land on the Bear Paw Mountain range in North Central Montana. The ranch started in the late 1800s with C.J. McNamara and Thomas Marlow setting up a cattle business.
Since 1955, IX Ranch has been owned by the Roth family. The ranch has four divisions: Eagle Creek Ranch, NL Ranch, Seifert Ranch, and Whitcraft Ranch. IX Ranch breeds crossbred Hereford/Red Angus and Angus, as well as top-quality Quarter horses.
In addition to cattle and horses, IX Ranch also grows hay and partakes in land stewardship. The ranch also offers recreation including hunting, UTV/ATV tours, and retreats.
Also read: 8 Biggest Ranches in the World