This post may contain affiliate links. We earn from qualifying purchases. Learn More
If you are an avid lover of horses and film, chances are you have heard of the 1960s hit TV show, Mister Ed. But, if you've ever wondered how the show was made, we are sharing the secrets behind Mister Ed, Hollywood's beloved talking horse.
Mister Ed was an American sitcom that lasted six seasons from 1961-1966. The comedic show centers around a man named Wilbur Post and his mischievous palomino horse Mr Ed.
Also known as Mr Ed, he has the capability to talk but only talks to Post, causing chaos and frustration for his doting owner.
How Did They Get Mister Ed to Talk?
There are many theories behind how Mister Ed would move his lips during filming to create the illusion he was talking. However, to make it look like the gelding was talking, the directors had to get creative.
Many fans of the show used to think that the crew would wait until Mister Ed would yawn or move his mouth to film the talking scenes.
Alan Young, who portrayed Wilbur Post, once told viewers that the crew used peanut butter to get Mr Ed to talk. However, it was later revealed that Young only said this to not disappoint children by how it was done.
At first, string was used to move Mister Ed's lips to give them the appearance he was talking. However, horse trainer Les Hilton later taught the palomino to move his lips whenever his hoof was touched. It was a clever and resourceful trick that worked wonders while filming.
Find the complete Mister Ed series on DVD set here on Amazon.
Why Did Mister Ed Only Talk to Wilbur?
Mister Ed would only talk to Wilbur because, according to his judgment, he was the only person worth talking to. Unfortunately, the fact that Mister Ed only talks to his owner causes Wilbur to come off as eccentric to his wife and neighbors.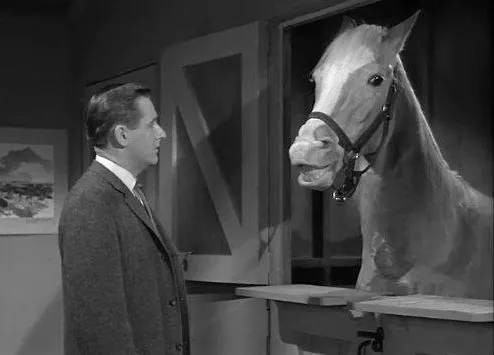 Young was cast as Wilbur because it was said that he "just seemed like the sort of guy a horse would talk to."
Throughout the show, it is a running gag that Mister Ed only talks to his owner. He refuses to talk to anyone else, including Wilbur's wife, Carol.
As a result, Wilbur would often find himself in awkward situations, as his talking horse would delight in making his owner come off as an oddball.
In the show, People would often hear Wilbur talking to Ed and ask who he was speaking with. His wife thinks that Wilbur loves his horse more than her, as he is often at the barn talking with Ed.
Wilbur is a friendly man, but rather accident-prone and Mister Ed is always getting into trouble, making them quite the team.
Who Trained Mister Ed?
Mr Ed was trained by professional horse trainer Les Hilton. Hilton was born on January 1, 1906, and got his start in the film industry as an apprentice for the legendary Will Rogers.
One of Hilton's first jobs in the film industry was training mules for the Francis the Talking Mule series. He was then hired by Twentieth Century Fox to train Flicka and her stunt double in the beloved movie My Friend Flicka.
After My Friend Flicka Hilton went on to train Mister Ed. In addition to each Ed how to talk, Hilton also taught him such tricks as answering the phone, opening doors, and untying knots.
After the show ended, the palomino gelding went on to live with Hilton. Young would regularly visit his equine co-star at Hilton's ranch to ride him, as the two shared a bond.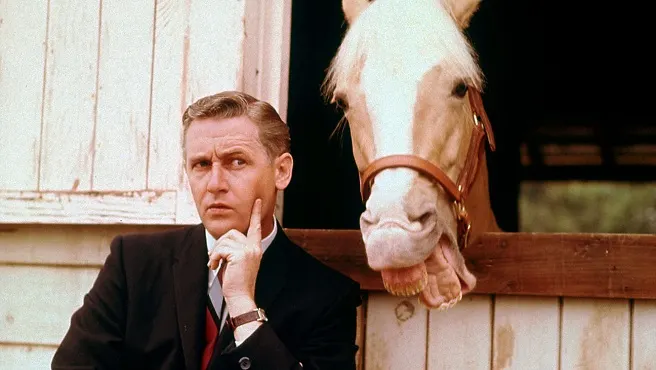 Les Hilton died on October 27, 1976, at the age of 70 from pancreatic cancer. He was highly respected as a horse trainer in the film industry and left a lasting impact.
What Breed of Horse Was Mister Ed?
Mister Ed was a Saddlebred/Half-Arabian cross. In real life, his official name was Bamboo Harvester.
Bamboo Harvester was born in 1949 in California. He was out of the Saddlebred stallion, The Harvester, and the Half-Arabian mare, Zetna Hara. Before taking on his famous role as Mister Ed, Bamboo Harvester was a parade and show horse.
Bamboo Harvester also had a double named Pumpkin. Pumpkin, who sometimes was called Punkin, was a palomino Quarter horse. He was once used as a stunt double, but posed for still pictures for the show and even made some personal appearances.
Who was the Voice of Mister Ed?
Mr Ed was voiced by Allan "Rocky" Lane, with Sheldon Allman voicing his singing lines. Lane was the star of many 1940s and 1950s cowboy B-movies.
Lane was born on September 22, 1909, in Mishawaka, Indiana. He attended the University of Notre Dame where he played varsity sports until he dropped out to pursue a career in acting. During his acting career from 1929 to 1966, Lang appeared in 125 films and TV.
Lane was best known for his portrayal of Red Ryder and the voice work of Mister Ed. He died on October 27, 1973, at the age of 64 from cancer.
Here is a classic scene from Mr Ed:
How Did Mister Ed Die and Where is He Buried?
When it comes to how Mister Ed died, there are various accounts of what actually happened. Today, it is still unclear how exactly the famous palomino died.
According to Young, Mister Ed died after receiving a tranquilizer injection. He claims the palomino's death was an accident, as a temporary caregiver gave him the tranquilizer after possibly seeing the horse struggling to get up.
Young said the gelding's remains were cremated and spread by Hilton in California, at a spot known only to him.
Another account claims that Mister Ed was euthanized in 1970 after his health was degrading and buried at Snodgrass Farm in Oklahoma. A marker was placed at the farm but was said not to be above the remains.
A different source said that he died in February 1979, in Oklahoma and was buried under the headstone. However, this was supposedly actually Pumpkin, Mister Ed's double, who died in 1979.
According to Young, he knew reports of Mister Ed's death in 1979 were false but didn't want to shatter the illusion to the fans that were memorializing him.
Many sources write that Mister Ed died in 1970, which he would have been between 20-21 years old. Though stories differ on his death, fans of the Mister Ed still visit his gravestone in Tahlequah, Oklahoma to pay their respects.
12 Interesting Facts About Mr Ed
Mister Ed was said to be a bit of a diva. If he was over filming, he would simply walk off set.
He had a rather unique diet, as he ate 20 pounds of hay a day and drank sweet tea by the gallon.
Young's natural hair color was a dark blonde, but blended in too much with Mister Ed on the black-and-white screen. In order to stand out more, he had to dye his hair brunette.
Mister Ed's trainer Hilton had to be on set at all times, as the gelding would not respond to anyone else.
Before Bamboo Harvester was cast to play Mister Ed, a chestnut gelding was selected for the role, but was deemed difficult to work with.
The show is based on a series of short stories by author Walter R. Brooks. The stories, which began with "The Talking Horse", were first published in an issue of Liberty Magazine on September 18, 1937.
In 2004, a reboot pilot of the show was made, but it proved to be a flop.
Though Mister Ed was a bit of a diva, he could often get scenes done in one shot.
The gelding won four PATSY (Performing Animal Top Star Of The Year) for his role as Mister Ed.
Originally the show was supposed to be called "Wilbur Pope and Mister Ed," but Young didn't want to take the blame if the series failed.
The legendary Clint Eastwood once made an appearance on the show.
The show started in syndication and a year later was bought by CBS. It quickly became a hit and is still adored by fans today.