Our readers support us. This post may contain affiliate links. We earn from qualifying purchases. Learn More
After joining the cast of Yellowstone in season three, Teeter has become a fan-favorite. Fans can't get enough of her spunky personality and unique accent.
Teeter is played by American actress Jennifer Landon. Landon comes from a family of actors, with the most famous being her father Michael Landon.
Michael left a lasting impact on the world of acting, especially in the Western genre.
Jennifer's career as an actress is much in part due to her father. He supported her career and even gave her one of her first roles.
Who is Michael Landon?
Michael Landon was an American actor and filmmaker born on October 31, 1936, in Queens, New York. He died on July 1, 1991, in Malibu, California, from pancreatic cancer.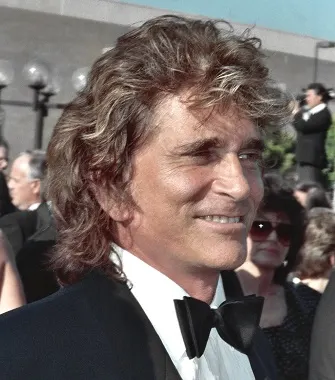 Michael Landon is best known for his roles as Little Joe Cartwright in Bonanza (1959–1973), Charles Ingalls in Little House on the Prairie (1974–1983) and Jonathan Smith in Highway to Heaven (1984–1989).
Landon began acting in 1956 and even had a brief stint as a singer. He acted until the year of his death in 199 and was one of the most influential actors of his time. He appeared on the cover of TV Guide 22 times, only second to actress Lucille Ball.
Landon married a total of three times and had nine children, three of which were adopted. Landon had two children, Mark and Josh, whom he adopted from his first marriage with Dodie Levy-Fraser.
With his second marriage to Marjorie Lynn Noe, Landon had five children, Cheryl, Leslie, Michael Jr., Shawna and Christopher, with Cheryl being from Marjorie's first marriage.
Landon got married for a third time to Cindy Clerico and they had two children together, Jennifer and Sean. Mark, Leslie and Jennifer all went on to become actors.
Michael Jr. is an actor, director, writer and producer and Christopher is a film director, producer and screenwriter.
During his acting career, Landon took home numerous awards and honors. He is an inductee of the Hollywood Walk of Fame and the National Cowboy & Western Heritage Museum for Western Performers Hall of Fame.
Landon also won the Golden Boot Award for Significant Contribution to the Western Genre and the Television Hall of Fame's honor of Significant Contribution to the Field of Television.
Landon has also been honored with the Youth in Film Award for Outstanding Contribution to Youth Through Entertainment. He also took home a Bambi Award and Bronze Wrangler Award for Bonanza and a Spur Award for Little House on the Prairie.
Jennifer Landon's Career
Jennifer Landon was born on August 29, 1983, in Malibu California. Her parents, Micheal Landon and Cindy Clerico married in 1983. The couple met through Little House on the Prairie, as Clerico was a makeup artist on the show.
Jennifer Landon followed in the footsteps of her father and took up acting at the age of five. She received her first role when she was cast by her father to play a little girl in Highway to Heaven.
Landon then went on to star as Gwen Norbeck Munson in the CBS soap opera As the World Turns (1956-2010) from 2005 to 2010. For her role, she won three Daytime Emmy Awards for Outstanding Younger Actress in a Drama Series (2006, 2007 and 2008).
Jennifer Landon then went on to star in The Young and the Restless (1973-present), Days of Our Lives (1965-2022) and Animal Kingdom (2016-2022).
In 2020, Landon joined the cast of Yellowstone (2018-present) as Teeter. For season five she was boosted from a recurring role to a main role.
According to the Yellowstone actress, her father "was always so present as a father" and "just the best." Jennifer was only seven years old when her father passed away.
Also read: Yellowstone Cameos You May Not Have Noticed